The Exterior of the Phanteks Enthoo Pro
Phanteks based the Enthoo Pro on a postmodern design, using basic geometric shapes and straight lines. It is a relatively simple and elegant case with a metallic brushed faceplate, coming across not too minimalistic but not extravagant either. Only the double window left side panel is spoiling the seriousness of the Enthoo Pro; users that want a more subtle appearance should opt for the version with the solid panel. Measuring 53.5cm tall and 55cm deep and with a volume of 0.0691m3, the Enthoo Pro is a rather large and bulky case, which is to be expected from a tower capable of housing EATX motherboards.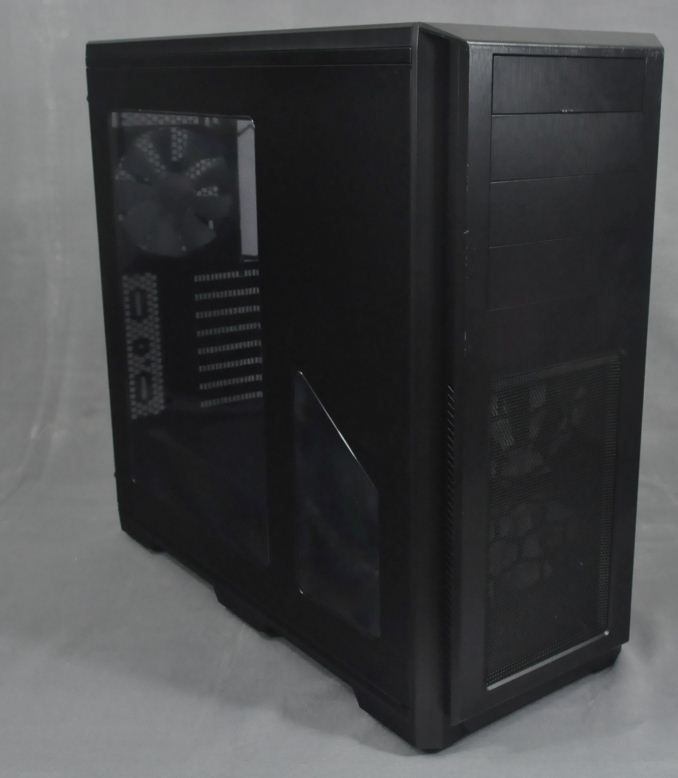 When seen from afar, the brushed metallic appearance of the faceplate and its 5.25" bay covers generate feelings of sturdiness and quality, making it perhaps the most important stylistic feature of the Enthoo Pro. Regrettably, that is nothing more than an illusion, as the faceplate is plastic that has been treated to look as if it is metallic for aesthetic purposes alone. Nevertheless it is fairly strong and sturdy and of quality on par with the price of the case. The faceplate of this sample was seriously damaged during its transportation, half due to the poor packaging and half due to the "overzealous" courier company.
Nearly half of the faceplate is covered by a metallic mesh, with extra ventilation holes at both sides. Four solid metallic 5.25" covers dominate the top half of the faceplate. There are actually only three 5.25" bays available for devices as the top 5.25" cover is a door hiding the front I/O ports (two USB 3.0, two USB 2.0 and 3.5mm headphone jacks) and the reset button. The oval power button is at the top of the case, near the front, surrounded by an LED light.
The rear of the case reveals the black chassis of the Enthoo Pro and that the PSU compartment has been moved to the bottom of the case, which is common for high performance designs nowadays. Thumbscrews with rubber rings hold the side panels in place and the reusable expansion slot covers are vented.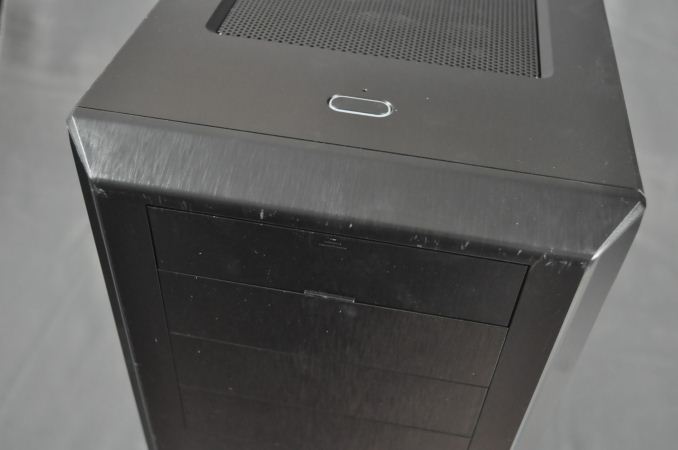 Nearly the entirety of the Enthoo Pro is focused on cooling - ventilation openings and fan mounts can be seen virtually everywhere. Six tall sturdy feet on the bottom elevate the case significantly, as the bottom of the case hosts the PSU fan intake and ventilation openings where two 120mm fans or a single 140mm fan can be installed. Separate nylon filters cover the PSU intake, the bottom and the front ventilation openings. Most of the surface of the top panel is covered by a metallic mesh as well, with three fan mounts behind it, but there is no filter. This is what we would expect to find as these openings are intended to function as exhausts.