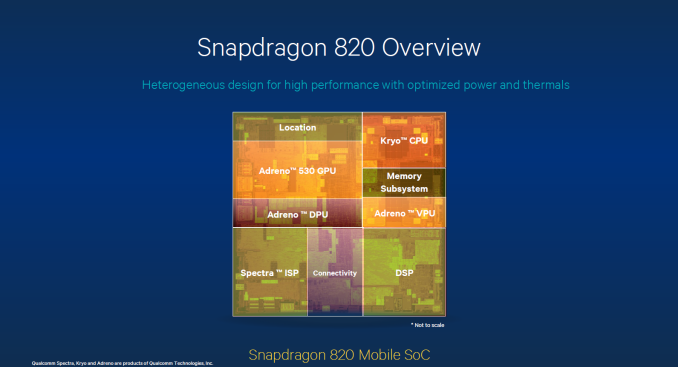 Snapdragon 820 is still a mystery as far as official information from Qualcomm goes. However, today Qualcomm has given a bit of insight into their upcoming SoC. While there's still no information about the CPU portion featuring Qualcomm's custom 64-bit cores known as 'Kryo', there are some details about the Adreno 510 and 530 GPUs, as well as Qualcomm's Spectra image signal processor.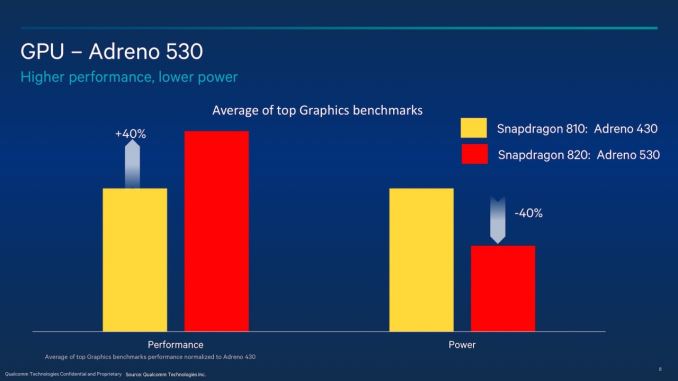 Because Adreno 530 is their new flagship GPU, Qualcomm's press release focuses more on the 530 than the 510. The performance figures released by Qualcomm describe Adreno 530 as being 40% faster than Adreno 430 on average, while also consuming 40% less power. This result is described as an average of "the top graphics benchmarks", and while it's still generally a good idea to take vendor provided numbers with a grain of salt, if the power and performance gains over Adreno 430 are anywhere in the ballpark of Qualcomm's 40% figure then Adreno 530 should end up being quite impressive.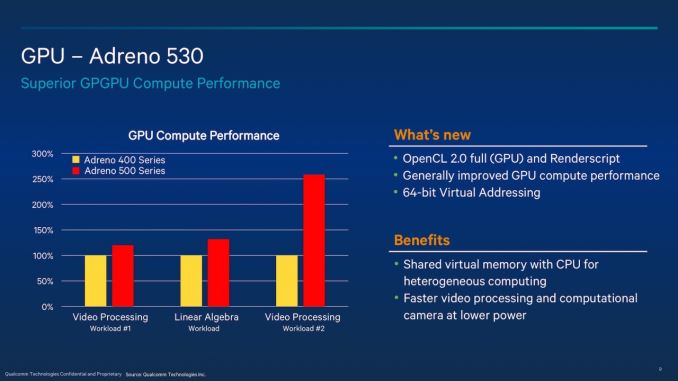 On the API side, Adreno 500 series GPUs will support OpenGL ES 3.1 + AEP (Android Extension Pack), Renderscript, Vulkan, and OpenCL 2.0. With OpenCL 2.0 comes support for Shared Virtual Memory (SVP), which allows an OpenCL host program and a device's kernel to share a virtual address space so access to data structures like lists and trees can be easily shared between the host and GPU. Adreno 530 has varying improvements to GPGPU performance when compared to Adreno 430, but Qualcomm's slides show video processing as demonstrating the greatest improvement with a 2.5x increase in compute performance. This is also the area where efficiency gains for generational improvements typically happen, so we expect fixed-function codec support although this information is not yet provided.
As for the ISP, it's still the case that mobile image signal processors are black boxes. Qualcomm is stating that their Spectra ISP in Snapdragon 820 will be able to support 3 simultaneous cameras at up to 25MP and at 30fps with no shutter lag. The Spectra ISP will also use MIPI's higher bandwidth C-PHY serial interface, which supports the enhanced camera support. As well as this, new developer and user-facing features include support and APIs for depth maps and using dual cameras to perform refocusing or other visual effects - because Qualcomm is just the SoC manufacturer, it is up to the smartphone OEMs to implement dual-camera/depth-maps as a feature as well.
According to Qualcomm, Snapdragon 820 will start showing up in devices during the first half of 2016. Hopefully between now and then there's more information from Qualcomm about the other aspects of their new SoC, including their Kryo custom CPU core. In Q1 we will be at Mobile World Congress, so we may see more information at that time.