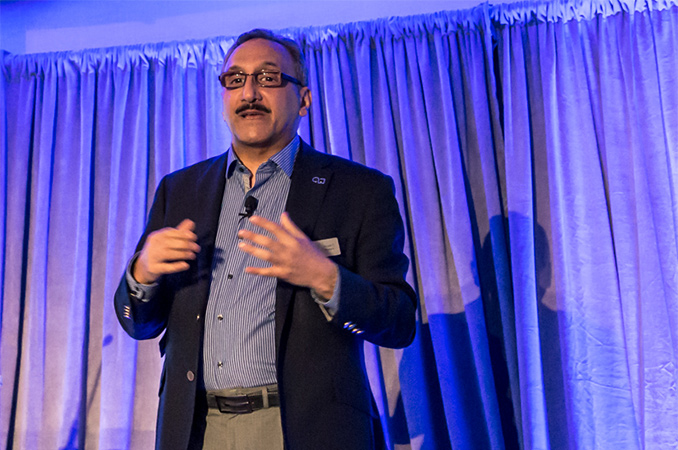 Sir Hossein Yassaie, chief executive officer of Imagination Technologies, has stepped down as of Monday, Feburary 8th. Mr. Yassaie served as Imagination's CEO since 1998 and joined the company in 1992. The company expects to report a loss for the financial year, which may be the reason for CEO's departure. Andrew Heath, one of the company's non-executive directors, has been appointed interim chief executive. He has already began to search for a new CEO for Imagination.
Imagination licenses graphics, multimedia and general-purpose processing technologies to various chip developers, including Apple and Intel. The company indicated that royalties from some of its key customers have fallen short of previous expectations for the last calendar quarter of 2015. The company also lowered its forecast for Q1 2016. Imagination named global slowdown in the semiconductor sector as well as global uncertainty about future trading prospects with China as the reasons for its financial problems. While Imagination indicated that its licensing pipeline remains strong, it is not sure about its license revenue timing.
Imagination Technologies was founded in 1985 as VideoLogic. The company sold chips for televisions, game consoles and PCs. Mr. Yassaie changed the company's business model to technology licensing in 1999 and essentially exited chip business several years later. Imagination tried to return to the market of graphics adapters with its Kyro and Kyro II graphics chips in early 2000s, but it could not compete against ATI and NVIDIA at the time. Starting from the year 2000 Imagination bought a number of important technology companies, significantly boosting its IP portfolio. Among the companies acquired by Imagination are Ensigma (digital signal processing), Caustic Graphics (hardware/software for real-time ray-tracing technology), MIPS Technologies (general-purpose processing) and a number of others. Today, Imagination can provide virtually all technologies needed to build system-on-chips for almost all kinds of devices. In fact, Imagination's graphics processing technologies are used inside billions of smartphones and tablets.

Imagination did not announce when it expects to hire its new CEO, but said that it will consider both internal and external candidates. For a company like Imagination the absence of permanent CEO concerning because it constantly needs to make strategic decisions that have long-lasting effects on its future. Technologies developed by Imagination today will be licensed only a couple of years down the road and it is important for them to be competitive against offerings from ARM as well as developers of proprietary chips. As pointed out by The Tech Report, Mr. Yassaie is the author of the intellectual property licensing model that brought the company to fame, and it will likely not be easy to find a replacement due to the complexity of the technology licensing business.
Alongside Mr. Yassaie's resignation, Imagination also announced additional details on restructuring initiatives, which include the sale of Pure, its consumer electronics business. The company expects to reduce operating costs of its on-going businesses by £15 million in the next financial year, ending April 2017. In addition, Imagination will re-invest £2 million in PowerVR graphics processing technology. The company also plans to analyze its overhead expenses and research and development expenditures before implementing additional restructuring actions.
Source: Imagination Technologies (via The Tech Report)