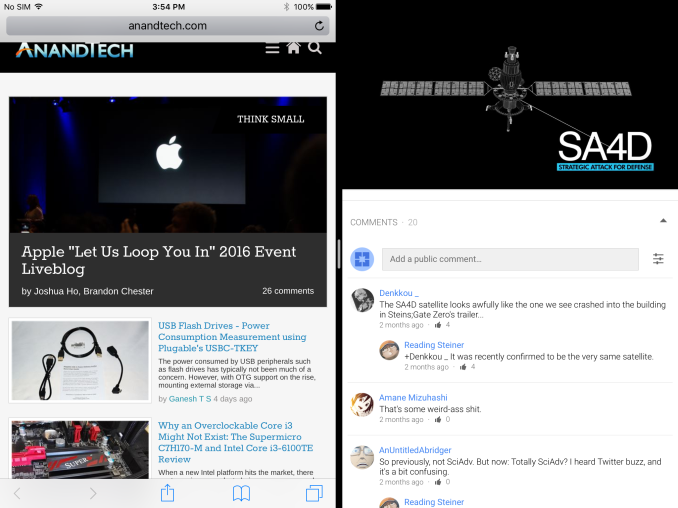 Today Google shipped an update for the Youtube application on iOS. The update brings the app to version 11.10, and it's one of the more significant updates the app has seen since Google brought the interface over from the Android version after the last major redesign. With this update the app now supports iOS 9's split screen and slide over multitasking on iPads.
Both features work in the same way as other applications. While slide over is just a by-product of supporting split screen, it's probably not too useful due to the fact that you can't continue playback in the background when you slide the app away again. On the other hand, split screen is very handy for watching a video while doing something in another application. It is a bit awkward in a sense because if you try to make the video full screen it has really large black bars on the top and bottom, but that's just due to the app aspect ratio when multitasking.
All that's left now is for Google to include support for Picture in Picture windows. This would be the pinnacle of convenience, as it would let you watch the video even when the Youtube app isn't actually on screen at all, and it would just sit in a perfectly sized floating window. There are probably a few of reasons why PiP still isn't supported, including API limitations and difficulty with displaying advertisements and targeting using cookies, but it's hopefully something Google is working on. For now, iPads users can grab the updated Youtube for iOS from the App Store and try out the new multitasking capabilities.