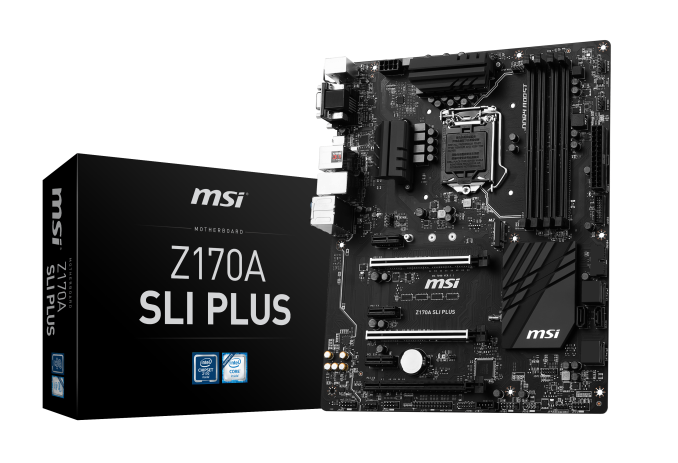 MSI's motherboard range seems to expand every generation. Alongside the channel range, there's the MSI Gaming, micro-ATX gaming, OC Certified, Krait, ECO, SLI PLUS, PC Mate and some I probably can't think of. Each set can have a chipset mix, depending on their target market. The SLI PLUS line is relatively new, with the Z170A SLI PLUS in this review being the latest model. The goal of the SLI PLUS is form, function and application at a low price, with a few future-proof features and enough hardware for most PC enthusiasts systems. They seem to sell well, so we got a sample in to see the fuss. Two word verdict: pleasantly surprised. Read on to see why.
Other AnandTech Reviews for Intel's 6th Generation CPUs and 100-Series Motherboards
Skylake-K Review: Core i7-6700K and Core i5-6600K - CPU Review
Comparison between the i7-6700K and i7-2600K in Bench - CPU Comparison
Overclocking Performance Mini-Test to 4.8 GHz - Overclocking
Skylake Architecture Analysis - Microarchitecture
Z170 Chipset Analysis and 55+ Motherboards - Motherboard Overview
Discrete Graphics: An Update for Z170 Motherboards - PCIe Firmware Update
Price Check: Intel Skylake i7-6700K and i5-6600K - Latest Skylake Price Check (3/29)
100-Series Motherboard Reviews:
Prices Correct at time of each review
($500) The GIGABYTE Z170X-Gaming G1 Review
($500) The ASUS Maximus VIII Extreme Review
($250) The ASUS Maximus VIII Impact Review
($240) The ASRock Z170 Extreme7+ Review
($230) The MSI Z170 Gaming M7 Review
($208) The GIGABYTE Z170-UD5 TH Review
($165) The ASUS Z170-A Review
($130) The MSI Z170A SLI PLUS Review (this review)
($125) The Supermicro C7H170-M Review
To read specifically about the Z170 chip/platform and the specifications therein, our deep dive into what it is can be found at this link.
MSI Z170A SLI PLUS Overview
At $130 only a few overclocking class motherboards sit in this area. It marks the cross over for ATX motherboards between the high cost H series chipset motherboards (ones with special features or extra controllers such as dual network plus WiFi) and base cost Z series models, just because a motherboard that can support SLI and overclock needs to be engineered to cope with at least a 10-20% increase in frequency and 75W to each GPU. This means more efficient power delivery, more reliability, tweaking and tuning to ensure stability, a BIOS and software package with more options and the ability to use as many of the PCIe lanes from the chipset as possible. Nonetheless, the Z series motherboards nearer $100 tend to be a cost-down implementation.
The SLI PLUS comes into this market in a serious way. It comes in as one of the cheapest ways to implement SLI in the Skylake platform via the x8/x8 PCIe separation, but in many ways it also marks several years of movement from MSI to build a brand and improve the aesthetic. The MSI Z170A SLI PLUS does not look like a $130 motherboard on a first look, due to the coating used to cover up obvious trace lines but also the color consistency between black and dark grey used on the heatsinks, slots and ports. It marks in impressive change at just how regulated an aesthetic can get despite the low price, a feature normally reserved for more expensive motherboards.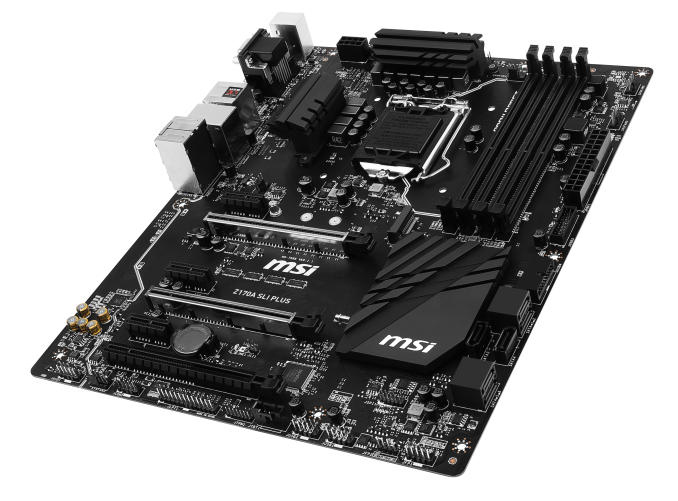 For features, aside from support for 2-way SLI and PCIe guard plates to protect from large graphics cards, the motherboard gives both a USB 3.1 Type-C port on the back (provided by ASMedia's ASM1142 controller) and a fully capable PCIe 3.0 x4 M.2 slot up to 2280 without compromising the utility of other features. The latter comes via four of the 20 PCI lanes on the chipset, one of the benefits of the 100-series chipset over previous generations. Normally in 2016 just saying a motherboard has M.2 x4 and 3.1-C is par for the course and we expect to see that on almost all of the ones that we review, but it might not be expected on a $130 product. The motherboard also uses the standard high-end audio codec (Realtek ALC1150) and network controller (Intel I219-V) that we see on $350+ motherboards, both of which are usually easy cost-down areas in cheaper products. The audio codec is improved in some of the same ways as the more expensive motherboards (PCB separation, filter caps) and it still performs very well.
For our performance metrics, the SLI PLUS doesn't implement MultiCore Turbo by default so it falls into the second half of the table for CPU performance, but an overclock is just a click away in either the BIOS or software. But the power consumption is one of the lowest we've seen due to the de-complication of the design, and the POST times are in the better half of the table for the same reason. DPC Latency has been fairly dichotomous on Z170, both good and bad, but the SLI PLUS is on the good side of the split.
The BIOS and Software combination from MSI works very well. MSI is using their latest BIOS design from the high-cost motherboards at this price point, having developed a new 'easy mode' entry screen for Skylake last year. The software package has some minor flaws (such as voltage selection) but on the whole is easy to use and MSI's Live Update package still shines through as a top solution from any motherboard manufacturer.
Every time we get a new motherboard in for review, my first task is to take it out of the box and have a very good look around to determine the features, controllers and layout before I look at specification sheets. The goal here is to determine how much is immediately obvious, but also to see which market it is aimed for and the feeling of what price might be paid. The MSI Z170A SLI PLUS has a solid base feature set, with a few extras over the specifications, and the presentation/layout gave the impression of a very streamlined design. When I checked the MSRP, I was surprised (my initial estimate was too high...!) and MSI has found a really nice price point for a board breezed through our testing.
Quick Links to Other Pages
Board Features, In The Box
Visual Inspection and Test Setup
BIOS
Software
System Performance (Audio, USB, Power, POST Times on Windows 7, Latency)
CPU Performance, Short Form (Office Tests and Transcoding)
Gaming Performance 2015 (R7 240, GTX 770, GTX 980)
Conclusions
Quick Board Feature Comparison
Motherboard Comparison
MSI Z170A SLI PLUS
Socket
LGA1151
LGA1151
MSRP at Review
$130
$230
DRAM
4 x DDR4
4 x DDR4
PCIe Layout
x8/x8
x8/x8
BIOS Version Tested
1.4
142
MCT Enabled Automatically?
No
Yes
USB 3.1 (10 Gbps)
ASMedia ASM1142
1 x Type-C
ASMedia ASM1142
1 x Type-A
1 x Type-C
M.2 Slots
1 x PCIe 3.0 x4
2 x PCIe 3.0 x4
U.2 Ports
No
No
Network Controller
1 x Intel 219-V
1 x Killer E2400
Audio Controller
Realtek ALC1150
Realtek ALC1150
HDMI 2.0
No
No
MSI Z170A SLI PLUS Overclocking
Experience with MSI Z170A SLI PLUS
Automatic overclocking options from MSI have changed a little bit of the past couple of years, with the OC Genie name moving from a small single automatic overclock selection several generations ago moving to a progressive overclock dial for the high end models this generation. The Z170A SLI PLUS goes back to that single overclock selection, despite the fact that the progressive overclock could have been implemented software only. The single point overclock this time is a bit more aggressive than previous generations, but not overly so: whereas before we would get 3-5% frequency jumps, here there is a 10% jump with the i7-6700K moving from 4.0 GHz to 4.4 GHz on all cores. However, MSI is conservative on voltage and this overclock failed our stress testing.
For manual overclocking, given the price segment and hardware on board, we weren't expecting the best OC performance and the end result was still a good mark in the sand.
Methodology
Our standard overclocking methodology is as follows. We select the automatic overclock options and test for stability with PovRay and OCCT to simulate high-end workloads. These stability tests aim to catch any immediate causes for memory or CPU errors.
For manual overclocks, based on the information gathered from previous testing, we start off at a nominal voltage and CPU multiplier, and the multiplier is increased until the stability tests are failed. The CPU voltage is increased gradually until the stability tests are passed, and the process repeated until the motherboard reduces the multiplier automatically (due to safety protocol) or the CPU temperature reaches a stupidly high level (100ºC+). Our test bed is not in a case, which should push overclocks higher with fresher (cooler) air.
Overclock Results