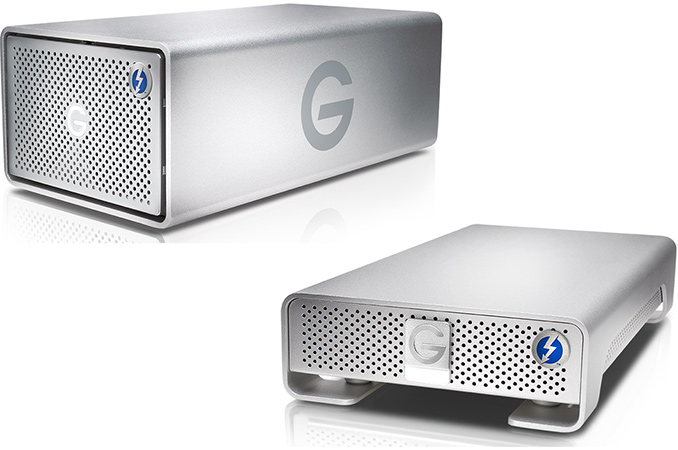 G-Technology this week introduced several new models of its G-Drive and G-RAID products with Thunderbolt 1, USB 3.0 or Thunderbolt 2 soltions. These are direct attached storage (DAS) devices, based on the latest hard drives featuring 10 TB capacity. The new DAS products aim to significantly increase performance and capacities of devices aimed at consumers and prosumers. The introduction of such storage solutions emphasizes that Western Digital (which owns the HGST and the G-Technology brands) is moving its helium-filled HDDs into the consumer space.

The first new G-Drive, with Thunderbolt 1 and USB 3.0, quotes a 10 TB capacity will give a maximum transfer rate of up to 245 MB/s, which is in line with the performance of the latest enterprise-class drives. In fact, the new product from G-Technology offers a combination of highest capacity and sustained transfer rate for a single-drive DAS in the industry. Officially, Western Digital only says that the new G-Drive is based on an enterprise-class HDD and does not confirm that the DAS utilizes the company's flagship helium-filled HDD with 7200 RPM spindle speed (such as the HGST Ultrastar He10), but that is something logical to expect given the company's portfolio of products.
The 10 TB capacity point will add a new member to the stack, with a $699.95 price point for the TB1 flagship G-Drive (using TB3 and USB 3.0). A USB 3.0 only version of the G-Drive 10 TB external HDD will also available for $599.95. The new 10 TB drives complement other G-Drive models with 3, 4, 6 and 8 TB of space.
G-Drive and G-RAID External Storage Devices
Product Line
Capacity
Transfer Rate
Interface
SKU
Model Number
Price
G-Drive with Thunderbolt
3 TB
165 MB/s
TB1
USB 3.0
0G03124
GDRETHU3PB30001BDB
$299.95
4 TB
0G03050
GDRETHPB40001BDB
$399.95
6 TB
226 MB/s
0G04023
GDRETHU3PB60001BDB
$449.95
8 TB
205 MB/s
0G04996
GDRETHU3NB80001BDB
$599.95
10 TB
245 MB/s
0G05024
GDRETHU3NB100001BDB
$699.95
G-Drive with USB
2 TB
165 MB/s
USB 3.0
0G03902
GDREU3G1PB20001BDB
$149.95
3 TB
0G03590
GDREU3G1PB30001BDB
$179.95
4 TB
0G03594
GDREU3G1PB40001BDB
$199.95
6 TB
226 MB/s
0G03674
GDREU3G1PB60001BDB
$249.95
8 TB
205 MB/s
0G03906
GDREU3G1PB80001BDB
$399.95
10 TB
245 MB/s
0G05016
GDREU3G1PB100001BDB
$599.95
G-RAID with Thunderbolt 2
8 TB
327 MB/s
TB2
USB 3.0
0G04085
GRARTH2NB80002BAB
$699.95
12 TB
unknown
0G04093
GRARTH2NB120002BAB
$899.95
16 TB
<480 MB/s
0G04097
GRARTH2NB160002BAB
$1199.95
20 TB
480 MB/s
0G05012
GRARTH2NB200002BAB
$1499.95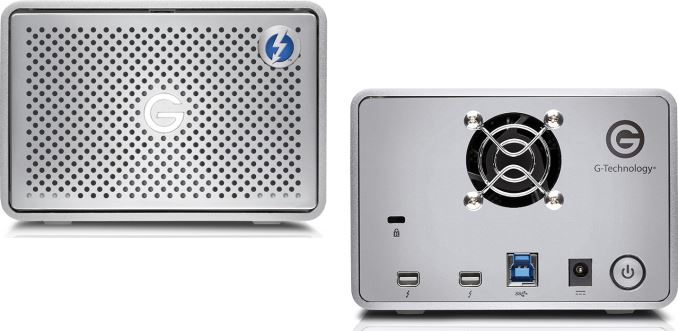 For those that need more storage and higher performance, Western Digital offers its G-RAID products with a combination TB2/USB 3.0 interface. These are powered by two HDDs in RAID 0 stripe mode, but also configurable as a RAID 1 mirror. The 20TB version of the G-RAID with Thunderbolt 2 uses a pair of 10 TB helium-filled drives in stripe mode, offers 480 MB/s throughput and costs $1499.95. In addition, the manufacturer offers G-RAID with Thunderbolt 2 DAS solutions with 8 TB, 12 TB and 16 TB of storage space.
Western Digital positions its new G-Technology products with 10 TB and 20 TB capacities primarily for those consumers and prosumers that need to store 4K videos and other data which can use a lot of space but do not want an open NAS on the network (or for local storage). Considering the fact that many modern smartphones can shoot ultra-high-definition videos, those who actually film in such resolutions are going to need a lot of storage space eventually. As a result, companies like Western Digital and Seagate will offer them drives with capacities previously reserved for cloud data centers.
Most users will be wondering why these are not Thunderbolt 3 enabled devices. Given the style, one might assume that G-Technology is primarily going for the Mac Pro/MacBook Pro and other Apple users right now, and those devices are currently based on the TB2 protocol. I imagine TB3 drives will be hot off the press when Apple integrates the next generation into their hardware.
As we observed this week, the two leading makers of HDDs are starting to roll out helium-filled 10 TB drives for consumers in a bid to satisfy demands of those, who need to store a lot of various data. Seagate believes that there are users, who need internal 10 TB HDDs, whereas Western Digital assumes that using so big drives makes sense for external DAS.
Source: G-Technology