3D XPoint Refresher
Intel's 3D XPoint memory technology is fundamentally very different from NAND flash. Intel has not clarified any more low-level details since their initial joint announcement with Micron of this technology, so our analysis from 2015 is still largely relevant. The industry consensus is that 3D XPoint is something along the lines of a phase change memory or conductive bridging resistive RAM, but we won't know for sure until third parties put 3D XPoint memory under an electron microscope.
Even without knowing the precise details, the high-level structure of 3D XPoint confers some significant advantages and disadvantages relative to NAND flash or DRAM. 3D XPoint can be read or written at the bit or word level, which greatly simplifies random access and wear leveling as compared to the multi-kB pages that NAND flash uses for read or program operations and the multi-MB blocks used for erase operations. Where DRAM requires a transistor for each memory cell, 3D XPoint isolates cells from each other by stacking them each in series with a diode-like selector. This frees up 3D XPoint to use a multi-layer structure, though not one that is as easy to manufacture as 3D NAND flash. This initial iteration of 3D XPoint uses just two layers and provides a per-die capacity of 128Gb, a step or two behind NAND flash but far ahead of the density of DRAM. 3D XPoint is currently storing just one bit per memory cell while today's NAND flash is mostly storing two or three bits per cell. Intel has indicated that the technology they are using, with sufficient R&D, can support more bits per cell to help raise density.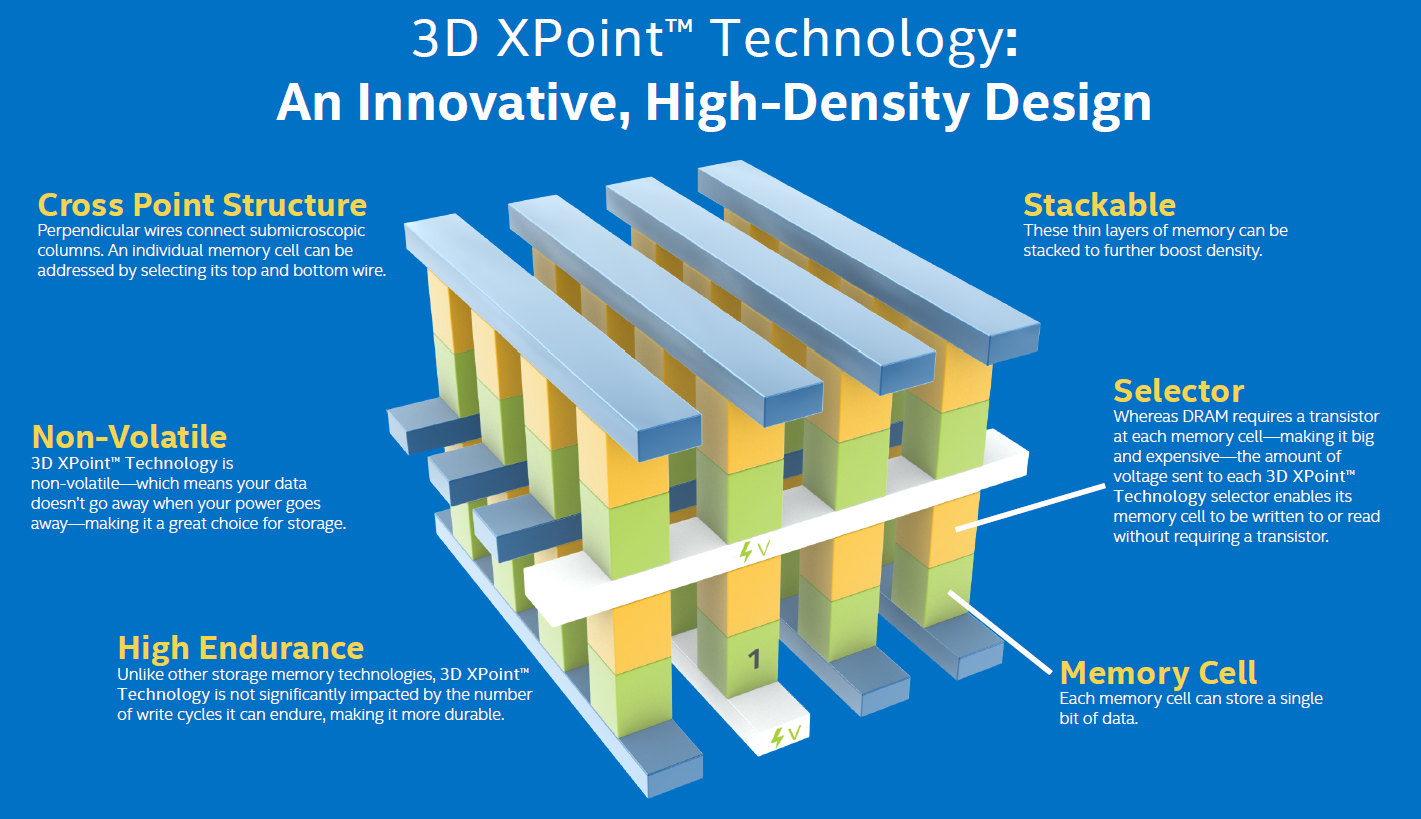 The general idea of a resistive memory cell paired with a selector and built at the intersections of word and bit lines is not unique to 3D XPoint memory. The term "crosspoint" has been used to describe several memory technologies with similar high-level architectures but different implementation details. As one Intel employee has explained, it is relatively easy to discover a material that exhibits hysteresis and thus has the potential to be used as a memory cell. The hard part is desiging a memory cell and selector that are fast, durable, and manufacturable at scale. The greatest value in Intel's 3D XPoint technology is not the high-level design but the specific materials and manufacturing methods that make it a practical invention. It has been noted by some analysts that the turning point for technologies such as 3D XPoint may very well be in the development in the selector itself, which is believed to be a Schottky diode or an ovonic selector.
In addition to the advantages that any resistive memory built on a crosspoint array can expect, Intel's 3D XPoint memory is supposed to offer substantially higher write endurance than NAND flash, and much lower read and write times. Intel has only quantified the low-level performance of 3D XPoint memory with rough order of magnitude comparisons against DRAM and NAND flash in general, so this test of the Optane SSD DC P4800X is the first chance to get some precise data. Unfortunately, we're only indirectly observing the capabilities of 3D XPoint, because the Optane SSD is still a PCIe SSD with a controller translating the block-oriented NVMe protocol and providing wear leveling.
The only other Optane product Intel has announced so far is another PCIe SSD, but on an entirely different scale: the Optane Memory product for consumers uses just one or two 3D XPoint chips and is intended to serve as a 32GB cache device accelerating access to a mechanical hard drive or slower SATA SSD. Next year Intel will start talking about putting 3D XPoint on DIMMs, and by then if not sooner we should have more low-level information about 3D XPoint technology.