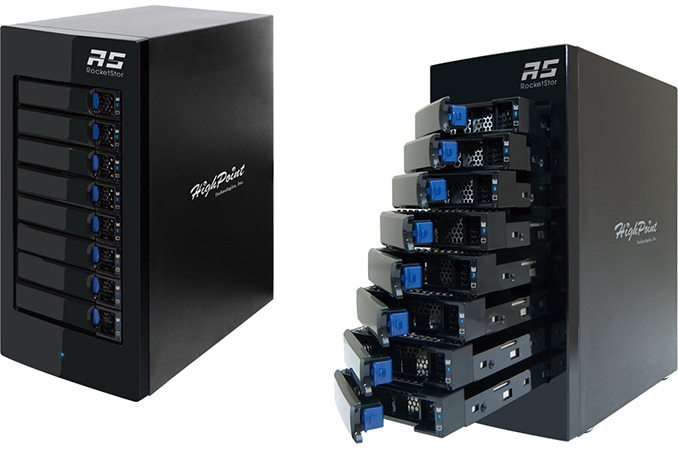 HighPoint has started to ship its RocketStor 6600-series Thunderbolt 3 RAID enclosures that can accommodate up to eight storage devices. The enclosures support all popular RAID levels and can enable up to 1.6 GB/s throughput with HDDs or up to 2.7 GB/s throughput with SSDs, which is in line with other 8-bay TB3 storage boxes. Meanwhile, one of the key characteristics of the RocketStor 6618T enclosure is its $999 price point.
The HighPoint RocketStor 6600-series family consists of three models: the RocketStor 6618A tower enclosure with hardware RAID and 8 bays, the RocketStor 6618T tower enclosure with software RAID and 8 bays as well as the RocketStor 6674T rackmount enclosure with software RAID and 16 bays. The DAS boxes support hot swapping of 2.5"/3.5" storage devices, RAID in 0, 1, 5, 6, 10 and 50 modes, intelligent fan control, audible alarms, and come with HighPoint's storage management and monitoring software for Apple's macOS and Microsoft Windows. The manufacturer ships its RocketStor 6600-series enclosures unpopulated and provides a list of compatible drives: the boxes support a wide range of enterprise and NAS-class devices, including 12 TB HDDs as well as up to 4 TB SSDs from various makers, including HGST, Seagate and Samsung.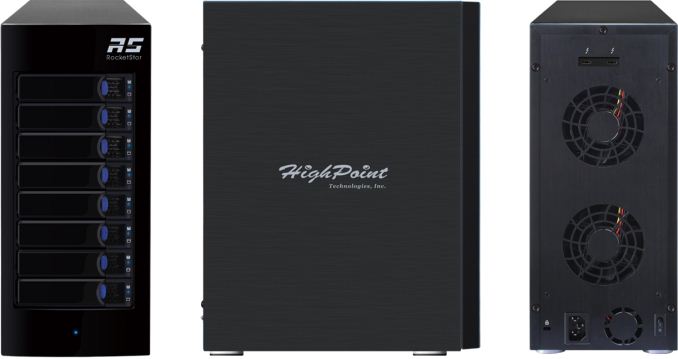 As for performance, the HighPoint RocketStor 6600-series are designed for various professional applications and are aimed to support simultaneous streaming, editing, and backup of UHD video or other data. When an 8-bay RocketStor 6618A enclosure us populated with HDDs, its maximum sequential read performance is rated at up to 2000 MB/s, with SSDs, its performance as listed increases to 2700 MB/s. The RocketStor 6618T (with software RAID) is a bit slower, offering up to 1800 MB/s throughput with HDDs and up to 2400 MB/s with SSDs. At present, HighPoint does not reveal performance numbers for the rackmount 16-bay RocketStor 6674T.
The HighPoint RocketStor 6600-Series DAS with Thunderbolt 3
RocketStor 6618A
RocketStor 6618T
RocketStor 6674T
Number of Bays
8 hot-swappable bays for 2.5" or 3.5" HDDs or SSDs
16 hot-swappable bays
HDD/SSD Interface
SAS/SATA
SATA
SAS/SATA
List of Compatible HDDs/SSDs
Link (PDF)
Capacity
HDD
RAID 0: 96 TB (8 × 12 TB)
RAID 5: 84 TB (8 × 12 TB)
RAID 0: 192 TB
(16 × 12 TB) (?)
SSD
RAID 0: 32 TB (8 × 4 TB)
RAID 5: 28 TB (8 × 4 TB)
RAID 0: 64 TB
(16 × 4 TB) (?)
RAID
0/1/5/6/10/50
RAID0
HDD
2000 MB/s
1800 MB/s
unknown
SSD
2700 MB/s
unknown
RAID5
HDD
1700 MB/s
1600 MB/s
unknown
SSD
2700 MB/s
2400 MB/s
unknown
RAID Block Size
Up to 1 MB
Up to 128 KB
unknown
RAID Controller
HighPoint RAID-on-Chip I/O controller and 512 MB cache memory with ECC
Software RAID that uses host system's CPU and RAM
Ports
2 × Thunderbolt 3
PSU
integrated
Dimensions (W x H x L)
144 × 330 × 257 mm
5.67 × 13 × 10.12 inch
2U
Cables Included
USB-C (Thunderbolt 40Gb/s or USB 3.1 10Gb/s) cable
Software
HighPoint Storage Monitoring and Management Suite
Price (MSRP)
$1299 (?)
$999
unknown
Just like competing DAS products from other manufacturers, the HighPoint RocketStor systems feature two Thunderbolt 3 ports, making it possible to daisy chain a display or another TB3 device to the storage arrays. The maker bundles one active Thunderbolt 3 cable certified for 40 Gb/s.
One of the key things about the HighPoint RocketStor 6618-series Thunderbolt enclosures are their recommended prices: the more advanced model 6618A is priced at around $1300, whereas the model 6618T (with software RAID and lower performance) is set to cost around $1000. With such price points, HighPoint aims to make Thunderbolt 3-based RAID storage solutions considerably more accessible compared to pre-configured off-the-shelf DAS systems.
HighPoint claims that its RocketStor 6618T is now available in North America at its MSRP of $999. While the enclosure is available, in some cases it comes populated with HDDs and comes at appropriate price points. Meanwhile, Amazon offers empty RocketStor 6618T for $1092.19 (so, not quite $999) as well as empty RocketStor 6618A for $1299.
Related Reading:
Source: HighPoint