MSI X299 Gaming Pro Carbon AC Review
Visual Inspection
Given the fact that it has to accomodate eight memory slots and increased number of slots and ports, you might reasonably expect the X299 Gaming Pro Carbon to be a little chunkier than the average motherboard, but MSI have managed to keep its dimensions to within the ATX standard, which is to say 305mm x 244mm / 12" x 9.6". The end result is a motherboard that we would describe as jam-packed, but which still manages to not only look good but be user-friendly as well.
Starting with the aesthetics, this model is defined by its matte black PCB, by the significant amount of white stripe silk-screening on the PCB, and both the faux carbon fiber and silver accents. The carbon fiber accents can be found on both the MOSFET and chipset heatsinks, as well as the rear I/O and audio section shrouds. As discussed previously, these carbon fiber accents are actually user-replaceable plastic inserts, and MSI have included both gold and silver alternatives in the accessories bundle. The metallic silver elements of the design are mostly due to the steel reinforcements on the memory slots, PCIe slots, and the U.2 cover, but there is also some silver detailing on all of the aforementioned heatsinks and shrouds.
As far as the layout is concerned, there is nothing that jumps out to us as being problematic. The two upright SATA ports are obviously less than ideal, we would prefer if they were next to the others, but that's certainly not a deal-breaker. Aside from one wayward front panel header (there are two), all of the other ports and headers are conveniently placed along the various edges of the motherboard. The lower right-hand corner is where all the significant buttons, switches, and knobs are located, which is the most convenient spot when needing to access them from within the confines of a case.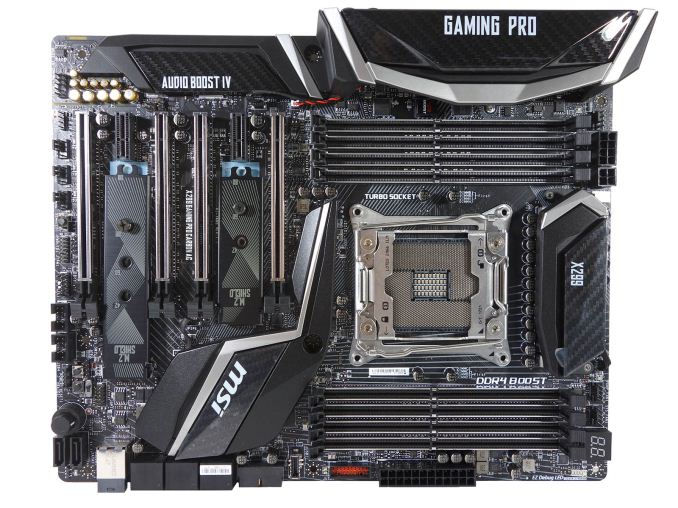 Given that all LGA2066 motherboards are now expected to be able to handle the flagship Core i9-7980X - an 18-core mega-chip with a 165W TDP - we are expecting to see some very robust CPU power designs this generation. In the case of the X299 Gaming Pro Carbon AC, MSI has opted for a 12-phase CPU power design that is based on the Infineon IR35201 digital PWM controller and Infineon PowIRstage IR3555M MOSFETs. These parts have proven themselves to be extremely capable on a number of other high-end motherboards, and will have zero problems handling the very high power demands on an overclocked Skylake-X processor. It is also worth mentioning that MSI have adorned this model with their new second-generation Titanium power chokes, and they have also used 10K solid polymer capacitors throughout the motherboard. Overall, there's nothing to reproach with regard to component choice.
In order to supply that CPU VRM area, MSI has included both 8-pin and 4-pin CPU power connectors. While that would have historically been considered overkill, and it still is despite the very high power requirements of an overclocked i9-7900X, it may actually end up being a must-have feature for overclocking the upcoming sixteen and eighteen core Skylake-X models. How much power a connector can delivers depends heavily on the type of terminals used, but even if an 8-pin connector ends up being adequate spreading the load across two connectors can't hurt.
In case you were wondering, the heatsink mounting mechanism on the LGA 2066 socket is identical to its predecessor, so whatever cooling you used on LGA 2011 can be reused. Since we are on the topic of cooling, this motherboard has six fan headers, specifically one CPU fan header, one high amperage fan/water pump header, and four system fan headers. Thee fan headers are all of the 4-pin variety and they are fully manageable via both DC and PWM fan control modes.

With the CPU socket area covered, it is time to take a look at the memory slots. Given that it has been designed for quad-channel processors (and to a lesser extent dual-channel KBL-X ones), the X299 Gaming Pro Carbon AC has eight DDR4 slots, with four on each side of the processor. These memory slots are all clip-less on one side, which makes modules each to remove when there is large graphics cards installed in the primary PCIe x16 slot. The slots have also been given the DDR4 Steel Armor treatment, which is to say that they are steel reinforced with extra ground points and some side shielding. Whether this reinforcement is required is debatable, but it does add a little something to the overall aesthetic appeal of the motherboard.
Because of the dual (but seperate) requirements of needing to handle eight high capacity DDR4 modules totaling up to 128GB, but also extremely high memory speeds (MSI lists up to DDR4-4266 support), MSI has outfitted this model with a pretty beefy memory power design. Each bank of four slots has its own two-phase VRM, featuring a Powervation PV3205 digital PWM controller and a pair of Texas Instruments CSD8735D NexFET MOSFETs.
Next to the memory slots are a few value-added features like an XMP status LED, an EZ Debug LED post code display, and the four EZ Debug LEDs, which will stay lit let you know if there is an issue with either the boot device, the graphics, the memory, or the processor. The 24-pin ATX power connector is in its usual convenient location on the right edge of the motherboard, while next to it is one of the two internal USB 3.0 headers that derive their functionality directly from the chipset.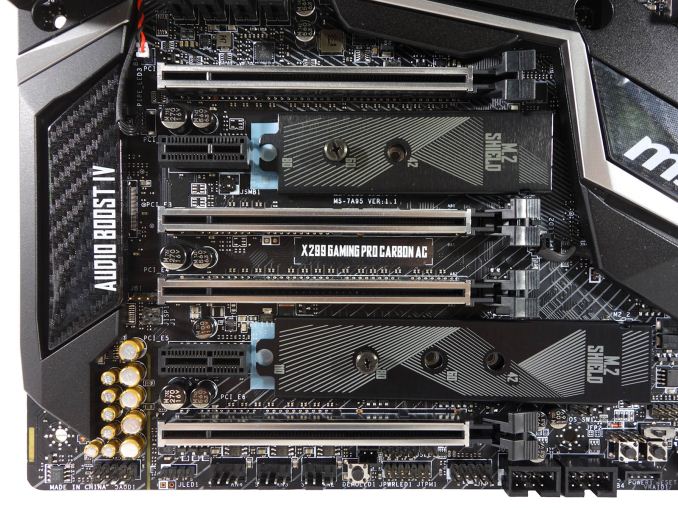 Plethora of CPU cores aside, one of the main reasons to invest in an HEDT platform is the abundance of high speed connectivity and PCIe slots. The MSI X299 Gaming Pro Carbon AC has two M.2 PCIe 3.0 x4 slots that have each been outfitted with the latest M.2 Shield V2, and which support SATA, PCI-E, and NVMe M.2 solid state drives. Naturally, they also support Intel's Optane Memory modules. While the top slot can handle extra-long 22110 form factor drives, the bottom one is limited to standard 2280 models that make up the bulk of the market. Since they are run off of the chipset, you can stripe the two M.2 slots together in RAID-0 or mirror them in RAID-1 without having to concern yoursef with Intel's controversial new Virtual RAID on CPU feature.
Now while two M.2 slots are nothing impressive given that you can find a similar number on a number of Z270 motherboards, the difference is that you can actually use these slots without having to sacrifice a ton of other functionality, be it SATA ports or PCIe slots. As long as you don't use the onboard U.2 port - which shouldn't be hard - you can install two PCIe/NVMe M.2 drives and still have all eight SATA ports enabled. If you install two SATA M.2 drives, the number of usable SATA ports drops by two. If you mix PCIe and SATA M.2 drives, you only lose one SATA port.
When it comes to PCIe connectivity, X299 motherboards are a drunken maze that vary immensely based on what processor you have installed. While the 44 and 28 PCIe lane Skylake-X models have enough bandwidth to put up a respectable showing when it comes to supporting multiple graphics cards, the same cannot be said for the Kaby Lake-X series and its piddly 16 PCIe lanes. In fact, on this motherboard, with a KBL-X processor installed the primary PCIe x16 slot can *never* operate in x16 mode, even with there's only one graphics card installed. That is something that we haven't seen in...well, ever. Thankfully, given how the PCIe lanes are being divvied up, when two graphics cards are installed they will both run at PCI-E 3.0 x8... exactly like on Z270 motherboards.
While a 44-lane Skylake-X model is fixed to x16/x4/x16/x8 across the four mechanical PCIe x16 slots, the 28-lane models are limited to a variation of x16/x0/x0/x0, x16/x0/x8/x0, x16/x4/x8/x0, or x8/x4/x8/x8. Officially, this motherboard supports 3-Way SLI and 3-Way CrossFire, but you could also theoretically run a 4-Way CrossFire configuration if one of your graphics cards was single slot. Unlike NVIDIA's SLI technology, CrossFire can run off of PCIe x4, and both Skylake-X variants have enough bandwidth to achieve that (and more) on all four mechanical PCI-E x16 slots.
We do have to point out that the PCIe slot configuration on this model is pretty much optimal since you can have three dual-slot graphics cards installed and still retain access to the second PCI-E x16 (x4 electrical) slot. As mentioned above, you could try something a little crazy like 4-Way CrossFire, or just install a PCIe soundcard or 10G Ethernet.

Having already covered the high-speed M.2 slots, the rest of X299 Gaming Pro Carbon AC's internal storage connectivity is neatly packed into one area. There are a total of eight SATA 6Gb/s ports, two of which are seperated from the rest and are positioned upright. All of the SATA ports are run off of the X299 and as a result support RAID 0/1/5/10 plus Intel Rapid Storage Technology. There is also a U.2 port with Steel Armor clading, and while it is a highly capable interface that that can handle theoretical transfer rates of up to 4GB/s, at the moment the only compatible consumer drive is the Intel 750 series.
This model also features a fair bit of internal USB connectivity. We mentioned that one of the two USB 3.0 5Gb/s headers is next to the 24-pin ATX power connector, well the second one is angled and located to the right of the SATA ports. Next that header is a unique front panel USB 3.1 Gen2 Type-C 10Gb/s header that can bring high-speed USB connectivity to the front of a compatible case. It is powered by the latest ASMedia ASM3142 controller.

The entire bottom edge of the motherboard is jam-packed with knobs, switches, buttons, ports, headers, and jumpers. Starting from left to right, there is the front panel audio header, a 3A/12V RGB LED header on which you can plug two 5050 RGB LED light strips via the included 2-in-1 cable, and three 4-pin system fan headers that are fully manageable via both DC and PWM fan control modes. Next is a small grouping of headers and one button that are purely there for retailers to be able to demonstrate the onboard RGB LED lighting and effects, which seems like something that we could do without. Right in the middle is the TPM module header and one of the two front panel headers, which frustratingly features zero indication regarding pin layout. Next to the two USB 2.0 headers is the Virtual RAID on CPU (VROC) header, which is where you will be able to install an Intel-sourced hardware key that will unlock the higher levels of VROC functionality. Above the VROC header are the power and reset buttons, the multi-BIOS selection switch (there are two BIOS ROMs onboard), and the second front panel header.
The Game Boost Knob basically allows users a quick and easy way of manually overclocking via presets without ever having to enter the BIOS or using any piece of software. There are a total of eight Game Boost levels available, and applying the overclock is just a matter of selecting the desired level, powering on the system, and within seconds the overclock is applied. Next to the knob are the two wayward and upright SATA 6Gb/s ports, which we would preferred to be next to the other SATA ports instead of the U.2 port. Speaking of which, below the U.2 port is the JSLOW1 header, which can enable slow mode booting. This drops the CPU multiplier to enhance system stability while booting at sub-zero temperatures.
Moving on to the lower left side, the Audio Boost 4 onboard audio design that MSI have implemented on this motherboard is familiar to us, since it is seemingly identical to that of the Z270 Gaming Pro Carbon. It is based on the latest Realtek ALC1220 audio codec, which has been paired to a capable Texas Instruments OP1652 op-amp that serves as the dedicated headphone amplifier, and a handful of Nippon Chemi-Con audio-grade capacitors. Regrettably, the audio codec has not been given a separate protective electromagnetic interference (EMI) cover over the audio boost vanity plate, but there is a clear isolation line that physically separates and protects the audio section from the rest of the motherboard. Given the gaming focus of this motherboard, MSI have also licensed the Nahamic 2 audio suite.
Since the left side of the motherboard below the rear I/O panel has been been deemed as one of they key lighting zones on this and other motherboards, there are RGB LEDs integrated into the plastic shroud that covers the audio section of the motherboard. Those LEDs combine with the other lighting zones in the chipset cooler, rear I/O cover, etc.

On the rear panel, from left to right, we have a clear CMOS button, a BIOS Flashback+ button, a combination PS/2 port, two USB 2.0 ports, another USB 2.0 port that is used for the BIOS Flashback+ feature, the Wi-Fi module (Intel Dual Band Wireless-AC 8265), four USB 3.0 ports (via an ASMedia ASM1074 hub), an Intel I219-V network port, USB 3.1 Gen2 Type-A and Type-C ports (courtesy of an ASMedia ASM3142), five gold-plated analog audio jacks and a digital S/PDIF output.
The upright USB port works in coordination with the BIOS Flashback+ button and it allows users to flash the BIOS without ever needing to boot the motherboard. You simply plug in a FAT32-formatted USB drive with a BIOS file on it, and then push button to start the flashing process. The BIOS Flashback+ LED will start blinking, and once it stops the process has been completed. Exact details can be found in the manual.