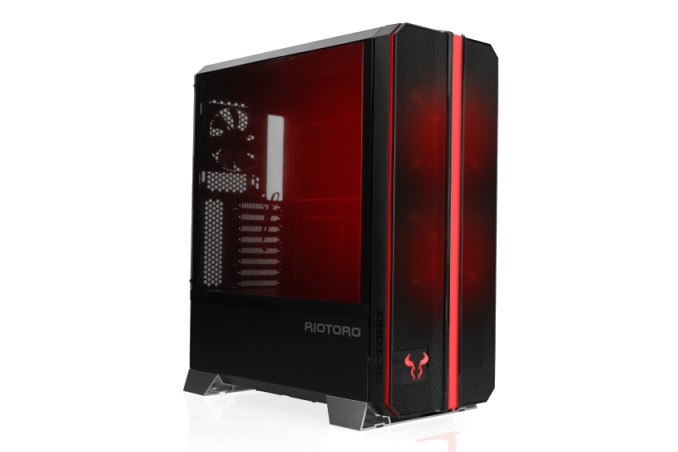 LAS VEGAS, NV — Riotoro has announced a couple of new products to add to their existing chassis and product lines with the Prism RGB Full-Tower Case, the CR488 Mid-Tower Case, and Enigma G2 Power Supplies. Riotoro says the Prism case was designed from the ground-up to deliver unparalleled cooling performance, quiet operation, and customizable RGB lighting while the CR488 was said to blend style, cooling efficiency, and a spacious interior that makes PC building effortless.
CR1288TG Prism
The CR1288TG Prism case features exterior integrated RGB lighting which can be controlled by the top panel or the case cable can be connected to your RGB-ready motherboard. The top panel has buttons to control the speed and lighting color on the fly. The exterior lighting has a total of 256 colors which should fit any builders' planned theme and distributes lighting throughout the chassis interior as well. Also on the front panel are fan controls, power/reset button, headphone and microphone jacks, as well as two USB 3.0 ports and two USB 2.0 ports forgoing any USB Type-C connection. The front of the case has easy to remove dust filters in the front, bottom, and top (magnetic washable dust filter on top). The tempered glass full-panel side window is tinted and allows users to show off the components inside. Riotoro also touts the CD1288 as the lightest full-tower case in the world with RGB functionality.

The interior is split into two chambers, one for the motherboard, CPU, GPU, and cooling, while the left, or back chamber is where the power supply (up to 220mm), SSD/HDD with space for cable management. The chassis will fit motherboards from Mini-ITX up to E-ATX, four GPUs up to 400mm in length with CPU heatsink clearance up to 180mm. There is a lot of room for whatever one would like to throw inside.
The CR1288TG has four 2.5-inch and four 3.5-inch bays which do not require tools to access. The chassis supports up to seven fans in 120 or 140mm flavors (2x 140mm and 1x 120mm included) and is able to fit two radiators – one up top up to 360mm and one in front up to 280mm.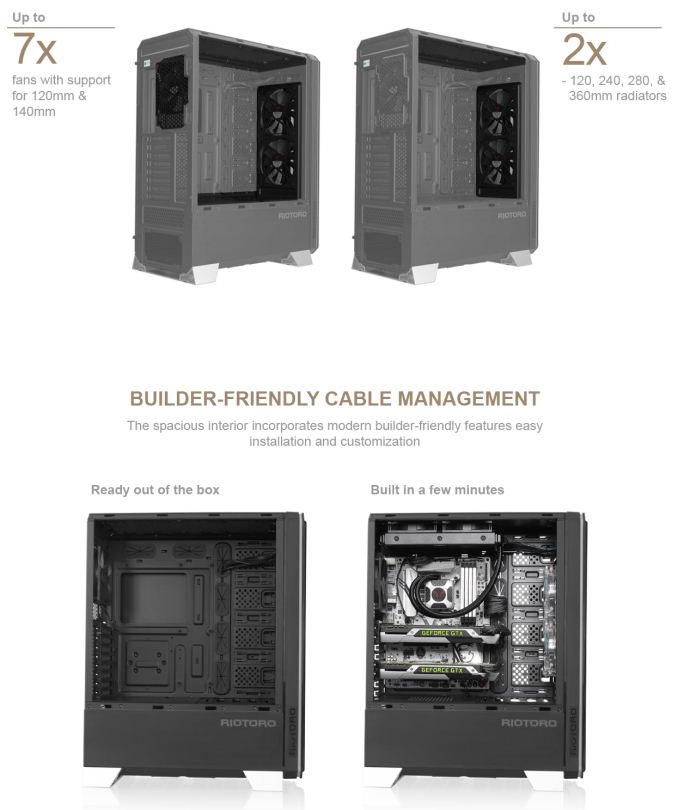 Pricing is TBA and the Riotoro Prism CR1288 will be available in Q2 2018.
CR488
The CR488 mid-tower gives users a sleek exterior with a lot of interior space for a small price. The case exterior is all black with a small side panel window for viewing the parts inside. The only color influence here is a red stripe down the front panel with the included 120mm front fan with red LEDs (another rear 120mm fan is included but is without LEDs). If you need RGB color, it will have to come from the motherboard or strips added to the interior. The front panel IO consists of power and reset buttons, microphone and headphone jacks, as well as two USB 3.0 ports.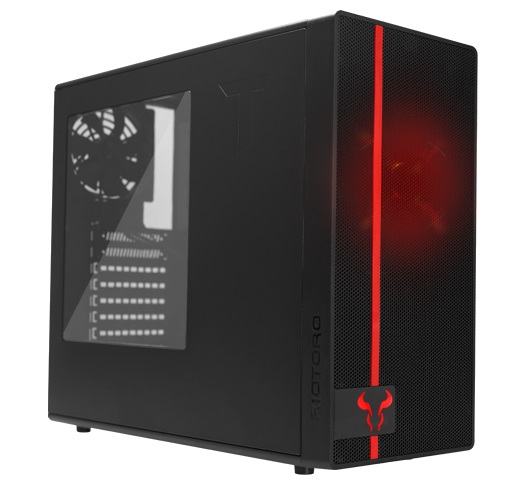 The interior is also split into two chambers. The left portion is able to house Mini ITX up to ATX motherboards, two GPUs up to 415mm, and CPU cooler clearance is listed up to 165mm. The right chamber is able to hold two 2.5" drives and three 3.5" drives with PSU support up to 220mm. The case will support up to five total fans with two 120mm on top, one 120mm in back and the bottom, as well as two 120mm in front or one 140mm. For water cooling the case has mounts on the front and top to support up to a 240mm radiator in both locations.
MSRP on the CR488 is $69.99 and is available now.
Enigma G2 Power Supply
The last announcement from Riotoro is the addition of a new power supply line names Enigma G2. The Enigma G2 is available in 650, 750, and 850 Watts and is semi-modular with flat cables to minimize clutter, ease installation, and improve airflow. All Enigma G2 units are 80 Plus Gold efficiency and use 100% Japanese capacitors for a longer life and greater reliability. Riotoro also says that it class-leading voltage regulation and uses a 120mm fluid dynamic bearing fan they say is inaudible under average loads. The fan can be set to three cooling modes in order to balance cooling and noise: Fanless, Silent, and Cooling.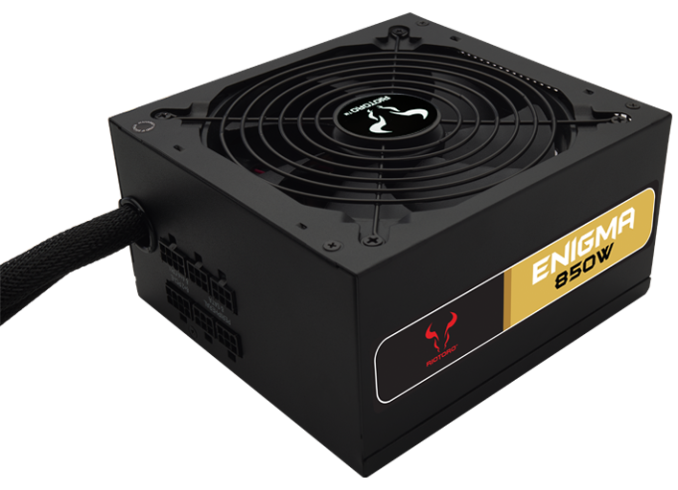 The power supplies include full over-voltage, under-voltage, over-current, over-power, and short-circuit protections. Riotoro has a lot of faith in this line of power supplies as it has a 10-year warranty. This makes sense as the OEM for the Enigma G2 line is Seasonic who's reputation of high-quality power supplies precede them in the industry.
The Enigma G2 power supplies will be available 1Q 2018 with the 650W priced at $69.99, 750W at $89.99 and the 850W at $109.99.
Related Reading:
Source: Riotoro