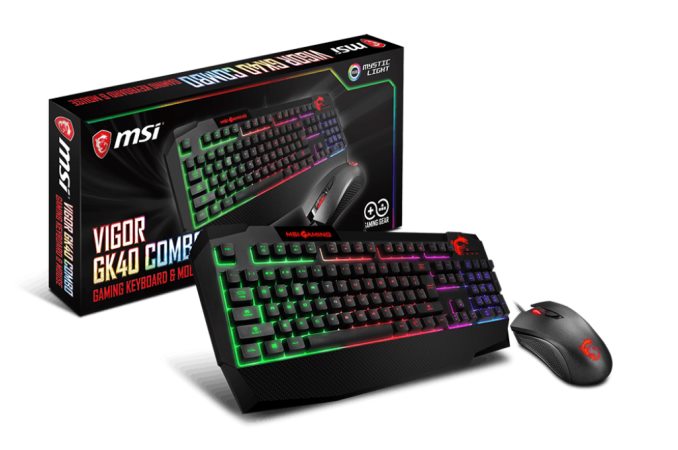 MSI this week has announced two new products to add to its gaming peripherals lineup: the Immerse GH60 Gaming Headset, as well as new Vigor GK40 keyboard. Along with that, they have paired the new Vigor Keyboard and existing Clutch GM10 Gaming Mouse together for ease of purchase. MSI's aim with the new products and combo is to provide more options for the mainstream gamers and include complimentary parts from their product stack into a one-stop solution for a gaming mouse and keyboard.
GH60 Gaming Headset
The Immerse GH60 Gaming Headset is an over the ear type using a solid stainless steel design and flexible suspension headband that is intended to fit many head sizes and have a comfortable fit. Its ear cups swivel for comfort as well as easy carry and storage capabilities. The ear pads are swappable and MSI includes a set of cloth ear cups as well so users are able to choose their preference. Outside of the steel framing, the suspension headband, ear cups, and other structures are black with the familiar MSI Gaming dragon in red on the outside of both ear cups. A gaming headset wouldn't be complete without a microphone and while it is permanently attached it is retractable and can hide inside the unit when not in use.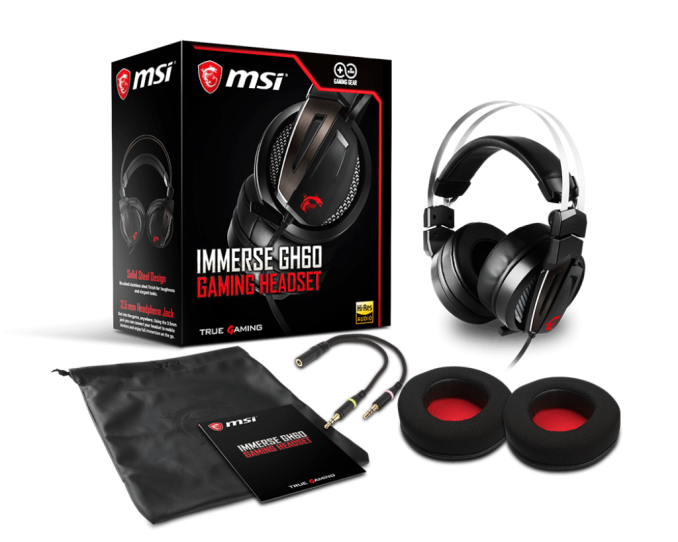 Specs wise, the GH60 uses a single 50mm Neodymium driver in each ear cup and yields a frequency response of 20 Hz ~ 40 kHz with an impedance of 32 Ohm. The unidirectional microphone is able to capture frequencies from 100 Hz ~ 10 kHz. Connecting the GH60 to a PC is a 2M braided cable to with a gold plated 3.5" headphone jack at the end. Inline is a remote control offering volume control and muting the microphone.
MSI did not mention the price but it will be available January 2018.
Immerse GH60 Gaming Headset
Connector
3.5mm headphone jack
Cable
Gold Plated and Braided / 2M Length / Low Resistance
Driver
50mm Neodymium
Speaker Sensitivity (SPL)
96 dB ± 3 dB
Speaker Impedance
32 Ω
Speaker Frequency Response
20 Hz ~ 40 kHz
Pick-Up Pattern
Unidirectional
Microphone Frequency Response
100 Hz ~ 10kHz
Microphone Sensitivity
-40 dB ± 3 dB
Microphone Impedance
2.2k Ω
Vigor GK40 and GK40 Combo with Clutch GM10 Gaming Mouse
MSI has also launched the new Vigor GK40 Gaming Keyboard that features 'mechanical-like' keystrokes from a membrane-based keyboard. The GK40 is a full sized keyboard including a number pad and a large palm rest for comfortable gaming. The keys have anti-ghosting capability with up to 20 keys for a conflict-free gaming experience. The keyboard is also water repellant hopefully preventing damage from the inevitable spill on the keyboard. It has multi-color backlit keys with four levels of brightness adjustment, and eight different light effects across six regions which can all be controlled through their Mystic Light application.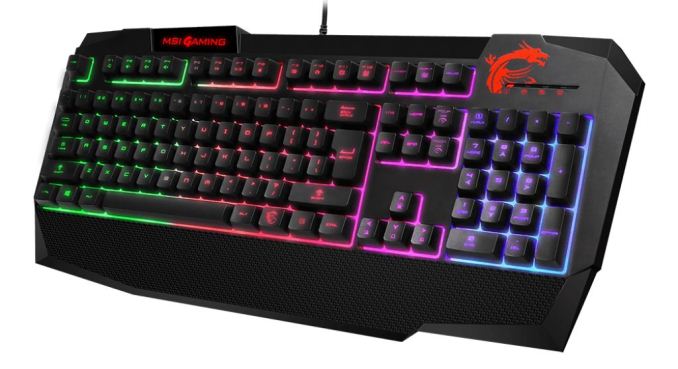 The GM10 Gaming Mouse is an unassuming device by mouse standards is a four-button device with a web wheel and on-the-fly DPI adjustment buttons along with the two standard. It has an asymmetric design and dragon scale anti-slip grip is made for right-handed users, though it looks like a lefty could be OK with it as the design doesn't look too asymmetric and awkward.
The Pixart ADSN-5712 optical sensor has four built-in instant DPI settings, 800/1000(default)/1600/2400, which can be set without software. While the main key switches are not listed but are said to provide 10 Million+ clicks. The integrated LEDs are found in the web wheel (up to four colors) and the Red Dragon. The Dragon logo has a breathing effect while the web wheel color matches the DPI (blue, red, green, and purple). The GM10 connects to the PC via a 1.8m USB cable.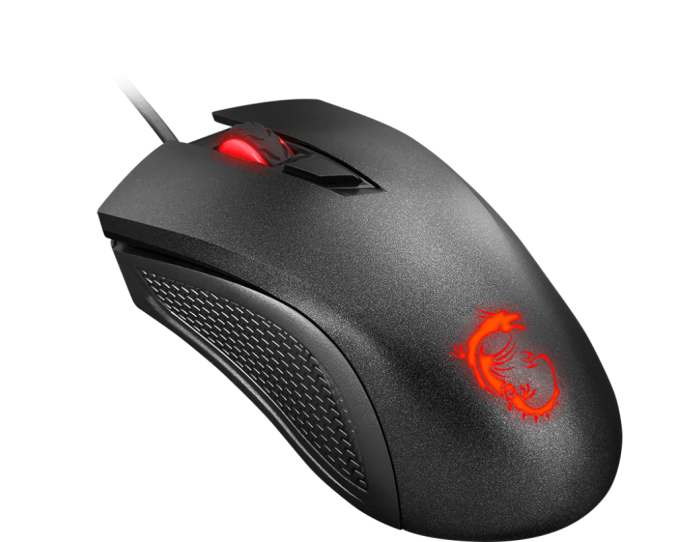 MSI has grouped the GK40 keyboard and GM10 mouse into one package in order to simplify the purchase of a gaming keyboard and mouse. The packaging will show Vigor GK40 Combo on it as well as picture the mouse to discern itself from just the keyboard package itself which looks remarkably similar.
No mention of pricing but these I'd expect the combo to be relatively inexpensive since it is geared towards the mainstream and isn't a mechanical keyboard or fancy RGB multi-button mouse. These are also said to be available in January.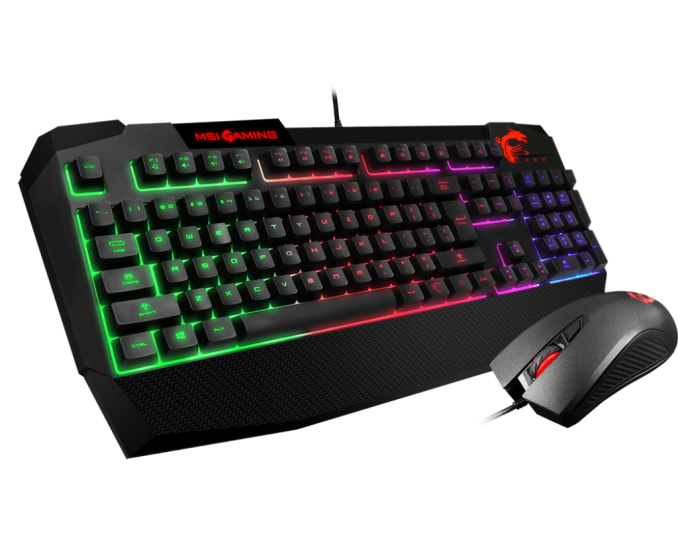 Vigor GK40 Keyboard
Model
Vigor GK40 Gaming Keyboard
Main Key Switches
Membrane switches (Mechanical-like)
Keyboard Interface
USB
Normal Keys
Stand 104 keys / 105 keys / 108 keys
Dimensions (mm)
472 x 207 x 39
Windows Support / Requirements
Windows 10 / 8.1 / 8 / 7 - System with USB Support
Backlight
6-region RGB illumination, supports MSI Mystic Light
Weight
1056g
Clutch GM10 Gaming Mouse
Sensor
PixArt ADSN-5712
Sensor Type
Optical
DPI Switch
800 / 1000 (default) / 1600 / 2400
Color
Black
Buttons
4
Response Time
1ms
Main Key Switches
10 Million+ clicks
LED Light
Red Dragon LED / Wheel (four colors)
Lighting Effects
Logo LED: Breathing effect
Wheel LED: by DPI (800 Blue / 1000 Red / 1600 Green / 2400 Purple)
Cable / Interface
1.8m / USB
Dimensions (mm) / Weight (G)
125 x 64 x 42 / 104g
Operating System
Windows 10 / 8.1 / 8 / 7 / Vista / XP
Related Reading:
Source: MSI