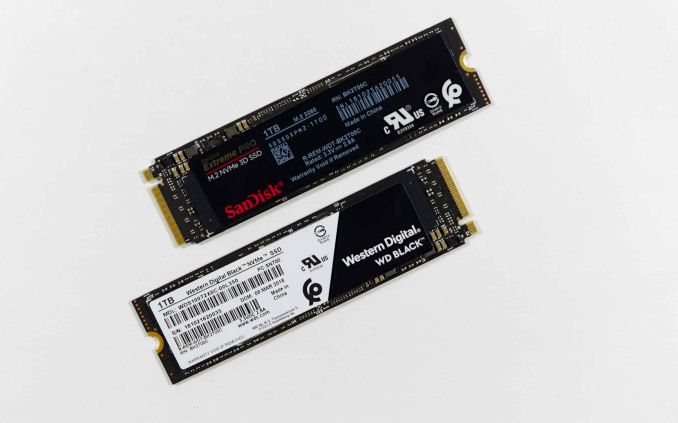 Western Digital is bringing 3D NAND to their high-end consumer SSD family with the launch today of two new NVMe SSDs featuring SanDisk's 64-layer 3D TLC NAND flash memory. As with the SATA SSDs that first brought 3D NAND to their consumer portfolio, Western Digital is releasing the same drive under both their WD and SanDisk brands. Under the stickers, the hardware is identical.
The names are recycled and familiar: the WD Black and SanDisk Extreme PRO. The first WD Black SSD was Western Digital's first consumer NVMe product. It used a Marvell controller and 15nm planar TLC NAND, and ended up near the bottom of the performance rankings for NVMe SSDs, with no appreciable performance advantage over SATA SSDs for heavier workloads. The SanDisk Extreme PRO name hasn't been used on an internal SSD for quite a while, but it carries a strong legacy: the original SanDisk Extreme PRO was a top-tier SATA SSD with MLC NAND and was competitive with the Samsung 850 PRO. The SATA SanDisk Extreme PRO hit the market right before the 850 PRO and was the first consumer SSD to carry a 10-year warranty, forcing Samsung to follow suit with the 850 PRO.
Re-using product names like this without any clear generational indicator or model year will cause confusion. Western Digital has at least ensured that the new drives are using different capacities from their predecessors: the first-generation WD Black was 256GB and 512GB, the original Extreme PRO was 240GB, 480GB and 960GB, and the new WD Black and SanDisk Extreme PRO are 250GB, 500GB and 1000GB. Still, last year's WD Black will be coexisting in the marketplace for several months with this year's model, and the two are very different products.
The new WD Black and SanDisk Extreme PRO SSDs are based on the same platform as the SN720 business/OEM SSD Western Digital announced earlier this year. In addition to the major advance of switching from 15nm planar TLC NAND to 64-layer BiCS 3D NAND, the new SSDs also feature Western Digital's own new SSD controller instead of using a controller from Marvell. This is a major shift toward vertical integration for Western Digital/SanDisk, and is the best strategy for Western Digital to differentiate their products in a market crowded with dozens of brands sourcing their controllers or the entire drive design from the same small handful of vendors.
Western Digital WD Black and SanDisk Extreme PRO Specifications
Capacity
250 GB
500 GB
1 TB
WD Black Model
WDS250G2X0C
WDS500G2X0C
WDS100T2X0C
SanDisk Extreme PRO Model
-
SDSSDXPM2-500G
SDSSDXPM2-1T00
Form Factor
M.2 2280 Single-Sided
Interface
NVMe PCIe 3 x4
Controller
Western Digital in-house
NAND
SanDisk 64-layer 3D TLC
DRAM
SK Hynix DDR4-2400
Sequential Read
3000 MB/s
3400 MB/s
3400 MB/s
Sequential Write
1600 MB/s
2500 MB/s
2800 MB/s
4KB Random Read
220k IOPS
410k IOPS
500k IOPS
4KB Random Write
170k IOPS
330k IOPS
400k IOPS
Power
Peak (10µs)
9.24 W
9.24 W
9.24 W
PS3 Idle
70 mW
70 mW
100 mW
PS4 Idle
2.5 mW
2.5 mW
2.5 mW
Write Endurance
200 TBW
0.4 DWPD
300 TBW
0.3 DWPD
600 TBW
0.3 DWPD
Warranty
5 years
MSRP
$119.99
(48¢/GB)
$229.99
(46¢/GB)
$449.99
(45¢/GB)
Amazon Price
$119.99 (48¢/GB)
$226.75 (45¢/GB)
$449.99 (45¢/GB)
The performance specifications of the new WD Black and SanDisk Extreme PRO promise a high-end drive, with sequential read speeds of 3+ GB/s even on the smallest 250GB model, and high random access specifications on the 500GB and larger models. Write endurance ratings are a reasonable 0.3-0.4 drive writes per day for five years. The MSRPs position the WD Black directly against the Samsung 960 EVO and above most other recent consumer NVMe SSDs—the fast-growing entry-level NVMe segment is what most brands are focusing on at the moment.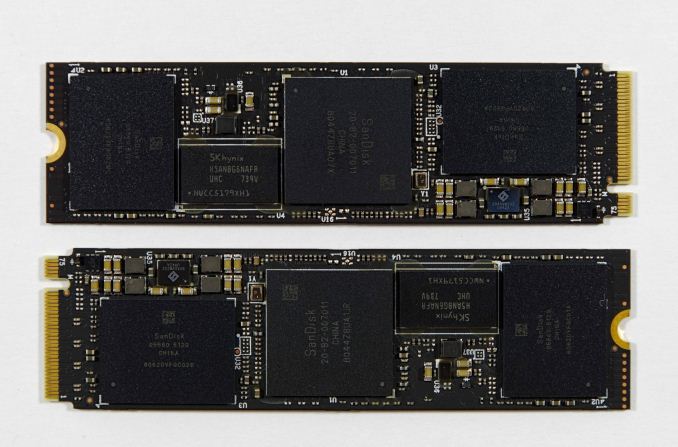 The WD Black can at least momentarily hit the power limits of the M.2 form factor, but it doesn't feature any heatspreader. Instead, Western Digital is using an uncommon layout that places the controller in the middle of the stick with NAND flash memory on both sides of the controller. This was deemed adequate to prevent overheating, and has the side effect of making it easier to route the 8 channels from the controller to the NAND.
The new drives will initially be available in capacities from 250GB to 1TB, though the SanDisk-branded versions won't include the smallest 250GB model. These drives should all be shipping by the end of the month. Western Digital has not mentioned any plans for a 2TB models, but since they have already announced a 2TB SN720 they obviously have the option to quickly deploy a 2TB WD Black or SanDisk Extreme PRO model if the demand is sufficient.
AnandTech 2017/2018 Consumer SSD Testbed
CPU
Intel Xeon E3 1240 v5
Motherboard
ASRock Fatal1ty E3V5 Performance Gaming/OC
Chipset
Intel C232
Memory
4x 8GB G.SKILL Ripjaws DDR4-2400 CL15
Graphics
AMD Radeon HD 5450, 1920x1200@60Hz
Software
Windows 10 x64, version 1709
Linux kernel version 4.14, fio version 3.1