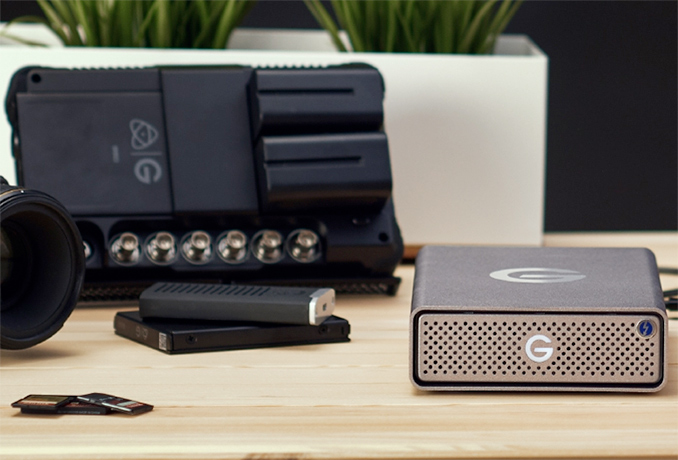 G-Technology this week introduced its new families of external SSDs featuring a Thunderbolt 3 interface, up to 16 TB capacity, and 2800 MB/s sustained throughput. The new DAS from G-Technology are aimed at mobile workstations used for 4K, 8K, and VR content creation.
The new lineup of G-Technology's external SSDs includes the G-Speed Shuttle multi-bay solid-state storage system, which is for use in studios as well as on set, the G-Drive Pro SSDs, and the G-Drive mobile Pro drives for use primarily on the go. G-Technology guarantees that all the drives offer 2800 MB/s of sustained read speeds in a bid to enable editing of multi-stream Ultra HD footage at full frame rate, or quickly render VR projects.
G-Technology (and Western Digital, the owner of the brand) does not disclose what type of NAND flash memory and NAND controllers the new SSDs use. Meanwhile, since we are dealing with workstation-class products, it is logical to assume that the manufacturer uses highly-reliable components. Just like many other advanced SSDs, the new external drives from G-Technology are covered by a five-year warranty.

The G-Speed Shuttle SSD is the flagship external solid-state storage system from G-Technology featuring a hardware RAID controller (RAID 0, 1, 5, 10, and 50 modes are supported), and eight bays for SSD modules. The storage device will be available in 8 TB and 16 TB versions (it is unclear whether the numbers are raw NAND, or usable NAND), it will have two Thunderbolt 3 ports to daisy chain up to five additional devices (e.g., build an external solid-state storage system featuring a 96 TB capacity). The G-Speed Shuttle comes in enclosure with a handle to enable a more comfortable transportation from a studio to a shooting site.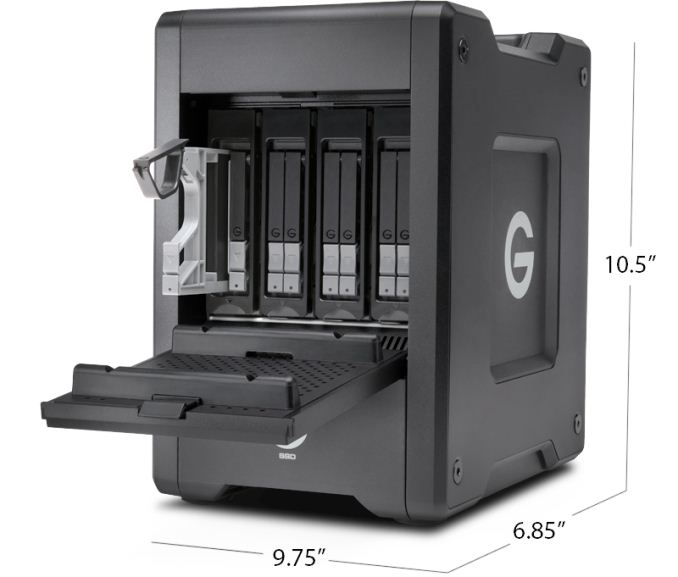 The G-Speed Shuttle SSD featuring 8 TB capacity will start at $5,100, the 16 TB version will cost $7,600. The storage systems will be available this month.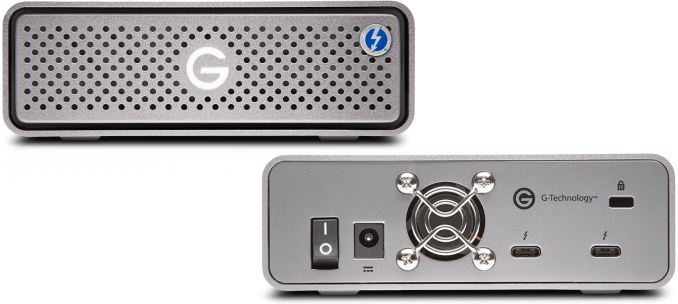 Moving on to the G-Drive Pro SSDs. These external storage devices pack enterprise-class PCIe SSDs rated for 1 DWPD and will be available in 960 GB, 1.92 TB, 3.84 TB and 7.68 TB capacities. G-Drive Pro will come in stackable aluminum enclosures with two Thunderbolt 3 ports for daisy chaining of up to five additional devices. In addition, the drives are equipped with an active cooling to guarantee sustainable performance.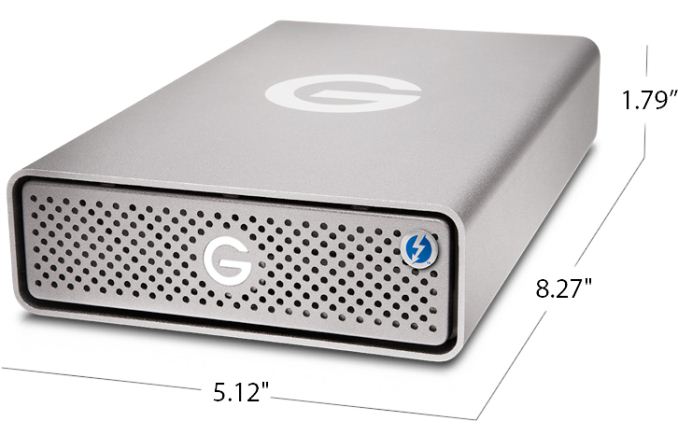 Pricing of the G-Drive Pro SSDs will start at $1400 for a 960 GB version, whereas the top-of-the-range 7.68 TB SKU will be priced at $7,600. G-Technology plans to start sales of the G-Drive Pro SSDs in May.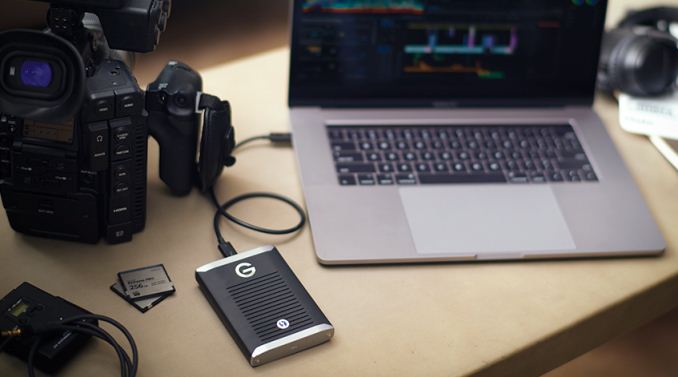 For those who need an ultra-fast, durable SSD in a shock-resistant enclosure, G-Technology will offer the G-Drive mobile Pro SSDs. These drives will be available in 500 GB and 1 TB capacities and will come in chassis speced for a three-meter drop protection and a 1000-lb crush-proof rating. The G-Drive mobile Pro SSDs are not exactly the most portable mobile storage devices, they do not support daisy chaining, but if you need extra protection for your data, this seems like a fair trade off.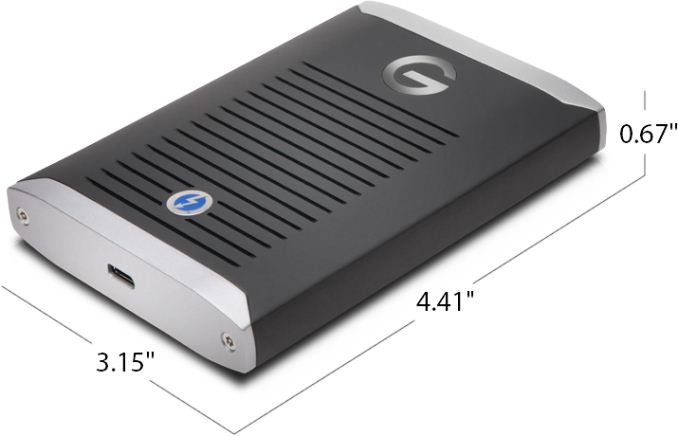 As for pricing, a 500 GB G-Drive mobile Pro SSD will cost you $650, whereas a 1 TB version will be available for $1,050. The manufacturer plans to ship the new drives this Summer.
G-Technology's 2018 DAS SSDs with Thunderbolt 3
G-Drive Shuttle
G-Drive Pro SSD
G-Drive mobile Pro
Number of Bays
8 swappable bays for SSDs
-
Capacity
8 TB
16 TB
960 GB
1.92 TB
3.84 TB
7.68 TB
500 GB
1 TB
RAID
0/1/5/10/50
-
Sustained Read Speed
2800 MB/s
Sustained Write Speed
unknown
RAID Controller
Hardware RAID controller
-
Ports
2 × Thunderbolt 3
1 × Thunderbolt 3
PSU
integrated
external
bus-powered
Dimensions
Width
24.7 cm | 9.75 inch
13 cm | 5.12 inch
8 cm | 3.15 inch
Length
17.4 cm | 6.85 inch
21 cm | 8.27 inch
11.2 cm | 4.41 inch
Height
26.7 cm | 10.5 inch
4.5 cm | 1.79 inch
1.7 cm | 0.67 inch
Cables Included
Thunderbolt 40Gb/s cable
power cord
Thunderbolt 40Gb/s cable
power adapter + cord
Thunderbolt 40Gb/s cable
Compatibility
macOS 10.12+
Windows 10, 7 (via reformat)
macOS 10.13+
Windows 10 (via reformat)
MacOS 10.13+
Windows 10 (via reformat)
Price (MSRP)
8 TB: $5,100
16 TB: $7,600
960 GB: $1,400
1.92 TB: $2,100
3.84 TB: $4,100
7.68 TB: $7,600
500 GB: $660
1 TB: $1,050
Related Reading:
Source: G-Technology