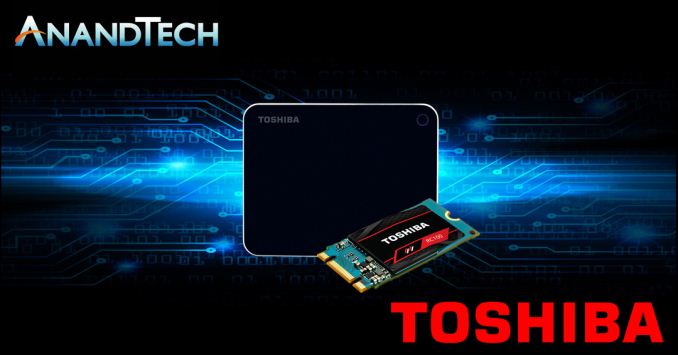 In the mood for some free hardware? Well then you're in luck: our awesome community team in conjunction with Toshiba is holding a giveaway for a quartet of the company's SSDs. Altogether we have two 240GB OCZ XS700s – Toshiba's new line of SATA-based USB-C portable drives – along with a pair of literally tiny 240GB OCZ RC100 M.2 SSDs.
Toshiba RC100 & XS700 Specifications
RC100 240GB
XS700 240GB
Form Factor
Single-sided M.2 2242 B+M key
External
(USB-C)
Controller
Toshiba unnamed
Toshiba unnamed
Interface
NVMe 1.2.1 PCIe 3.1 x2
SATA-over-USB 3.1 Gen 2
DRAM
None
NAND
Toshiba 64L BiCS3 3D TLC
Sequential Read
1600 MB/s
550 MB/s
Sequential Write
1050 MB/s
500 MB/s
Warranty
3 years
As far as the RC100 goes, our SSD-meister, Billy Tallis, took a look at the new drive earlier this month. The tiny drives are aimed at a small but none the less important niche for M.2 storage: drives shorter than the standard 2280 form factor. The resulting 2242 form factor RC100 is on a bit more than half the length of a standard drive, making it one of a handful of drives suitable for certain laptops and other small form factors where a physically smaller drive is preferable.
Under the hood, the RC100 is based on a completely self-contained BGA SSD design, meaning the entire controller + NAND stack is on a single package. The resulting performance, while not record-setting due to the compromises made, is none the less a generation ahead of the rest of the market, which is composed of older SATA-based designs.
As for the XS700, this is a new external drive we haven't reviewed yet. Toshiba has disclosed that like their other current-generation products it's using their 64 layer 3D NAND, meanwhile Billy reckons it's based on the TR200 SSD platform. TR200 is a basic drive but should be well suited for the highly sequential workloads most external SSDs are used for. As a result, the bottleneck here is the SATA interface; the USB-C 3.1 Gen 2 connection actually outpaces SATA here with its 10Gbps transfer rate. So it should be possible to hit the drive's full transfer rate.
In any case, the giveaway is running through July 9th and is open to all US residents. You can find the full details for entering the giveaway over on the storage section of our forums.
Source: AnandTech Forums