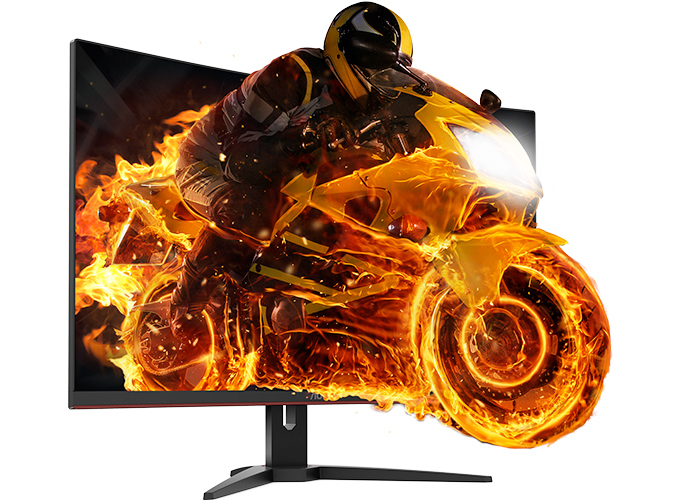 AOC this month formally introduced its G1-series of curved gaming displays, which offer premium features like 144 Hz FreeSync support at affordable prices. The new monitors start at $230 for a 24-inch model and top out at $400 for a 31.5-inch version, making these among the cheapest high refresh rate FreeSync monitors on the market.
AOC's G1 family will initially consist of four models: a 24-inch display, a 27-inch display, and two 32-inch displays. All four are based on 16:9 aspect ratio curved VA-type panels, and all of which similar specifications such as 250-nits peak brightness, a 3000:1 contrast ratio, 1 ms MPRT response times, and a 144 Hz refresh rate. The C24G1, C27G1, and C32G1 all run at a Full-HD (1920x1080) resolution, while the CQ32G1 goes one step further with WQHD (2560x1440).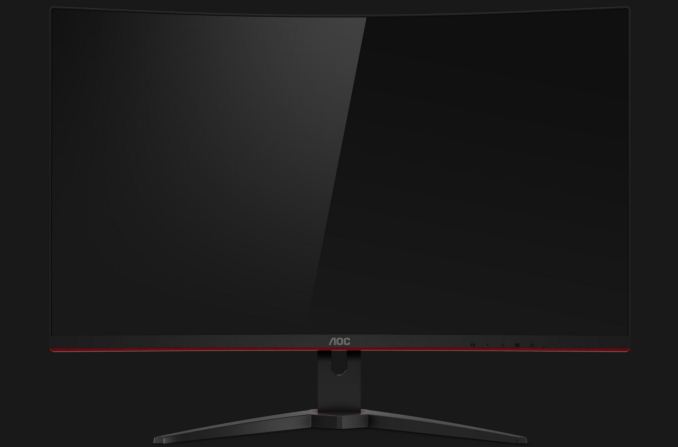 The key selling points for all of AOC's G1 monitors are their ultra-low motion picture response time (keep in mind that MPRT response time is a different thing than GtG response time usually mentioned by display makers though), AMD's FreeSync dynamic refresh rate technology, as well as a 144 Hz maximum refresh rate. AOC has yet to disclose the FreeSync ranges of the displays and whether they're wide enough to support AMD's Low Frame Rate (LFC) capability; however it would be rather odd to see a 144Hz display that couldn't meet the relaively modest 2x range requirement. Meanwhile, the company's previous-gen entry-level gaming monitors, which launched last year, supported LFC and had a very decent FreeSync range from 30 to 144 Hz.
Meanwhile in order to bring in these gaming features to entry-level monitors, AOC did have to make some tradeoffs. In particular, they're using panels with relatively modest brightness ranges and pixel densities. For hardcore gamers after a fast monitor this isn't likely to be an issue, however someone with a more mixed gaming/productivity workload may find it's balanced towards the former and not the latter.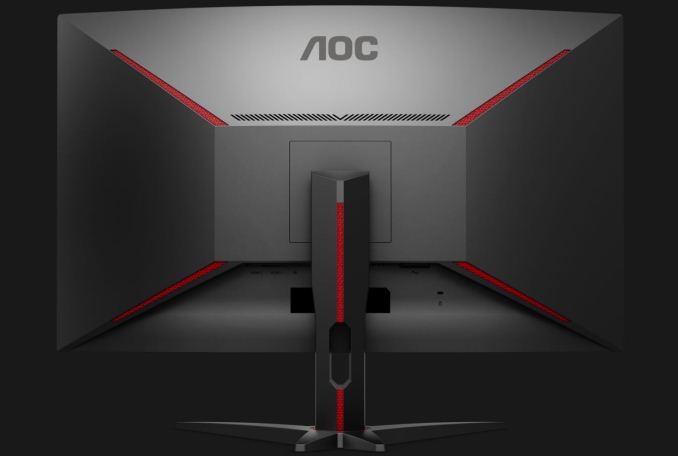 When it comes to connectivity, all of AOC's G1 displays have three display inputs – a DisplayPort and two HDMI headers (to connect a PC and two game consoles) – as well as a 3.5-mm headphone jack, essentially keeping the number of connectors at a minimum. The manufacturer decided not to equip its G1 monitors with speakers or a USB hub since neither will be truly appreciated by the target audience.
Specifications of AOC's G1 Series Gaming Displays
C24G1
C27G1
C32G1
CQ32G1
Panel
24" VA
27" VA
31.5" VA
31.5" VA
Native Resolution
1920 × 1080
2560 × 1440
Maximum Refresh Rate
144 Hz
Dynamic Refresh
Tech
AMD FreeSync (LFC is not confirmed)
Range
30 - 144 Hz (?)
Brightness
250 cd/m²
?
Contrast
3000:1
?
Viewing Angles
178°/178° horizontal/vertical
Response Time
1 ms MPRT
Pixel Pitch
0.27156 mm²
0.3114 mm²
0.3637 mm²
0.2724 mm²
Pixel Density
90 PPI
81 PPI
70 PPI
93 PPI
Curvature
1500R
1800R
Color Gamut Support
sRGB
Inputs
1 × DisplayPort 1.2
2 × HDMI 1.4
1 × D-Sub
?
USB Hub
-
-
-
-
Audio
3.5 mm Headphone Output
?
Proprietary Enhancements
AOC Flicker Free
Power Consumption
Idle
0.5 W
?
Operating
20 W
23 W
50 W
?
Stand Adjustments
Tilt
-4 ~ +21.5°
-5 ~ +21.5°
?
Swivel
-34 ~ +34°
-
?
Height
130 mm
-
-
?
Pivot
-
-
?
VESA Mounts
100 × 100 mm
Launch Timeframe
Q4 2018
September 2018
Q4 2018
Q4 2018
Additional Information
Link
Link
Link
-
MSRP
$230
$280
$300
$400
AOC's 27-inch C27G1 is available now for $280 from Amazon and Newegg. The other monitors are expected to hit the market in the fourth quarter, presumably in time for holiday season. The C24G1 will carry an MSRP of $230, whereas the larger C32G1 and CQ32G1 will be priced at $300 and $400, respectively.
Related Reading: