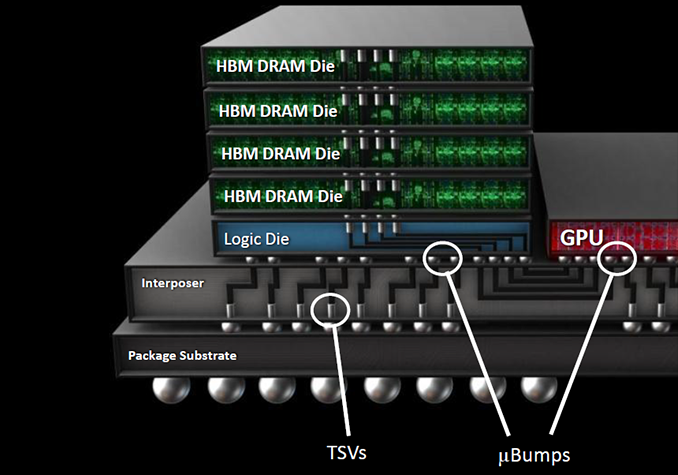 JEDEC this week published an updated version of its JESD235 specification, which describes HBM and HBM2 DRAM. The new version of the standard allows memory manufacturers to increase capacities of future HBM stacks to 24 GB and boost their bandwidth to 307 GB/s per stack.
On the capacity front, the new version of the specification, JESD235B, had added support for 12-Hi chip stacks. With 4 more layers than the previous limit of 8-Hi stacks, this will allow memory manufacturers to produce 12 GB stacks at current densities, and 24 GB stacks in the future when 16 Gb layers become available. Though it's worth noting that while 12-Hi stacks are now part of the HBM specification, the group still lists the physical dimensions of a 12-Hi KGSD (known good stacked die) as "TBD", so it's not immediately clear right now whether 12-Hi stacks will follow the same 720μm typical/745μm maximum stack height rules as the current 2/4/8-Hi configurations. Otherwise the configuration of the stacks themselves are unchanged; the new KGSDs will continue to feature up to eight 128-bit channels as well as a 1024-bit physical interface.
As for performance, the HBM standard now also supports data transfer rates of up to 2.4 Gbps per pin (i.e., 307 GB/s per stack), up from 2 Gbps supported by the JESD235A. It is noteworthy that Samsung's Aquabolt and SK Hynix's HBM2 memory chips already support 2.4 Gbps speeds at 1.2 V, so from actual performance point of view the new spec does not bring any significant changes. However this update does finally canonize the 2.4 Gbps data rate into the official standard, and meanwhile the new spec will enable other DRAM makers to release 2.4 Gbps products as well.
All told, the updated specification means that a fully built-out 4096-bit HBM memory subsystem following the JESD235B spec can now contain 96 GB of memory with a peak bandwidth of 1.228 TB/s.
Though it remains to be seen when makers of memory will be ready with their 12-Hi HBM memory chips. To date, no one has announced any 12-Hi products; however I wouldn't expect JEDEC to be adding even taller stacks to the standard unless someone was in the process of building said memory.
Related Reading:
Source: JEDEC