Visual Inspection
The MSI MEG X570 Godlike is an E-ATX motherboard which combines a wide variety of highly premium controllers and wraps it up in a very elegant design. On the aesthetics, MSI has gone with an all-black PCB which is flanked by a black metal and plastic rear panel cover, as well as the X570 chipset heatsink which is actively cooled, but uses the Zero Frozr technology; this means that the fan has a semi-passive design which ramps up when it needs to keep the warm running X570 chipset cool.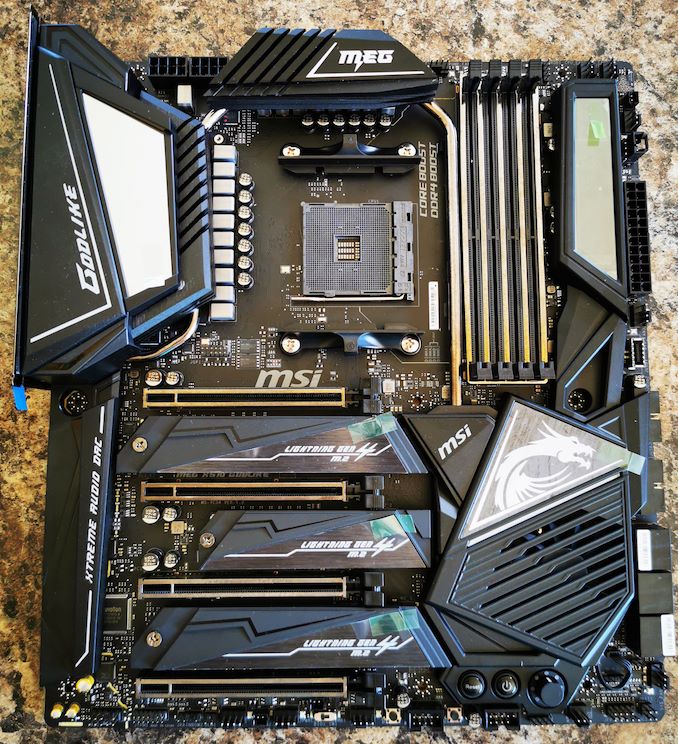 Along the bottom of the board is an overclocker's toolkit which consists of a reset button, power button, and an MSI Game Boost dial which allows users to select from seven different overclocking presets. Also located along the bottom are two little buttons which allow users to increase or decrease the base clock on the fly in steps of a single MHz; this is more for extreme overclockers looking to squeeze every last MHz of performance out of memory and CPU. Other headers around the edge of the board include two USB 3.1 G2 headers (four ports), one front panel USB 3.1 G2 Type-C port, two USB 2.0 headers (four ports), and a front panel audio header. The MSI MEG X570 Godlike has a total of nine 4-pin fan headers which are split into three main areas; one for the CPU fan, one for a water pump, and seven for chassis fans. There are also two 2-pin thermal sensor connectors and a 3-pin water flow connector meaning this model is very suitable for enthusiasts looking for a top of the range model to use with a custom water cooling loop.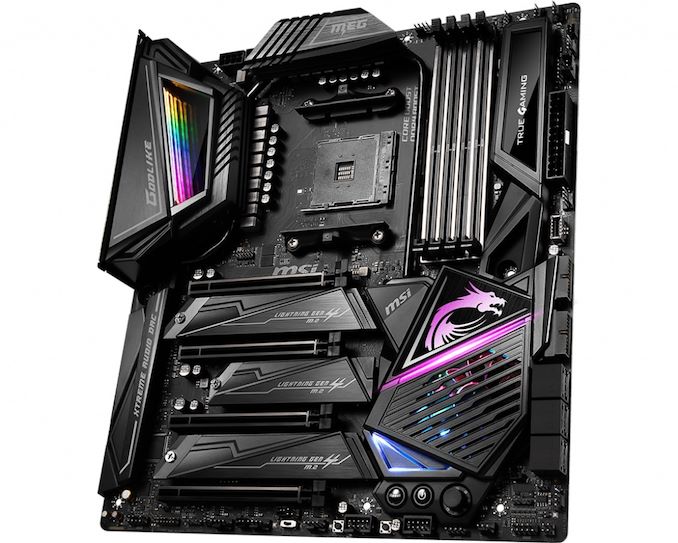 Dominating the lower portion of the MSI MEG X570 Godlike's PCB is four full-length PCIe 4.0 slots which operate at x16, x8/x0/x8, x8/x4/x4, and x8/x4, with the bottom full-length slot running at PCIe 4.0 x4. Sandwiched in between the full-length slots are three PCIe 4.0 x4 M.2 slots each with its own individual Lightning Gen4 M.2 heat shield. MSI also includes six SATA ports, and due to MSI bundling the X570 Godlike with an M.2 Xpander-Z Gen4 add-on card using its Frozr cooler, we also get an additional two PCIe 4.0 x4 M.2 drives.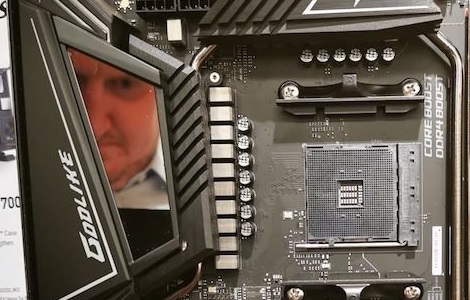 Me looking all angry and Godlike at Computex 2019 (Image credit to Coreteks)
On the rear panel cover is MSI's Infinity Mirror II panel which allows users to create funky RGB LED effects, something MSI has used before on previous models such as the MSI MEG Z390 Ace. This along with the 4-pin ARGB header, two 3-pin RAINBOW RGB headers and single 3-pin Corsair RGB LED header can be customized within the Mystic Light section of the MSI Dragon Center software.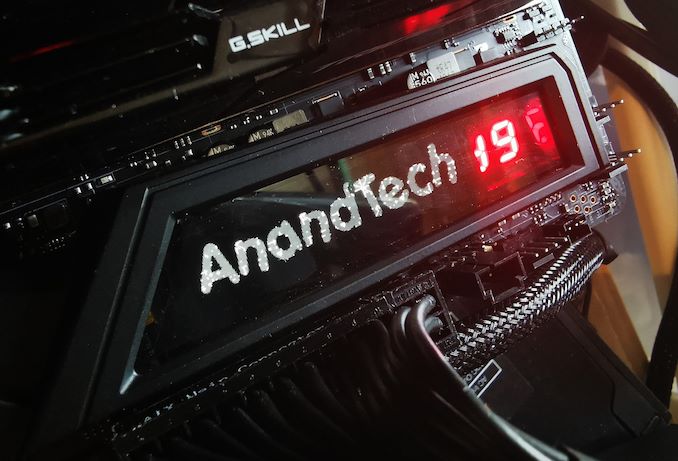 Over on the right-hand side is four memory slots which support up to DDR4-4800 and up to 128 GB which is impressive in itself is the Dynamic Dashboard which allows users to view the board's vital statistics including various states of system status, and more impressively, allows users to upload their own animated GIF. This is made from OLED and its controls can be accessed from the MSI Dragon Center within the Mystic Light RGB utility.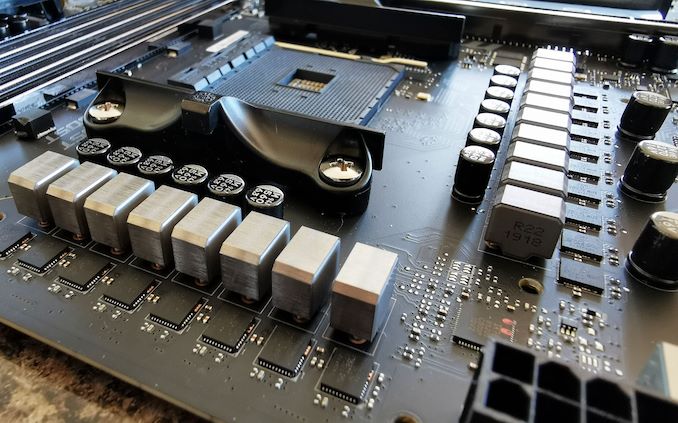 Designed to push the 16 core CPU even higher, power deliveries for X570 have had to be upgraded over the previous X370 and X470 chipsets. The MSI MEG X570 Godlike is a primary example of this and runs a 14-phase power delivery for the VCore, and a 4-phase setup for the VGT/SoC. The PWM controller of choice is the International Rectifier IR35201 which is operating in 7+1 mode, with 14 x TDA21472 70 A power stages running with 7 x IR3599 doublers. On the SoC, it's slightly different with 4 x TDA21472 70 A power stages, but with a single IR3599 doubler which looks to be splitting the PWM signal into four. Providing power to the CPU is two 8-pin 12 V ATX CPU power inputs.
The VGT/SoC could have easily have been designed with just two phases, but there's an element of marketing strategy with vendors that more means better, which isn't always the case. Cooling the power delivery is a large and robust aluminium heatsink which is interconnected via a heat pipe to the actively cooled X570 chipset heatsink.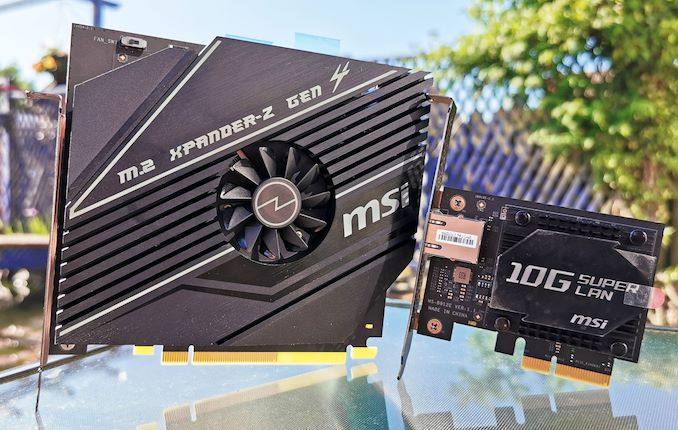 M.2 Xpander-Z Gen4 with two M.2 slots (left), Aquantia AQC107 10 G LAN Addon Card (right)
Another interesting inclusion is a dedicated 10 G Aquantia AQC107 NIC add-on card which gives users the choice to use either 10 G or use the integrated Killer E3000 2.5G and Killer E2600 Gigabit Ethernet ports located on the rear panel. Also featured is the Killer AX1650 Wi-Fi 6 802.11ax wireless interface which also includes support for BT 5.0 devices. This enables other features, such as offering the system using the Wi-Fi interface as an access point.

As it currently stands, the MSI MEG X570 Godlike is the only model to feature two Realtek ALC1220 HD audio codecs. One powers the rear panel audio connectors, while the second is for the front panel audio connector. Supplementing these is twelve gold Japanese audio capacitors, as well as four WIMA audio capacitors around the ESS E9018 Sabre DAC which drives the 6.3mm stereo headphone output on the rear panel. MSI has also included a physical layer of audio PCB separation to reduce electrical interference.

Looking closer at the rear panel of the X570 Godlike, there are three USB 3.1 Gen2 Type-A, one USB 3.1 G2 Type-C, and two USB 3.1 G1 Type-A ports. Commonly featured on premium models, the MSI MEG X570 Godlike also has a pre-installed rear panel IO shield. Also present is a Flash BIOS button with a highlighted Type-A port dedicated to firmware flashing, as well as a Clear CMOS button, and a PS/2 combo port. The onboard audio is high-end as in addition to the Realtek ALC1220 HD audio codecs which drive the five 3.5 mm jacks and S/PDIF optical output, MSI has included an ESS E9018 DAC for good measure, which also powers the dedicated 6.3 mm jack for studio headphones for audiophiles. The rear panel has two Ethernet ports with a Killer pairing consisting of an E3000 2.5 G, and E2600 Gigabit NIC, with a Killer AX1650 powering this model's Wi-Fi 6 802.11ax wireless capabilities.
What's in the Box
One of the aspects that makes the MSI MEG X570 Godlike such a premium product is the accessories bundle accompanying it. We've already touched on the M.2 Xpander-Z Gen4 add-on card which allows users to add an extra two M.2 drives to the three PCIe 4.0 M.2 slots onboard, and the additional Aquantia AQC107 10G Super LAN NIC, but there's more. Also included inside the box are six red and black braided SATA cables, a number of RGB extension cables, an antenna set for the integrated Killer AX1650 Wi-Fi 6 wireless interface, a 6.3 mm audio adapter, a user manual, with an additional quick installation guide also included for good measure.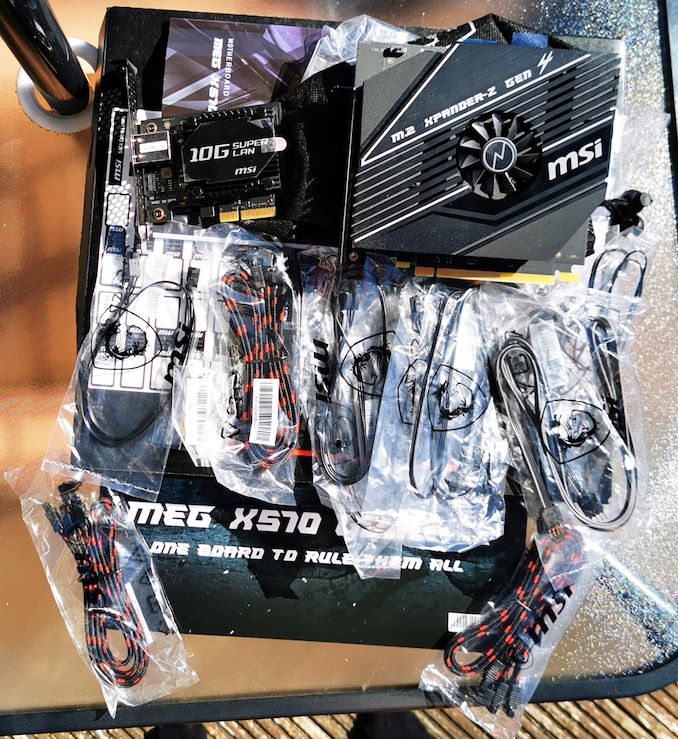 6 x Red and black braided SATA cables
RGB LED Y 80 cm extension cable
Corsair RGB LED 50 cm extension cable
Rainbow RGB LED 80 cm extension cable
Corsair to Rainbow RGB 10 cm extension cable
2 x Thermistor cables
Killer AX1650 antenna set
M.2 Xpander-Z Gen4 M.2 add-on card
10 G Super LAN add-on card
3 x M.2 installation screws
6.3 mm audio adapter
Case badge
SATA cable label sheet
Product registration card
Driver installation disk
User manual
Quick Guide
Quick installation guide