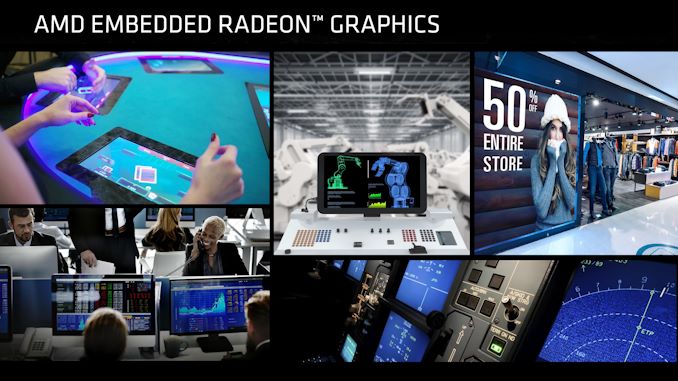 AMD's GPU division has long had its hands in many businesses. While their consumer GPUs and semi-custom efforts tend to attract the most attention – and more recently, their GPU co-development deal with Samsung – it's still not the entirety of AMD's GPU efforts. The company also has an arm of the GPU business developing products for the embedded market, which aptly enough are sold as AMD's Embedded Radeon products.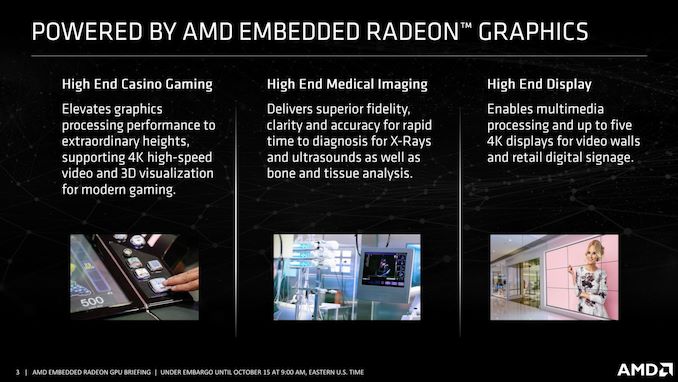 With extremely long product cycle times and niche use cases, we don't regularly hear from the Embedded Radeon team. In fact, prior to today, the last time the company announced anything was three years ago with the E9000 series of products. But this week with the Global Gaming Expo taking place in Las Vegas (ed: so the gambling kind of gaming), AMD's embedded group has popped up to announce a couple of new products.
AMD Embedded Radeon Discrete Video Cards
Radeon E9560
Radeon E9390
Radeon E9550
Radeon E9260
CUs
36
28
36
14
GPU Boost Clock
1.243GHz
1.086GHz
1.12GHz
1.4GHz
Memory Type
7Gbps GDDR5
5Gbps GDDR5
5Gbps GDDR5
5Gbps GDDR5
Memory Bus Width
256-bit
256-bit
256-bit
128-bit
VRAM
8GB
8GB
8GB
4GB
Displays
6
(4x DP 1.4)
6
(4x DP 1.4)
6
5
TDP
Up To 130W
Up To 75W
Up To 95W
Up To 50W
GPU
Polaris 10
Polaris 10
Polaris 10
Polaris 11
Architecture
GCN 4
GCN 4
GCN 4
GCN 4
Form Factor
FHSS PCIe
9.5-inches
FHSS PCIe
6.8-inches
MXM
MXM & PCIe
Being revealed today are the Embedded Radeon E9560, and its lower-power counterpart, the E9390. Both are based on AMD's Polaris 10 GPU, and are designed to fit in to AMD's existing E9000 family of embedded video cards, as part of what AMD calls its "ultra-high performance" band. The E9560 is a 36 CU part with a max TDP of 130 Watts, and will become AMD's highest performing Embedded Radeon part yet. Meanwhile the E9390 is a 28 CU part with a lower TDP of 75W, allowing it to work in systems without an auxiliary PCIe power connector.
These parts are, to be honest, unremarkable from a technical perspective. And AMD's own announcement is fairly low key to match. AMD already offers a Polaris 10-based part here, the E9550, so the newest parts aren't bringing new features to the table. Nor are AMD's gaming customers necessarily looking for something new.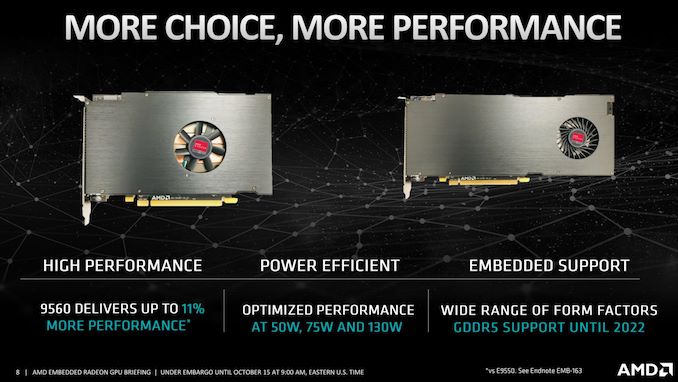 Instead, the thrust of AMD's announcement today is on the business side of matters. As casino gaming is a conservative, long cycle business where individual parts need to be qualified, AMD offers a limited number of products for a number of years to meet those needs. Specifically, AMD guarantees that it will offer its Embedded Radeon products for a minimum of 3 years. And, as it so happens, the last Embedded Radeon products were announced 3 years ago.
So, with the originally planned sales cycle for their E9000 parts coming to an end, AMD is refreshing their lineup of Polaris-based parts for another 3 years. The new parts being introduced today will let AMD fine-tune the upper-end of its product stack by offering both a higher performance part and a high-end part that can work off just a PCIe slot. Meanwhile the E9550, E9260, and E9175 are being renewed for another 6 years. With availability planned to go into late 2022, these parts will end up having a 6-year sales lifecycle once all is said and done.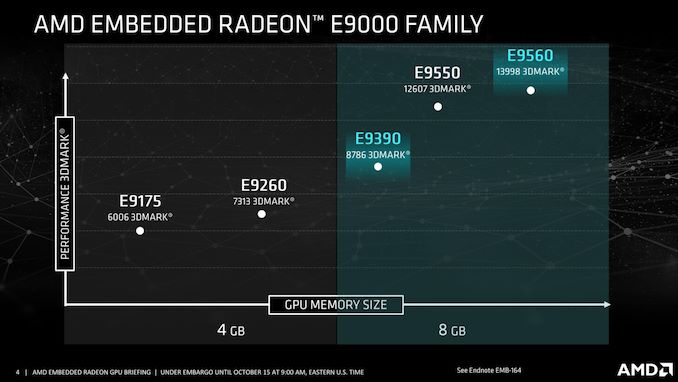 And getting there will be a bit more of a challenge than in past cycles. The entire E9000 series is GDDR5-based, and AMD is entering in a new 3-year cycle right as the GDDR5 to GDDR6 transition is underway in earnest. As a result, the company is taking additional steps to ensure that it can meet its own availability guarantees – and that their gaming customers are aware of this. Many of those customers are already aware of the memory transition itself, so AMD is paying the issue special attention to satisfy customers who absolutely need these parts available for the entire 3-year window. Ultimately Embedded Radeon GPUs will make the transition as well – I'd consider it a foregone conclusion that AMD will have Navi-based parts at some point in the next year or so – but their embedded customers are also going to need Polaris parts for a while still.
Otherwise, the new parts are exactly what it says on the tin: more of the same, both in terms of features and planned support. Gaming operators will want to take note of the available form factors, however: AMD is only slated to offer the new E9000 series cards in full-height PCIe cards. Typically, AMD has offered Embedded Radeon parts in MXM and the occasional PCIe form factor, but this isn't the case here. As a result, these newest parts become the first Polaris 10-based PCIe cards in the Embedded Radeon family, while AMD will continue to offering the MXM E9550 alongside all of this.
Source: AMD