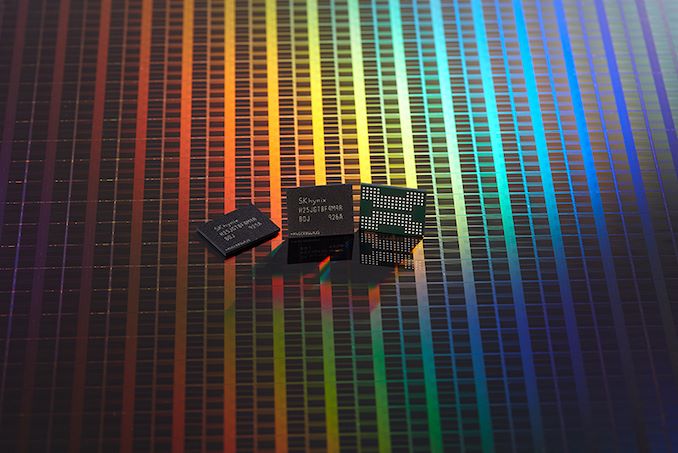 SK Hynix announced this week that they have started sampling products based on their 128-layer 3D NAND flash memory, which will soon start showing up in end-user devices. A year ago, they launched their 96-layer 5th generation 3D NAND, but low prices prompted them to cut output and their 4th generation 72L 3D NAND is still their main flash product. SK Hynix announced back in June that their 128L 3D NAND had moved from development to mass production, and now it has been incorporated into SSDs and UFS modules that are sampling to major customers.
The 96L generation represented a major technological advance for SK Hynix, with a switch to a denser "peripheral under cell" structure and a big jump in per-die IO speeds. The peripheral under cell structure is a significant enough change that SK Hynix used it as justification for branding their flash as "4D NAND", but Intel and Micron have been doing pretty much the same thing since their first generation of 3D NAND. The 128L generation from SK Hynix promises a further speed increment from 1.2GT/s to 1.4GT/s (though this may not be achieved in the first round of products due to lagging controller support), and debuts with an industry-leading 1Tb (128GB) capacity TLC die. In the near term, SK Hynix plans to introduce the new generation of 3D NAND into market segments with the highest margins, while their more mature 72 and 96-layer processes stick around for the more cost-sensitive products.
Using eight of those 128L 1Tb TLC dies, SK Hynix has developed a 1TB USF 3.1 module that is just 1mm thick. They expect smartphones using this storage to be in mass production in the second half of 2020.
In the client SSD market, OEMs are now qualifying SK Hynix's latest generation M.2 NVMe SSDs with capacities of up to 2TB and power draw of around 3W, compared to 6W for their previous generation SSDs that use 96L TLC. SK Hynix expects these SSDs to start showing up in notebooks in the first half of 2020. SK Hynix's NVMe SSD controller is still using PCIe 3.0 instead of PCIe 4.0, unsurprising given their focus on mainstream market segments and power efficiency. This SSD is described as operating the flash with a 1.2GT/s interface running at 1.2V, so either SK Hynix's chips aren't actually ready to run at 1.4GT/s as planned, or they backed off a bit to save power.


16TB Enterprise EDSFF E1.L SSD
The 128L 3D NAND will take a bit longer to work its way into the enterprise storage market. SK Hynix is planning to offer capacities of up to 16TB in the EDSFF E1.L form factor; mass production of these drives is planned for the second half of 2020. As with the client NVMe SSDs, SK Hynix is still using PCIe 3.0 instead of PCIe 4.0, but they plan to deliver support for the latest NVMe 1.4 protocol. The enterprise SSD market is a particular area of focus for SK Hynix. The arrival and cost-effectiveness of their 72-layer enterprise SSDs helped them increase market share to 10.3% for Q2 of this year compared to just 1.8% the year before, and they hope to keep the momentum going.
All of the above-mentioned products use SK Hynix controllers in addition to SK Hynix memory (NAND and DRAM). They are one of just three companies capable of this degree of vertical integration, and for years Samsung has been showing just how powerful that strategy can be. SK Hynix has been held back by poor execution for their first several generations of 3D NAND, but lately they seem to have been catching up. We recently tested their consumer SATA drive and found its performance to be adequate and the power efficiency to be quite good; we also have some enterprise drives on the way from SK Hynix to see how they are doing in that market.
Related Reading:
Source: SK Hynix