Specifications and Teardown Analysis
The Supermicro X11SDV-4C-TP8F-01 motherboard used in the SuperServer E302-9D is a Flex ATX board (9" x 7.25"). It integrates the Xeon D-2123IT SoC and supports up to four DIMM slots. Since the SoC is soldered on to the board, the memory slots can only run up to the maximum supported by the Xeon D-2123IT - 2400 MHz.
Prior to looking at all the features of the motherboard, some context is provided below in the form of an overview of the capabilities of the Xeon D-2100 series SoCs in general and D-2123IT in particular.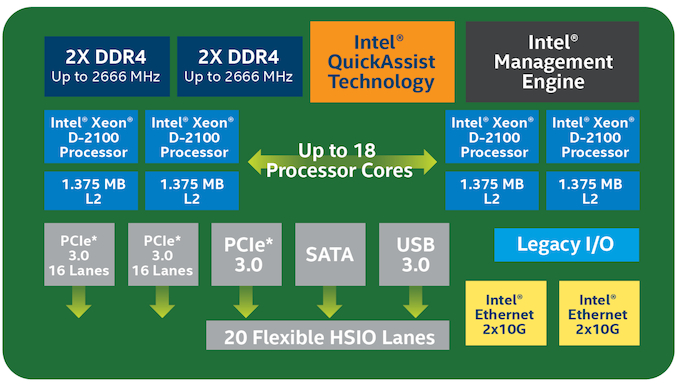 The Xeon D-2123IT, being the entry-level member, comes with four processor cores, and does not have the QuickAssist technology feature integrated. The memory controllers are also limited to 2400 MHz. Server vendors, however, have the ability to make use of the two PCIe 3.0 x16 lanes and twenty HSIO lanes to create a variety of systems targeting different markets. The block diagram below shows Supermicro's approach in the X11SDV-4C-TP8F-01.
The four DIMM slots are arranged on either side of the SoC heat-sink. To one end, we have the PCIe 3.0 x8 and PCIe 3.0 x16 slots. The baseboard management controller (ASPEED AST2500) is seen above the x16 slot. The M.2 SATA / PCIe 3.0 x4 (M-Key) slot is positioned such that the M.2 SSD covers the BMC SoC. Below that, we have a mini-PCIe 3.0 x1 slot and a M.2 B-Key slot (that is also muxed between SATA and PCIe, allowing either type of SSD to be used). Four SATA headers and two mini-SAS / U.2 (SATA / PCIe 3.0 x8) headers round out the other major components seen on the motherboard. The rear I/O on the board has the LAN ports and the USB 3.0 Type-A ports indicated in the block diagram.
The CES-E302iL chassis used in the E302-9D has a removable top cover. Two 2.5" drives (up to 7mm each) can also be installed with a mounting tray inside the system. The power connections to the board are already in-place because of the use of an external power supply. However, users still need to install the DRAM and storage drive(s) on their own.
The gallery above presents a view of the internals and Supermicro's approach to passively cooling a SoC with a TDP of 60W.