Visual Inspection
The Supermicro X12SAE is what we would consider a 'traditional' looking ATX workstation motherboard. Based on a conventional design with a regularly positioned Intel LGA1200 socket, the X12SAE is designed for use with Intel's Comet Lake Xeon W-1200 series of processors. It uses a green PCB, which is typical of a workstation or server model, and doesn't focus on any of the aesthetics associated with regular consumer models; no RGB or go faster stripes here.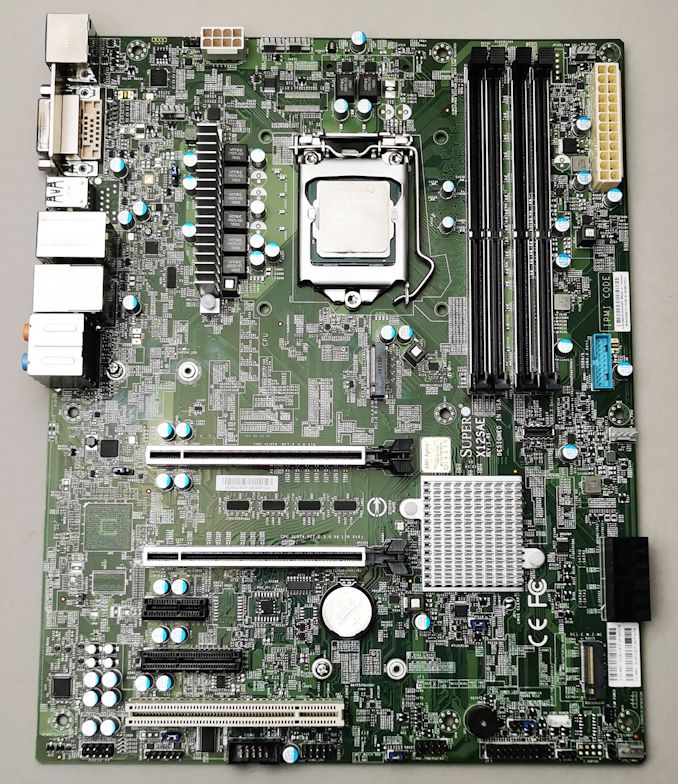 Located along the top of the PCB is a single 8-pin 12 V EPS power connector designed to power the CPU, while in the top-right hand corner is a 24-pin 12 V ATX motherboard power input. There are also plenty of headers located around the edge of the PCB, including five 4-pin headers for cooling fans, a chassis intrusion, and an external POST speaker header. The board does include an internal speaker, which regularly beeps upon system POST. Also present is a serial COM header, a single TPM/Port 80, and a DOM PWR (Disk on Module) header.
Supermicro includes various jumpers, including one for clearing the CMOS, enabling or disabling Watch Dog, and disabling the system's integrated audio from a Realtek ALC888S HD audio codec. Another useful jumper/header is for putting the board into manufacturing mode, which allows users to bypass the SPI flash security and allows users to flash the board's firmware from a host server.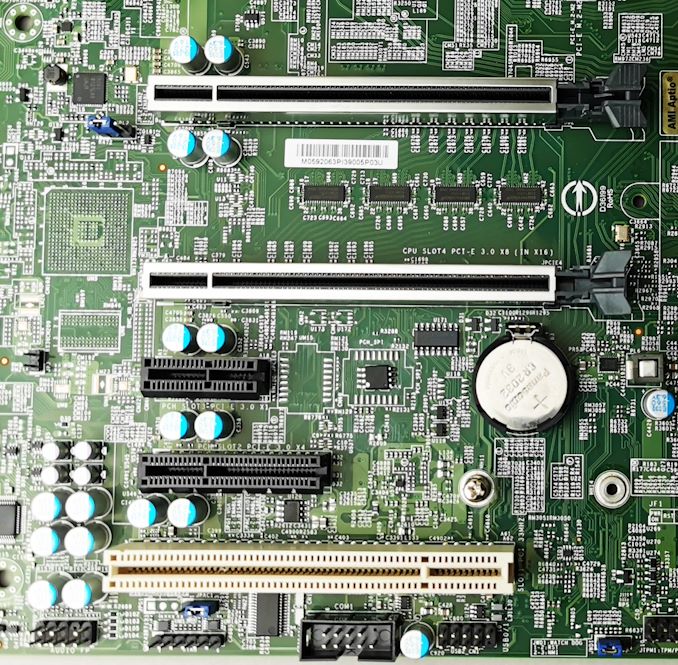 Looking at expansion support, the Supermicro has two full-length PCIe 3.0 slots that operate at x16 and x8/x8, which are driven by the CPU. A third half-length open-ended PCIe 3.0 x4 slot is located below these, powered by the W480 chipset. Inbetween the full-length and half-length slot is a PCIe 3.0 x1 slot, while a 5 V PCI slot is located along the bottom, which is designed to offer support with legacy expansion cards. Only the two full-length PCIe 3.0 slots include metal reinforcement.
The X12SAE has a pretty modest selection of storage connectivity, including two PCIe 3.0 x4 M.2 slots and four SATA ports. The SATA ports feature support for RAID 0, 1, 5, and 10 arrays, while the M.2 slots can accommodate either M.2 2280 or 22110 form factor drives. The first PCIe 3.0 x4 M.2 slot is located above the top full-length PCIe slot, while the second M.2 slot is on the opposite side of the board, just below the chipset.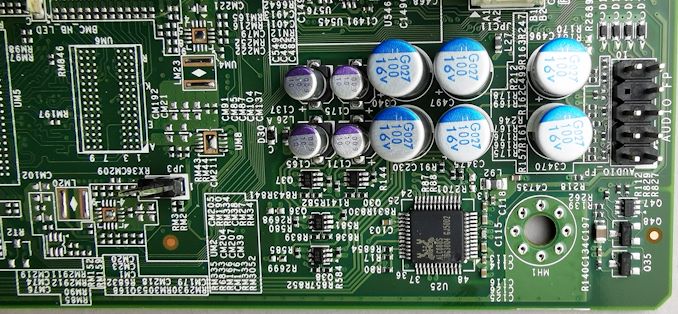 There isn't much going on in audio componentry, with a fundamental layout on offer with the X12SAE. At the heart of its audio capabilities, it uses a Realtek ALC888S, with a selection of generic audio capacitors. It includes six larger blue audio capacitors, with four smaller ones with purple and silver tops. The Realtek ALC888S not only takes care of the rear panel audio, but it also includes a front panel header. There is no audio PCB separation, nor does the audio codec include any EMI shielding, which is expected on a board of this type.

The Supermicro X12SAE includes four memory slots with support for both ECC and non-ECC DDR4 memory. It can accommodate up to 128 GB in total, with maximum speeds of DDR4-2933. Even with ECC memory uninstalled, it can only run unbuffered as there is no register between the memory and the memory controller. All four of the memory slots include metal reinforcement, which gives the plastic a sturdier construction.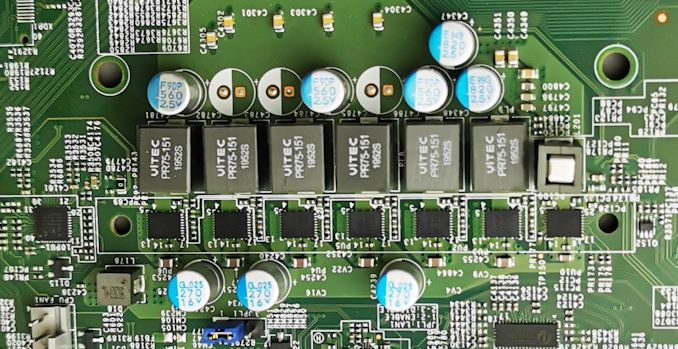 When it comes to power deliveries on models such as this one, they are generally built to specification for the purpose they serve. While not fanciful and overcompensating for extra voltage, they do the job. The Supermicro is using a 7-phase design in a 6+1 configuration. It is using six Monolithic Power Systems MPSJ10 MOSFETs for the CPU, and one MPSJ10 for the SoC. There are no current specifications anywhere for the MPSJ10, so it could be that it's a new part. The PWM controller of choice is a Monolithic Power Systems MP2975, but again, there are no specifications available online at this time.
Despite offering plenty of native USB 3.2 G2 support on the rear panel, Supermicro includes a single USB 3.2 G2 Type-C header, which allows users looking to use more than one Type-C port the opportunity to do so. A lot of conventional Supermicro and workstation models tend to neglect connectivity, but the X12SAE exceeds expectations here, and it's a nice touch. Other USB headers include a single USB 3.2 G1 header, which allows for one additional port, while a single USB 2.0 header can accommodate a further two ports.

The rear panel has a good array of connectivity, including three USB 3.2 G2 Type-A, one USB 3.2 G2 Type-C, and two USB 3.2 G1 Type-A ports. Supermicro includes a Realtek ALC888S HD audio codec, which adds five 3.5 mm audio jacks and a S/PDIF optical output to the rear panel. A trio of video outputs, including an HDMI, a DisplayPort, and a DVI-I, allows users to use the integrated graphics which each of the Comet Lake Xeon W-1200 processors includes. For networking, Supermicro includes an Intel I219LM PHY, which allows users to utilize the AMT and vPro functionality, while an Intel i225V 2.5 Gb controller powers a second Ethernet port.
What's in The Box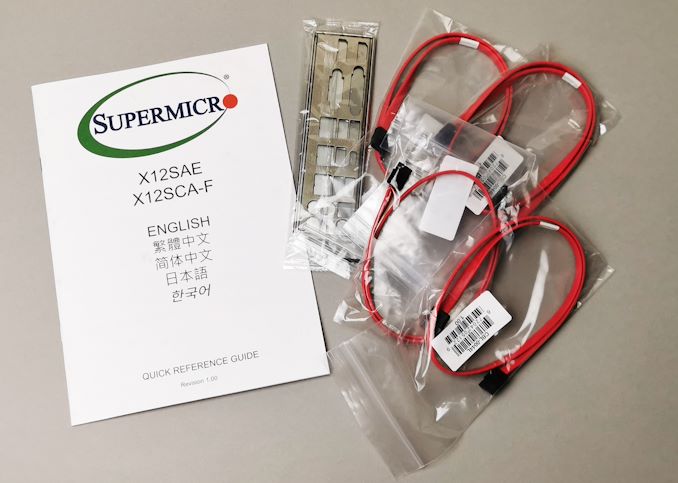 As is usual with Supermicro, it offers two types of packaging with its models, including the X12SAE; retail and bulk. The retail packaging we received includes a quick reference guide, four SATA cables, and a metal rear panel I/O shield. The bulk packaging includes less, a reduced warranty (albeit slightly cheaper), and includes just two SATA cables and the I/O shield.
Quick Reference Guide
4 x SATA cables
Rear Panel I/O Shield