Setup Notes and Platform Analysis
The motherboard in the MAGNUS ONE uses a H470 PCH. The CPU's integrated GPU display output (HDMI 1.4a) is also available in the rear panel. The RTX 3070 Twin Edge features four display outputs, and either set can be active for up to four simultaneous display streams. The PC also includes Killer AX1650 Wi-Fi and dual LAN ports (1x 1Gbps + 1x 2.5Gbps) as noted in the specifications table in the previous section.
The Zotac ZBOX MAGNUS ONE sports a redesigned GUI for its BIOS. The use of the H470 PCH and a non-overclockable CPU mean that the BIOS doesn't need a ton of enthusiast features. The video below presents the entire gamut of available options in the system's BIOS.
The AIDA64 system report for the hardware configuration supplied by Zotac provided the following information:
[ North Bridge: Intel Comet Lake-S IMC ]:

PCIe 3.0 x16 port #2 In Use @ x16 (nVIDIA GA104 - High Definition Audio Controller, Zotac RTX 3070 Twin Edge OC Video Adapter)

[ South Bridge: Intel Comet Point-H H470 ]:

PCIe 3.0 x4 port #9 In Use @ x4 (Phison PS5013 PCIe 3.0 x4 NVMe 1.3 SSD Controller)
PCIe 3.0 x1 port #13 In Use @ x1 (Killer E3000 2.5 Gigabit Ethernet Controller)
PCIe 3.0 x1 port #14 In Use @ x1 (Realtek RTL8168/8111 PCI-E Gigabit Ethernet Adapter)
PCIe 3.0 x1 port #15 In Use @ x1 (Killer Wi-Fi 6 AX1650x 160MHz Wireless Network Adapter (200NGW))
A pictorial representation of the internal bus structure in relation to the external ports is presented below.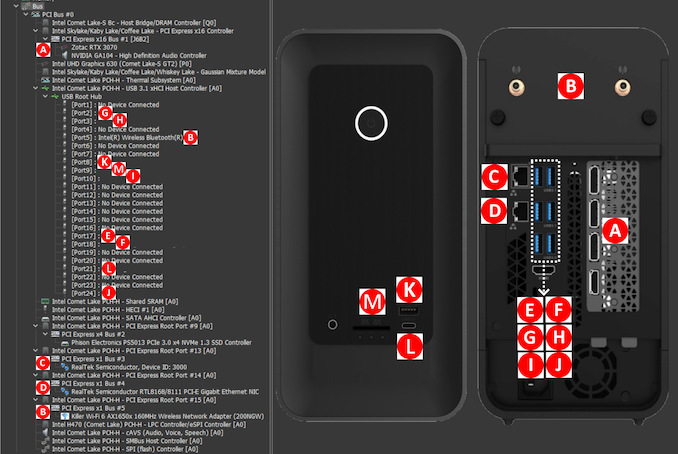 All the USB ports in the system are off a single root hub in the PCH. The SDXC card reader is enabled by a Realtek USB 2.0 card reader, and is restricted to a maximum speed of around 40 MBps practically (no UHS-II support). The audio jack is backed up by a Realtek ALC269 audio codec. Though there are plenty of USB ports to go around, the DMI bottleneck means that it might be difficult to get simultaneous peak performance from more than a couple of ports at a time. All the networking I/Os are also off the PCH, and all the 16 PCIe lanes off the processor are dedicated to the GPU (as it should be in the case of a gaming PC).
In the table below, we have an overview of the various systems that are being compared against the Zotac ZBOX MAGNUS ONE. Note that they may not belong to the same market segment. The relevant configuration details of the machines are provided so that readers have an understanding of why some benchmark numbers are skewed for or against the MAGNUS ONE when we come to those sections.
Comparative PC Configurations
Aspect
Zotac ZBOX MAGNUS ONE (ECM73070C)
CPU
Intel Core i7-10700
Intel Core i7-10700
GPU
ASUS Dual GeForce RTX 3060 12GB GDDR6
Intel UHD Graphics 630
ASUS Dual GeForce RTX 3060 12GB GDDR6
Intel UHD Graphics 630
RAM
Crucial CT16G4SFS832A DDR4-3200 SODIMM
22-22-22-52 @ 3200 MHz
1x16 GB
Crucial CT16G4SFS832A DDR4-3200 SODIMM
22-22-22-52 @ 3200 MHz
1x16 GB
Storage
Phison E13 Reference Design (Zotac-sourced)
(500 GB; M.2 Type 2280 PCIe 3.0 x4 NVMe; Kioxia 96L 3D TLC)
(Phison E13 Controller)
Seagate BarraCuda ST1000LM048
(1 TB; 2.5in SATA 6Gb/s)
Phison E13 Reference Design (Zotac-sourced)
(500 GB; M.2 Type 2280 PCIe 3.0 x4 NVMe; Kioxia 96L 3D TLC)
(Phison E13 Controller)
Seagate BarraCuda ST1000LM048
(1 TB; 2.5in SATA 6Gb/s)
Wi-Fi
Intel Killer Wi-Fi 6 AX1650x
Intel Killer Wi-Fi 6 AX1650x
Price (in USD, when built)
$2400 (pre-built with Windows 10 Home x64)
$2400 (pre-built with Windows 10 Home x64)