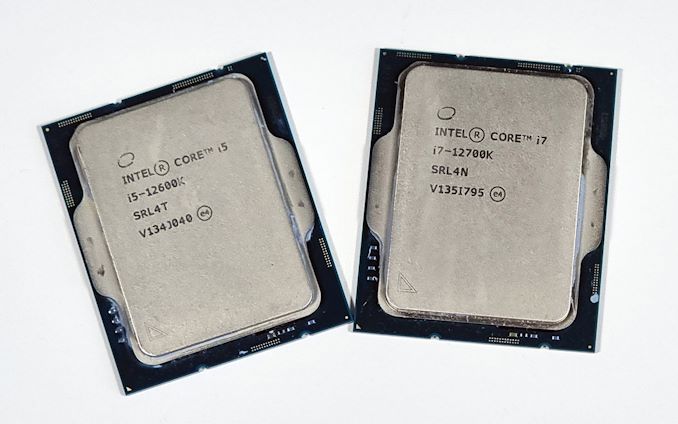 Since Intel announced and launched its 12th Gen Core series of CPUs in to the market, we've reviewed both the flagship Core i9-12900K, as well as the entry-level (but still very capable) Core i3-12300 processors. Today, we're looking at the middle of the stack, with the Core i7-12700K and Core i5-12600K both taking center stage.
Ever since AMD launched its Zen 3 architecture and its Ryzen 5000 series for desktop, Intel has been playing catch up in both performance and pricing. Intel's hybrid Alder Lake design is its second attempt (Rocket Lake) to dethrone Ryzen 5000 as the go-to processor for consumers building a high-end desktop system for gaming, content creation, and everything in between. It's time to see if the Core i7-12700K and Core i5-12600K can finally level the playing field, if not outright give Intel an advantage in the always popular mid-range and enthusiast markets.
Below is a list of our detailed Intel Alder Lake and Z690 coverage:
As a quick recap, we've covered Alder Lake's dual architectural hybrid design in our Core i9-12900K review, including the differences between the P (performance) and E (efficiency cores). The P-cores are based on Intel's high-performing Golden Cove architecture, which provides solid single-threaded performance. Meanwhile, the Gracemont-based E-cores, although lower-performing on their own, are smaller and draw much less power, allowing Intel to pack them in to benefit multi-threaded workloads without blowing the chips' power and thermal budgets.
Intel 12th Gen Core i7 and Core i5 Series: For The Mid-Range & Enthusiasts
At the beginning of 2022, Intel unveiled 22 new Alder Lake Desktop-S processors to the market, with the K-series processors such as the Core i9-12900K, Core i7-12700K, and Core i5-12600K having been made available back in November 2021. Looking at Intel's 12th Gen Core i7 lineup, there are five SKUs in total, all of which are variants of the 12700 offering the same 8 P-cores and 4 E-cores at different clockspeeds and TDPs. Leading the group are the Core i7-12700K and i7-12700KF, which come with an unlocked multiplier and can be overclocked when used with a Z690 motherboard.
The Core i7-12700 is a base model with no overclocking support, while the Core i7-12700F is the same as the base model without the integrated Xe Iris graphics. The last of the Core i7 models is the i7-12700T, which has a lower base TDP of 35 W, with a turbo TDP of 180 W and a P-Core turbo of 4.7 GHz primarily designed for low powered systems.
Intel 12th Gen Core, Alder Lake
AnandTech
Cores
P+E
E-Core
Base
E-Core
Turbo
P-Core
Base
P-Core
Turbo
L3
MB
iGPU
Base
W
Turbo
W
Price
$1ku
Core i7
i7-12700K
8+4
2700
3800
3600
5000
25
770
125
190
$409
i7-12700KF
8+4
2700
3800
3600
5000
25
-
125
190
$384
i7-12700
8+4
1600
3600
2100
4900
25
770
65
180
$339
i7-12700F
8+4
1600
3600
2100
4900
25
-
65
180
$314
i7-12700T
8+4
1000
3400
1400
4700
25
770
35
99
$339
Core i5
i5-12600K
6+4
2800
3600
3700
4900
20
770
125
150
$289
i5-12600KF
6+4
2800
3600
3700
4900
20
-
125
150
$264
i5-12600
6+0
-
-
3300
4800
18
770
65
117
$223
i5-12600T
6+0
-
-
2100
4600
18
770
35
74
$223
i5-12500
6+0
-
-
3000
4600
18
770
65
117
$202
i5-12500T
6+0
-
-
2000
4400
18
770
35
74
$202
i5-12400
6+0
-
-
2500
4400
18
730
65
117
$192
i5-12400F
6+0
-
-
2500
4400
18
-
65
117
$167
i5-12400T
6+0
-
-
1800
4200
18
730
35
74
$192
Moving onto the 12th gen Core i5 series, there's a total of nine SKUs, which is a large stack for the mid-range market. Prices range from $289 for the top SKU, the Core i5-12600K with an unlocked multiplier and full overclocking support, and the Core i5-12600KF ($264), which is the exact specification minus Intel's Xe integrated graphics.
Out of all of Intel's 12th Gen Core i5 series parts, the Core i5-12600K and i5-12600KF are the only two chips to include both P-Core (Golden Cove) E-Core (Gracemont) hybrid cores. They both feature six P-cores four E-cores, for a total of 16-threads. The rest of the Core i5 stack for Alder Lake includes only six P-cores based on Intel's Golden Cove architecture, foregoing the E-cores entirely.
There are three 'base' models of the Core i5, including the i5-12600, i5-12500, and i5-12400, with differences only in base frequency and turbo frequencies (and price), with just $31 separating them in 1K unit pricing. Intel also has three T series variants, including the Core i5-12600T, the i5-12500T, and i5-12400T, all with a base TDP of 35 W and a turbo TDP of 117 W. There's also an odd one out, the Core i5-12400F, which is the same specifications as the Core i5-12400 base model, but without integrated graphics.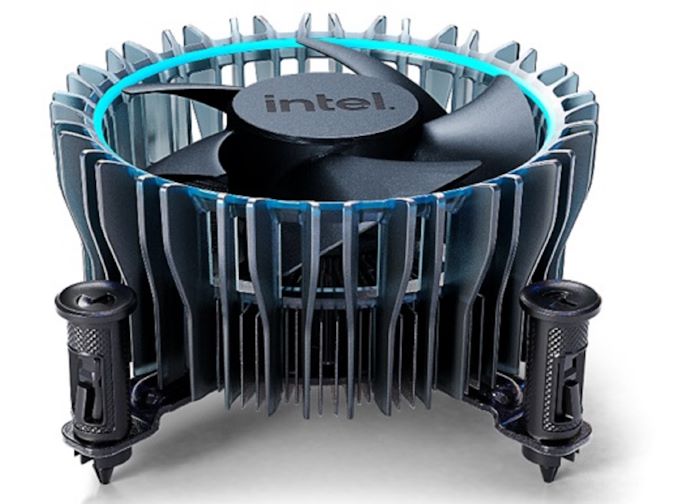 Intel Laminar RM1 Stock CPU Cooler for non-K Core i7, Core i5, and Core i3 processors
As we highlighted in our Core i3-12300 review, Intel has also refreshed its 'stock' coolers for the first time in what feels like an age. Accompanying all of Intel's 12th Gen Core i7, Core i5, and Core i3 processors (not the K/KF SKUs) is the Intel Laminar RM1 stock CPU cooler, which has a revamped design over previous iterations of its stock cooler. The Laminar RM1 is constructed of a copper base with aluminum fins and is designed to support up to and including 65 W TDP processors.
The Intel Core i7-12700K & Core i5-12600K: Market Positioning and the Competition
For the first time since AMD released its Zen 3 based Ryzen 5000 series desktop processors, Intel has undoubtedly been playing catch up. Its 11th Gen Core (Rocket Lake) architecture bridged the gap somewhat, but as seen in our initial review of Alder Lake via our Core i9-12900K review, only with their latest generation of chips has Intel been able to leap-frog ahead of AMD at the top of the desktop CPU market.
Looking at where the 12th Gen Core i7-12700K slots in, it has 8+4 (12) cores for 20 threads, and as such, it competes against the AMD Ryzen 9 5900X, which has 12-Zen 3 cores and 24 threads. Especially following some very recent tightening of the market for AMD chips, the Core i7-12700K has become a much better deal on paper with a current selling price at Amazon of $400 versus the $480 that the Ryzen 9 5900X currently costs.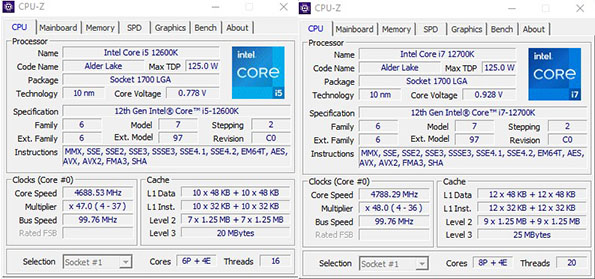 Intel Core i5-12600K (left) and Core i7-12700K (right) CPU-Z screenshots
The Core i5-12600K is slightly different, as it has two main rivals on the market, the AMD Ryzen 7 5800X with 8 cores and 16 threads for $390, and the Ryzen 5 5600X, which can be purchased at Amazon for $229 at present. In contrast, the Core i5-12600K has a hybrid 8+4 (12) core design for 16 threads, and it fits in between both of these in the market with a current selling price at Amazon of $279.
Despite many design differences between the aforementioned chips, including core count, thread count, architecture, and core structure, the only differences many are likely to care about are the performance and the price. Earlier this month AMD cut pricing on virtually all of its Ryzen 5000 line-up, which made things much more competitive when comparing Intel's 12th Gen Core MSRP versus AMD's Ryzen 5000's initial launch MSRP. However a very recent bounce in AMD chip prices has started to undo this.
Another variable to consider in this market segment is AMD's new Ryzen 7 5800X3D, with 3D V-Cache, which targets gamers, 8-cores, 16-threads, but it isn't overclockable. AMD intends to launch it on April 20th, and the Ryzen 7 5800X3D will launch with an MSRP of $449. This roughly coincides in terms of pricing with its Ryzen 9 5900X, and is $50 more expensive than the Core i7-12700K, which benefits from more cores and faster cores...and it's overclockable.
Test Bed and Setup
Although there were some problems initially with the Intel Thread Director when using Windows 10 at the launch of Alder Lake, any core scheduling issues are entirely negated by using the latest Windows 11 operating system. The Intel Thread Director works in tandem with Alder Lake to assign the right P-cores and E-cores to different tasks based on the complexity and severity of the workload. We are also testing the Core i7-12700K and Core i5-12600K with DDR5 memory at JEDEC specifications (DDR5-4800 CL40). We are also using Windows 11, which we are using now for CPU and motherboard reviews as we advance into the rest of 2022 and beyond.
For our testing, we are using the following:
Alder Lake Test System (DDR5)
CPU
Core i5-12600K ($289)
6+4 Cores, 16 Threads
125W Base, 150W Turbo

Core i7-12700K ($409)
8+4 Cores, 20 Threads
125 W Base, 190 W Turbo
Motherboard
MSI Z690 Carbon WI-FI
Memory
SK Hynix
2x32 GB
DDR5-4800 CL40
Cooling
MSI Coreliquid 360mm AIO
Storage
Crucial MX300 1TB
Power Supply
Corsair HX850
GPUs
NVIDIA RTX 2080 Ti, Driver 496.49
Operating Systems
Windows 11 Up to Date
All other chips for comparison were run as tests listed in our benchmark database, Bench, on Windows 10.