System Performance
The M3500 version of the ASUS Vivobook Pro 15 comes in two choices of AMD H-Series processors with the 6-Core Ryzen 5 5600H, which offers twelve threads and a 4.2 GHz maximum boost frequency, or the Ryzen 7 5800H which bumps up to eight cores, sixteen threads, and a 4.4 GHz maximum frequency. The system is offered with 16 GB of RAM that is soldered in, and up to a 1 TB SSD.
On the graphics side, ASUS offers the NVIDIA RTX 3050 with Studio drivers. ASUS sent us this device prior to the Ryzen 6000 launch, but Ryzen 6000 and Ryzen 5000 both feature a Zen 3 CPU core and the big change with Ryzen 6000 is RDNA2 graphics, rather than Vega. Since the Vivobook Pro features a much more powerful dedicated graphics card the integrated graphics change is not as significant on this device.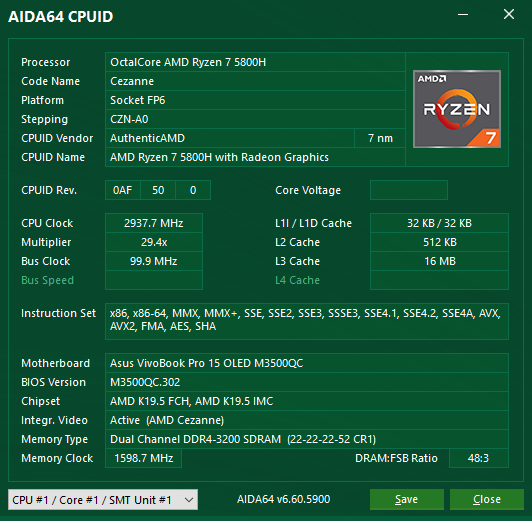 Ryzen 5000 "Cezanne" has been a fantastic platform for AMD, offering great CPU performance and excellent power efficiency.
To see how the Vivobook Pro 15 performs it was run through our standard laptop test suite. Sadly we have not had a lot of comparable systems in to test over the last year, with perhaps the Microsoft Surface Laptop Studio – at least on performance – being the most similar. The Laptop Studio has a slightly more powerful GPU in the RTX 3050 Ti, but only has a quad-core Tiger Lake H35 CPU so it will be interesting to see how it compares to the 16-thread Ryzen 7 5800H. Several systems with lower power 15-Watt chips are also included in the graphs to give a feel for where this entry-level content creator notebook fits in compared to more portable devices. As always, if you would like to compare any system we have ever reviewed, all of the data is in the online Bench tool.
PCMark 10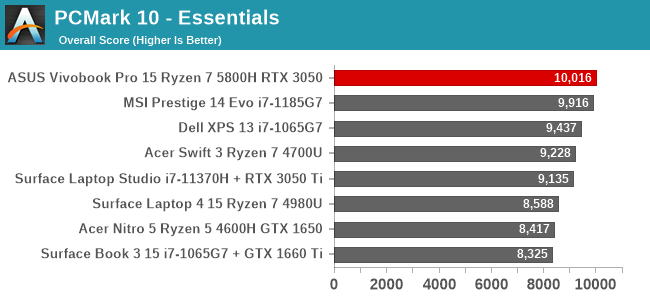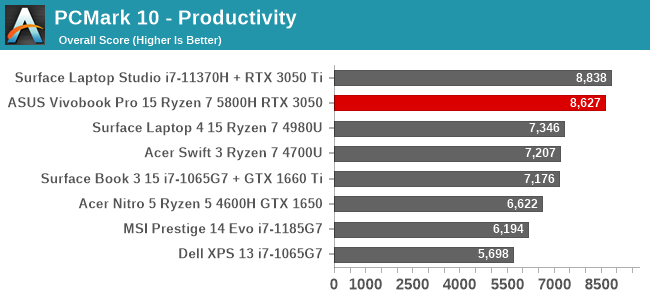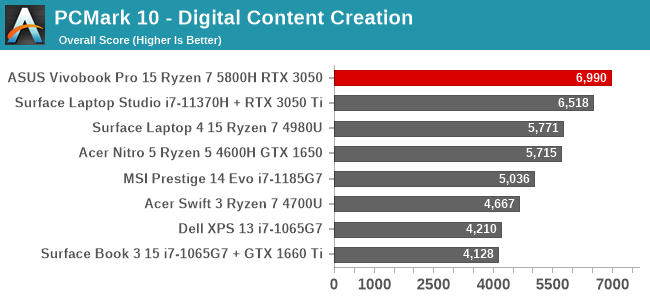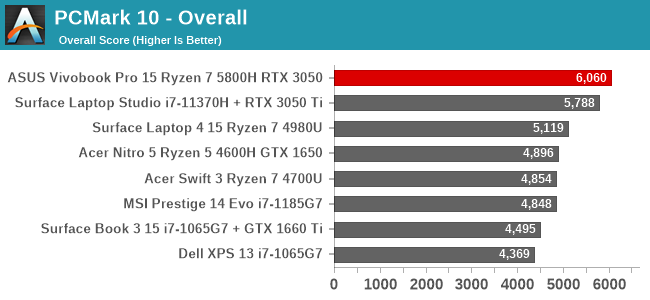 UL's PCMark 10 suite is a comprehensive system test which offers a variety of workloads to stress different parts of the system including CPU, graphics, and storage. The Vivobook Pro 15 performs very well here thanks to the RTX 3050 and strong Ryzen CPU and tops this comparison.
Cinebench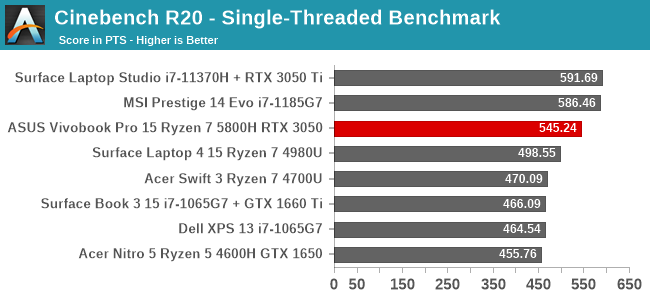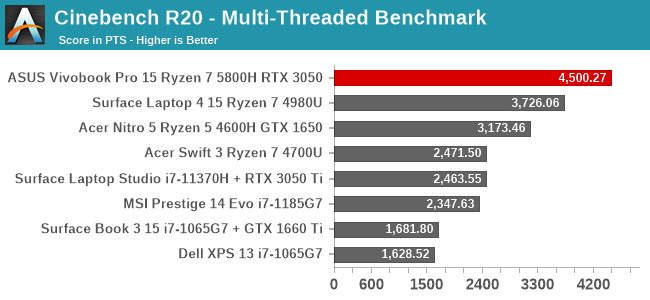 With sixteen threads, the Vivobook Pro's Ryzen processor does very well on the CPU-focused Cinebench test. Zen 3 is slightly behind Intel's Tiger Lake in terms of single-threaded performance but the extra CPU cores shine in the multi-threaded variant of this benchmark.
Handbrake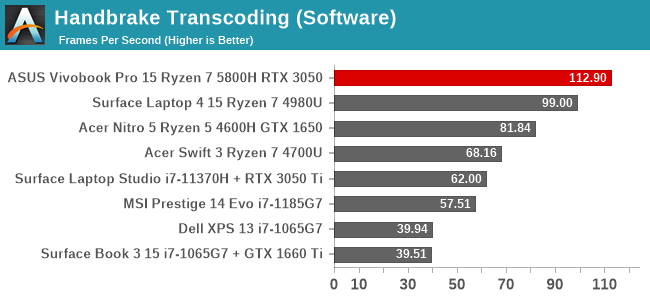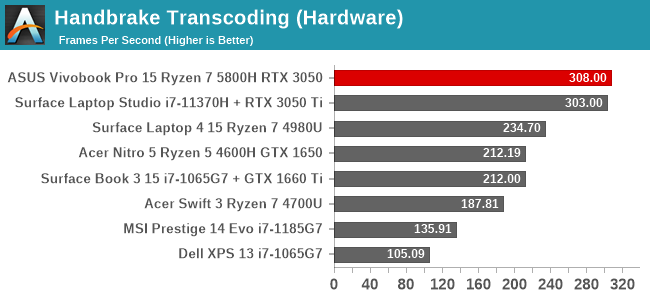 AMD's Ryzen 7 also does very well in our transcoding benchmark. The extra CPU threads put it at the top of the software transcoding test, and the dedicated RTX 3050 graphics allow for extremely quick transcoding in hardware using the NVENC option in Handbrake.
7-Zip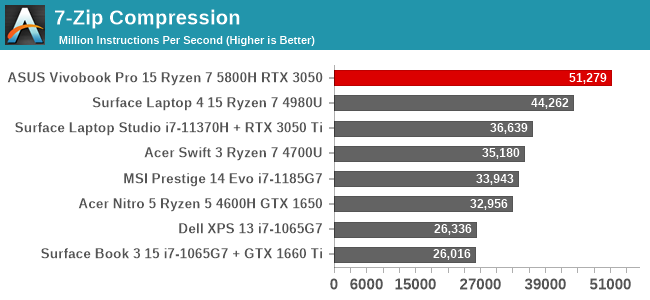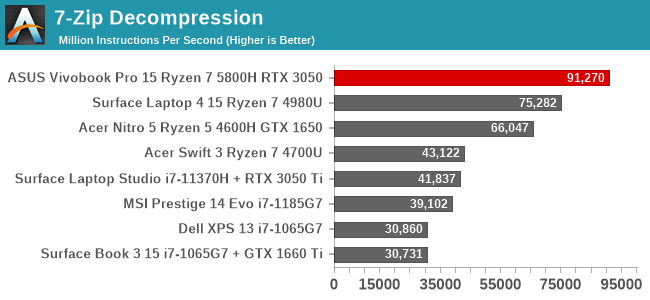 The open-source 7-Zip file compression tool includes a built-in benchmark which tests compression and decompression speeds. The Ryzen 7 5800H does very well here as the tool is able to take advantage of the extra CPU cores during this test.
Web Tests
Web performance is tied not only to the CPU and its ability to quickly ramp up to its maximum frequency, but also is heavily impacted by the underlying web browser's scripting engine and its efficiency. As such we ensure all of the systems are tested with the Chromium Edge browser built into Windows 10. Browser performance does change over time with updates though as the browsers are updated.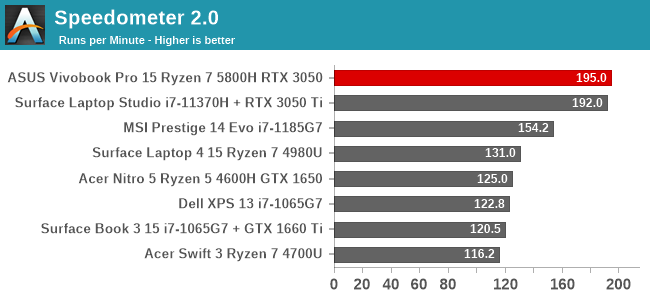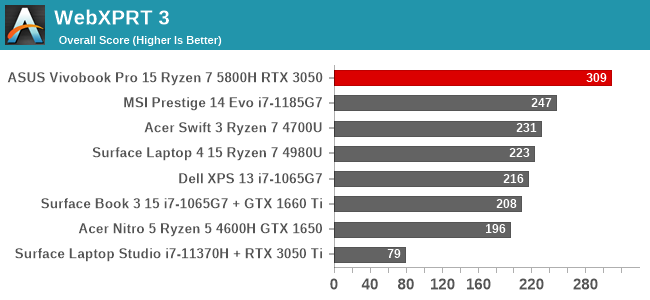 The Ryzen 7 5800H does very well, edging the H35 Tiger Lake platform in the Surface Laptop Studio in the Speedometer 2.0 test, and really stretching its legs on WebXPRT 3. As a note, WebXPRT 4 is now officially live, so we will be transitioning to it over the next several reviews.
Storage Performance
AMD's Ryzen 5000 series does not support PCIe 4.0 for storage unlike Intel's Tiger Lake platform so for SSD the device is limited to PCIe 3.0 x4. ASUS shipped the review unit with a SK Hynix BC711 drive which is a low-power version the 4D 128-layer M.2 2280 drive from SK Hynix.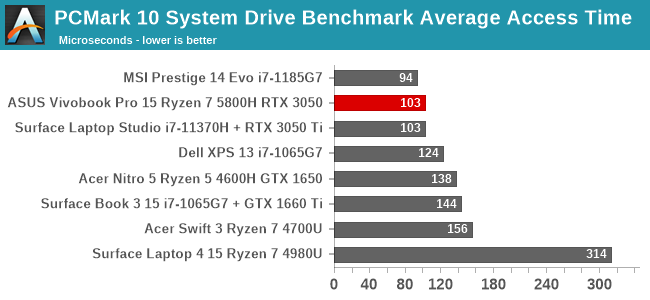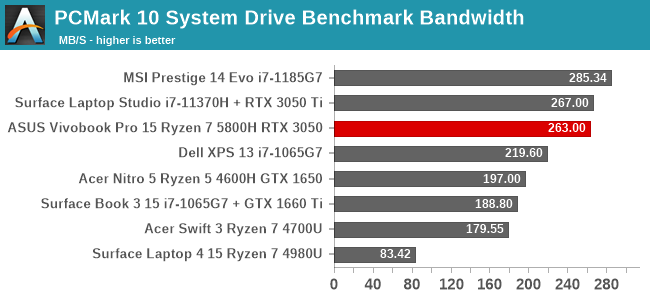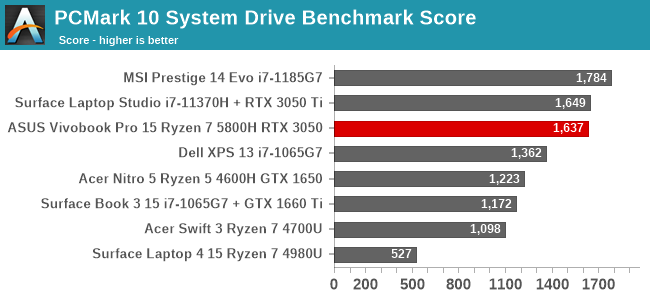 Performance from this drive was excellent. Despite not being PCIe 4.0, it still proved to be one of the quickest drives we have tested in the PCMark storage test suite, which utilizes real-world storage traces.