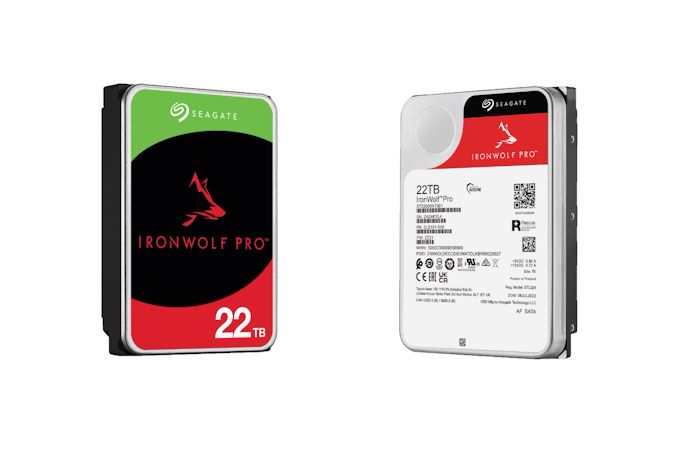 Coinciding with the 2023 NAB Show starting this weekend, Seagate has come out with a couple of announcements today. The new hardware introduction is the updated flagship capacity option for the IronWolf Pro HDD lineup targeting the SMB / SME NAS market. The lineup's new 22TB option now matches the highest capacity offered in the WD Red Pro line launched in July 2022. Interestingly, this announcement comes in advance of the retail launch of the corresponding Exos X22 line (which, according to Seagate's investor filings, is already in deployment in datacenters).
Seagate also providing technical details in addition to announcing retail availability of the new ST22000NT001 model. This is a 10-disk / 20-head configuration with conventional magnetic recording (CMR). The drive has a 3.5" form-factor and sports a SATA 6 Gbps interface. The drive is equipped with a 512 MB cache and has a 7200 RPM spindle speed. Noise ratings indicate 20 dBA at idle and 26 dbA for active seeks under typical conditions. However, it can go up to 30 - 34 dbA under heavy loading. The SKU has a MSRP of $600, matching WD's launch pricing for their 22TB lineup.
Seagate IronWolf Pro 22TB - Metrics of Interest
Rated Workload (TB/yr)
550
Max. Sustained Transfer Rate (MBps)
285
Rated Load / Unload Cycles
600K
Unrecoverable Read Errors
1 in 10E15
MTBF (Hours)
2.5M
Power (Idle / Active) (W)
6.0 / 7.9
Warranty (Years)
5 + 3 years of Rescue Data Recovery Services
Datasheet
PDF
Seagate is a a few quarters behind WD in launching retail 22TB HDDs. However, with consumer demand in this market segment being a bit tepid. Deals for slightly lower capacity HDDs such as the 18TB and 16TB capacity points seem to abound, as those HDDs are no longer in demand with the hyperscalers, but there appears to be a glut in the supply. Seagate has probably not lost out much in the consumer market by being late in this introduction. More interestingly, Seagate is not restricting usage of the new drive to NAS units with bay counts of 24 or lower, instead opting to indicate 'Unlimited' in the datasheet.
Though the new SKU has a MSRP of $600, the drive is currently on sale for $400 at Newegg (though this may be a pricing mistake).
In other news, Seagate also announced a collaboration with QNAP for supporting the Exos E Series JBOD systems and Seagate Lyve storage solutions with QuTS Hero-enabled ZFS NAS solutions to seamlessly enable enterprise-scale solutions from the edge.
Source: Seagate