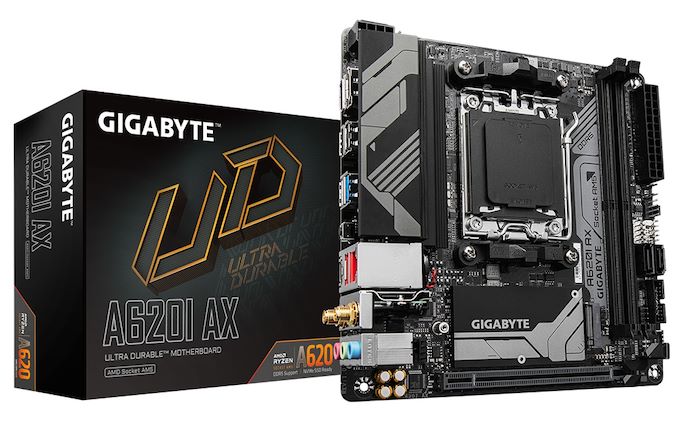 Gigabyte has quietly introduced one of the industry's first inexpensive motherboards for AMD's AM5 processors in Mini-ITX form-factor. The most unexpected peculiarity of Gigabyte's A620I AX motherboard — based on AMD's low-cost A620 chipset that only supports essential features — is that it supports AMD's top-of-the-range Ryzen 9 7950X3D and Ryzen 9 7950X processors.
Despite its positioning as an entry-level motherboard for AMD's Ryzen 7000-series CPUs based on the Zen 4 microarchitecture, Gigabyte's Ultra Durable A620I-AX can handle all of AMD's AM5 CPUs released to date, including relatively inexpensive Ryzen 5 7600 with a 65W TDP as well as range-topping Ryzen 9 7950X3D with 3D V-Cache rated for 120W and Ryzen 9 7950X rated for 170W. Given that AMD's A620 platform is not meant for overclocking, the Ryzen 9 7950X cannot be overclocked on this motherboard, but even support of this CPU is unexpected.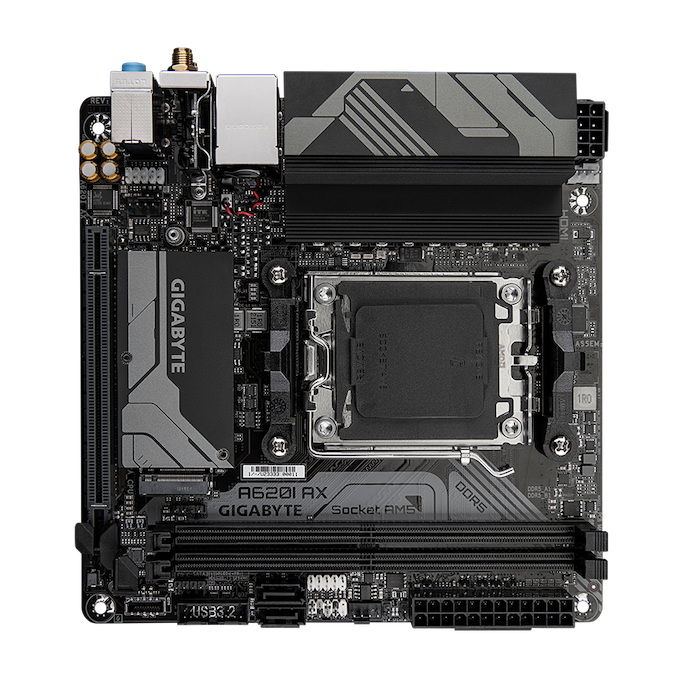 AMD's Ryzen 7000-series CPUs are hungry for memory bandwidth and the UD A620I-AX does not disappoint here as it comes with two slots for DDR5 memory that officially support memory modules rated for up to DDR5-6400 and with EXPO profiles. High-performance DDR5 DIMMs will be beneficial not only for Ryzen 9 and Ryzen 7 CPUs aimed at demanding gamers, but will also be beneficial for cheap PCs running AMD's upcoming AM5 APUs with built-in graphics as memory bandwidth is crucial for integrated GPUs. The motherboard even has two display outputs to support iGPUs.
Speaking of gaming, the UD A620I-AX motherboard naturally lacks any kind of PCIe Gen5 support, but it does have a PCIe 4.0 x16 slot for graphics cards and an M.2-2280 slot with a PCIe 4.0 x4 interface for SSDs. For those who need additional storage space, the platform has two SATA ports.
As for overall connectivity, the UD A620I-AX motherboard features a Wi-Fi 6 + Bluetooth adapter, an 2.5GbE port, USB 3.2 Gen1/2 ports (including a Type-C port), and audio connectors. While this may not seem much, entry level gaming systems do not use a lot of high-performance peripherals anyway. Furthermore, AMD's A620 platform does not support USB4.
Pricing details for the UD A620I-AX are not yet available, but some early reports suggest that it will be priced below/around $100, like other A620-based offerings. Meanwhile, given support for high-end Ryzen 9 processors and Mini-ITX form-factor, it is possible that Gigabyte may charge a premium for the UD A620I-AX. Therefore, it remains to be seen how reasonably priced will this motherboard be when it hits the market.
Source: Gigabyte