Twin Server: Concept
The big idea behind the Twin Server is that Supermicro puts two nodes in a 1U pizza box. The first advantage is that processing power density is at least twice as high as a typical 1U, and even higher than many (much more expensive) blade systems.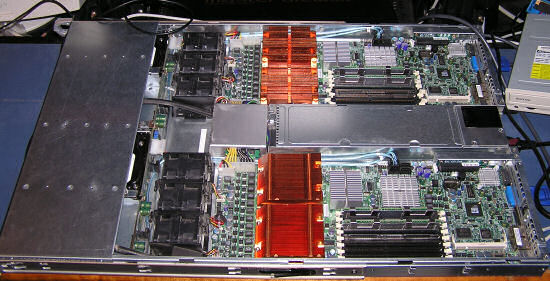 TCO should also be further lowered by powering both nodes from the same 900W "more than 90% efficient" power supply.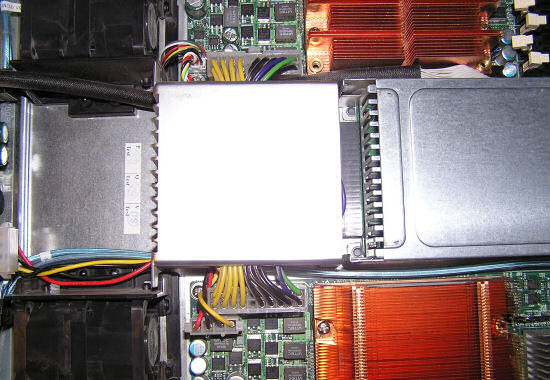 Powering two nodes, the PSU should work at a load where it is close to its maximum efficiency. The disadvantage is that the PSU is a single point of failure. Nevertheless, the concept behind the Supermicro Twin should result in superior processing power density and performance/Watt, making it very attractive as a HPC cluster node, web server, or rendering node.
That is not all; the chassis is priced very competitively. We did a quick comparison with the Dell PowerEdge. As Supermicro's big selling point is the flexibility it offers to its customers in customizing the server's configuration, it is clear that Dell is probably the most dangerous Tier-1 opponent with its extremely optimized supply chain, direct sales model, and relatively customizable systems.
Server Price Comparison
Components
Supermicro Twin (May 2007)
Components
Dell PowerEdge 1950 (May 2007)
6015-T Chassis
$1,550
Chassis
$3,610
2x Xeon 5320
$1,000
1x Xeon 5320
4x 2GB FB-DIMM
$1,480
4x 1GB FB-DIMM
4x Seagate ST3250820NS 250GB SATA NL35
$340
2x 250GB SATA NL35
$4,370
$3610
2x Xeon 5320
$1,000
1x Xeon 5320
$850
Subtotal
$5,370
Subtotal
$4,460
Dell Discount
($1,400)
Subtotal after discount
$3,060
Total 2 systems:
$5,370
Total 2 systems:
$6,120
While the difference isn't enormous, it is important to note that the Dell PowerEdge is one of the most aggressively priced servers out there, thanks to the huge discount. The idea behind the server is very attractive and the price is extremely competitive; these are reasons enough to see if the Supermicro Twin 1U can deliver in practice too. But first, we'll take a look at the technical features of this server.