Meet the Sapphire 5450
Along with our reference card from AMD, Sapphire also sent in their near-reference 5450. As it was clocked correctly at 650MHz/800MHz, we were able to use this card to benchmark the 5450 at its proper clocks, so we'd like to thank Sapphire for sending this in.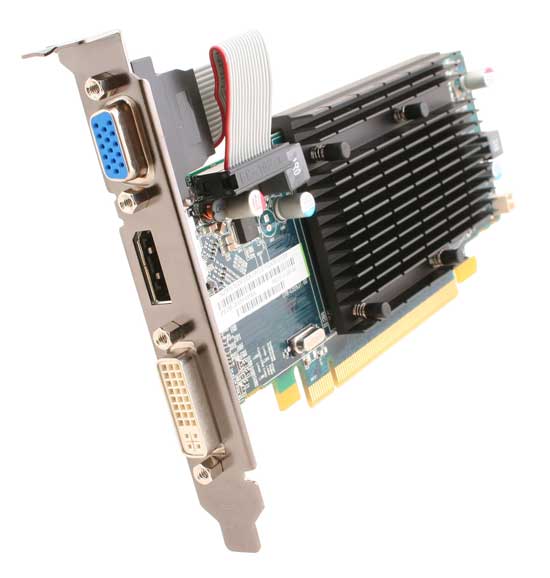 The Sapphire 5450 is nearly identical to AMD's reference card. It uses the same PCB and the same port configuration, and the RAM chips are the appropriate 800MHz Samsung DDR3 chips. The key difference between the two cards is that while AMD is using a double-wide heatsink, the Sapphire 5450 is using a smaller single-wide heatsink. This means that the Sapphire 5450 will fit in to cases where only a single slot's worth of space is available below the card.

However on the flip side (in all senses of the word) Sapphire's heatsink wraps around the card slightly, which results in it sticking up from the back side of the card. Technically speaking the heatsink is encroaching on the space that belongs to the card above it, so the Sapphire card won't fit if there's a card more than 2 inches long in the slot above it, or if there are tall motherboard components there. In our case it encroached on the audio riser card for our Rampage II Extreme Motherboard. This shouldn't be a problem for the vast majority of users and is more compatible than a card with a double-wide heatsink, but nevertheless check your case to make sure there's room for the heatsink on the back side of the card.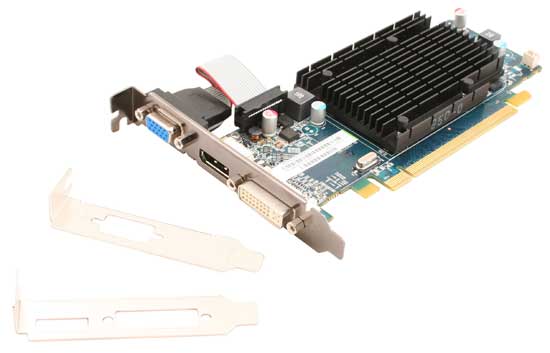 As is usually the case with bottom-tier cards, Sapphire packs the 5450 with very little. It comes with a driver CD, the low-profile brackets for the card (it ships with the full-profile bracket installed), an instruction manual, and ArcSoft's SimHD plugin for upconverting video conferencing feeds. Surprisingly, all of this comes in a full-sized box – this is the first sub-$100 card we've seen in some time to not come in a mini-box.
Sapphire also sent along their entire 5450 product chart. Of note, they will be releasing DDR2 and DDR3 cards with HDMI ports that are otherwise identical to today's DisplayPort card, so HTPC users will not be left out in the cold.