Although not quite the Intel SSD announcement we were expecting in Q4, today Intel unveiled its first mSATA SSD: the Intel SSD 310.
Based on the 34nm Intel X25-M G2 controller, the 310 will be available in both 40GB and 80GB capacities. The 80GB version should perform a bit slower than an 80GB X25-M G2 while the 40GB version will perform like a 40GB X25-V.
Intel SSD 310 Comparison
Intel SSD 310
Intel X25-M G2 (34nm)
Intel X25-V (34nm)
Codename
Soda Creek
Postville
Postville
Capacities
40/80GB
80/160GB
40GB
NAND
IMFT 34nm MLC
IMFT 34nm MLC
IMFT 34nm MLC
Sequential Performance Read/Write

Up to 200/70MB/s (80GB)

Up to 170/35MB/s (40GB)
Up to 250/100 MB/s
Up to 170/35MB/s
Random 4KB Performance Read/Write

Up to 35K/6.6K IOPS (80GB)

Up to 25K/2.5K (40GB)

Up to 35K/8.6K IOPS
Up to 25K/2.5K (40GB)
Typical Power Consumption Active/Idle
150mW/75mW
150mW/75mW
150mW/75mW
Size
50.8mm x 29.85 mm x 4.85 mm
100.5mm x 69.9 mm x 7mm or 9.5mm
100.5mm x 69.9 mm x 7mm or 9.5mm
The 310 isn't about performance, rather form factor. The SSD in Apple's new MacBook Air is just the beginning - OEMs are beginning to shed the limits of traditional hard drive form factors as SSDs don't need to house a circular platter.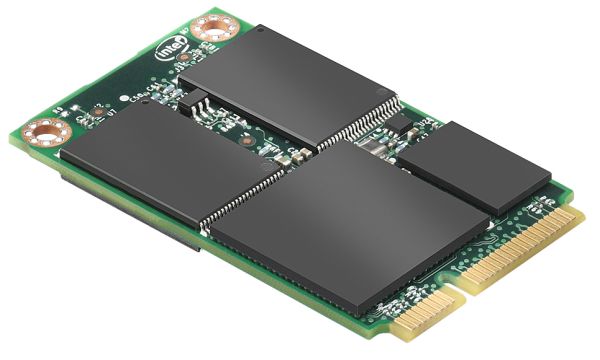 The mSATA interface is physically a mini PCIe connector (similar to what you'd see with a WiFi card in a notebook) but electrically SATA. The result is something very compact.
The full sized mSATA 310 measures 50.8mm x 29.85mm and is less than 4.85mm thick. Total weight? Less than 10 grams.
The Intel SSD 310 is OEM only at this point. Lenovo has already announced it will offer the 310 in ThinkPads in the future, while DRS Technologies will show off a tablet PC next month with the 310 inside. The 40GB drive is priced at $99 while the 80GB version will run you $179 in 1000 unit quantities.
As for the rest of Intel's SSD updated lineup? While internal roadmaps showed a Q4 release for the 3rd generation X25-M based on 25nm NAND, that product is obviously delayed. We're also hearing that new SandForce drives are still months away so those of you eagerly waiting for new drives at the high end will have to wait a bit longer.