Introducing the CyberPower Xplorer X6-9100
As a matter of course we tend to spend a lot of time focusing on the gaming potential of the hardware we review. Boutique desktops get a lot of love, and it's always interesting to see just how much power you can pack in a portable solution. Yet many users simply don't game, but they still need a powerful machine for other tasks like video or photo editing. In the world of Intel's first-generation Core i7 line, that meant getting a notebook with a battery eating graphics card you just didn't need. Sandy Bridge changes all that with integrated graphics suitable enough for most tasks, and today, CyberPower has offered us a notebook targeted to a slightly different segment than usual: the IGP-powered, 1080p and quad-core-wielding Xplorer X6-9100.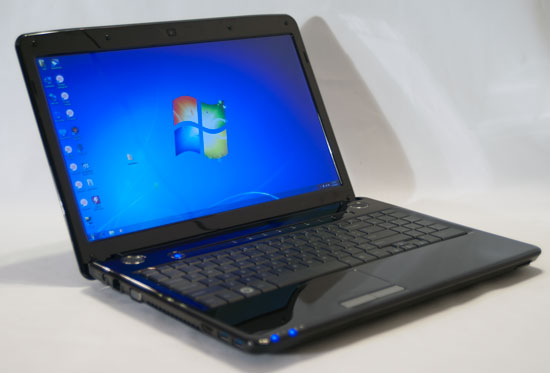 CyberPower is gearing the Xplorer X6-9100 specifically at content creators, people who need processing power and are primarily concerned with business applications, but they still want an inexpensive option. While I personally lament the lack of NVIDIA graphics hardware for accelerating the Mercury Playback Engine in Adobe Premiere CS5 (and now 5.5), I recognize that I'm in the minority. For many users, especially budding photographers, an inexpensive quad-core notebook with a 1080p screen is going to be a great find. This is how our review unit is specced:
CyberPower Xplorer X6-9100 Specifications
Processor
Intel Core i7-2630QM
(4x2GHz + HTT, 2.9GHz Turbo, 32nm, 6MB L3, 45W)
Chipset
Intel HM65
Memory
2x4GB DDR3-1333 (Max 2x4GB)
Graphics
Intel HD 3000 Graphics (Sandy Bridge)
12 EUs, 650-1100MHz Core
Display
15.6" LED Glossy 16:9 1920x1080
(AU Optronics B156HW01 V5 Panel)
Hard Drive(s)
Intel 510 120GB SATA 6Gbps SSD
Optical Drive
DVD+/-RW Combo Drive
Networking
Atheros AR8151 Gigabit Ethernet
Atheros AR9002WB-1NG 802.11n Wireless
Bluetooth 3.0+EDR
Audio
Conexant Cx20585 HD audio
Stereo speakers
Headphone and microphone jacks
Battery
6-Cell, 10.8V, 48Wh battery
Front Side
Indicator lights
SD/MS/MMC reader
Left Side
AC adapter jack
Ethernet jack
VGA
Exhaust vent
HDMI
2x USB 3.0
Right Side
Headphone jack
Microphone jack
Optical drive
Kensington lock
Back Side
-
Operating System
Windows 7 Home Premium 64-bit
Dimensions
14.96" x 10.31" x 1.07"-1.34" (WxDxH)
Weight
~6 lbs
Extras
Webcam
Flash reader (MMC, SD/Mini SD, MS/Duo/Pro/Pro Duo)
USB 3.0
Bluetooth
Warranty
1-year limited warranty
Pricing
Starting at $719
As configured $1,069
CyberPower is aiming the Xplorer X6-9100 at users who need high performance without gaming horsepower, and our review unit was configured to prove a point: that you can get a lot of power and even a good SSD in a notebook in the neighborhood of $1000.
The configuration starts with Intel's Core i7-2630QM; it's the bottom rung quad-core in the mobile Sandy Bridge lineup but still a formidable contender. Boasting a 2GHz stock speed (in line with last generation's extreme i7-920XM), the i7-2630QM sweetens the deal by offering Turbo Boost speeds up to 2.9GHz on a single core and a still respectable 2.6GHz on all four. That's not as high in pure clock speed as what the i7-940XM could manage, but there are many other benefits, chief among them being power requirements at moderate loads. The only feature cuts made to the 2630QM as opposed to the higher-end 2720QM and its kin are a reduced GPU clock (maxing out at 1100MHz) and no hardware support for virtualization or AES-NI. This notebook is also running off of that integrated GPU, so you do get access to Intel's Quick Sync encoding technology.
Our other major talking point is the recently launched Intel 510 series SSD at 120GB. It's admittedly an expensive upgrade and the capacity isn't ideal for all users, but if you're only doing photo or sound work it should be adequate. The 510 also comes equipped with SATA 6Gbps support that the Xplorer X6-9100 makes full use of.
Everything else is reasonably uneventful. The standard webcam, stereo speakers, gigabit ethernet, and wireless-n networking are all accounted for, but at least CyberPower generously provided 8GB of DDR3 for this review. Given how inexpensive memory is, it becomes awfully difficult to justify going with 4GB anymore. If you don't need that much memory that may be one thing, but photography buffs are going to want the extra real estate.