Introducing the HP EliteBook 8460p
Ever since getting to visit with HP back in February, we've been anxious to get one of their refreshed enterprise-class notebooks in house. The aluminum styling is such a smart blend of professionalism and straight up good looks, it's almost a shame we aren't going to see it on consumer-oriented notebooks. Now we have one of their new 14-inch models on hand, the EliteBook 8460p, featuring a dual-core Sandy Bridge processor and new AMD Radeon HD 6470M graphics. Is it everything we hoped for?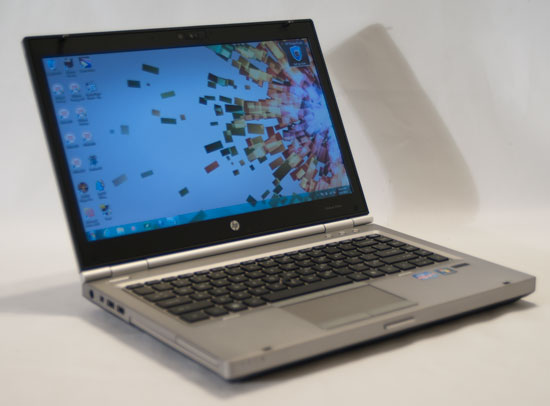 About the only thing I don't like about HP's new lineup is how convoluted it is. HP is offering two different ProBook lines and two different EliteBook lines. The ProBooks are split into budget and...not budget?...and then the EliteBooks have one line geared specifically for mobile workstations. It's all broken down here (minus the new workstations, which are still en route), and it's a little clumsy. The overarching themes between all the lines are sound, though: gorgeous aluminum shells, reinforced hinges, and matte screens. Our EliteBook is the 8460p, a 14-inch build from the not-workstation line.
HP EliteBook 8460p Specifications
Processor
Intel Core i5-2520M
(2x2.5GHz + HTT, 3.2GHz Turbo, 32nm, 3MB L3, 35W, vPro Enabled)
Chipset
Intel QM67
Memory
1x4GB DDR3-1333 (Max 2x8GB)
Graphics
AMD Radeon HD 6470M 1GB GDDR3
(160 Stream Processors, 750MHz/1.8GHz Core/Memory clocks, 64-bit memory bus)
Display
14-inch LED Matte 16:9 1366x768
(AU Optronics AUO313C Panel)
Hard Drive(s)
Hitachi Travelstar 7K500 320GB 7200-RPM SATA 3Gbps Hard Disk
Optical Drive
DVD+-RW Combo Drive w/ LightScribe
Networking
Intel 82579LM Gigabit Ethernet
Intel Centrino Advanced-N 6205 802.11a/b/g/n
Bluetooth 2.1+EDR
Agere Si3054 Modem
Audio
IDT 92HD81B1X HD audio
Stereo speakers
Headphone and microphone jacks
Battery
6-Cell, 62Wh battery
Front Side
Indicator lights
Left Side
AC adapter port
4-pin FireWire
2x USB 3.0
SD/MMC reader
ExpressCard/54
Optical drive
Right Side
Headphone jack
Microphone jack
eSATA/USB 2.0 combo port
USB 2.0 (charging)
DisplayPort
Exhaust vent
Kensington lock
Back Side
Modem jack
VGA
Ethernet jack
Operating System
Windows 7 Professional 64-bit SP1
Dimensions
13.31" x 9.11" x 1.25" (WxDxH)
Weight
4.95 lbs
Extras
720p Webcam
Flash reader (MMC, SD/Mini SD, MS/Duo/Pro/Pro Duo)
USB 3.0
Bluetooth
Fingerprint reader
Modem
Warranty
3-year standard parts and labor warranty
Pricing
Starts at $999
As configured $1,199
Starting from the top, we have Intel's Core i5-2520M. Sporting a 2.5GHz nominal clock speed and capable of turbo-ing up to 3GHz on both cores and 3.2GHz on a single core, this chip is actually a step up from the Core i5-2410M in that it supports AES-NI and hardware virtualization where the lesser model does not. It also starts at a higher clock speed and has substantially higher turbo bins.
HP makes the interesting decision to employ a single 4GB DIMM instead of a pair of 2GB DIMMs; on the one hand this may produce a minor hiccup in performance, but on the other this is the standard memory configuration across the 8460p lineup and ensures the end user can easily upgrade the RAM later. With 4GB sticks going for $40 apiece right now, that doesn't sound like a bad idea either.
One of the parts we're really interested in checking out is AMD's new Radeon HD 6470M. Now that Sandy Bridge's integrated graphics effectively makes the unimpressive Mobility Radeon HD 5470 obsolete (outside of still having better driver support), AMD has to step up their game. This chip doubles the number of shaders of its predecessor at 160 (finally eclipsing the now ancient Radeon HD 2600), but the memory bus remains a poor 64 bits wide and is strapped to GDDR3 instead of the faster GDDR5 that could mitigate the narrow bus. Still, core clocks are mighty high at 750MHz. We don't expect performance to double, but it should at least be a substantial improvement. One disappointment is the lack of a switchable graphics solution; there are notebooks sporting 6000M series Radeons in the market that can switch between the discrete and integrated GPUs, but that's not possible on the 8460p.
As for the rest of the configuration, HP ships the 8460p with 7200RPM hard drives, Bluetooth, and wireless-a/b/g/n support standard. One of the nicer things about checking out business-class notebooks is that they tend to be much more fully-featured than their consumer cousins, and the 8460p is evidence of that, offering all modern and even some older connectivity--some people still value FireWire, thankfully. Unfortunately, while HP does offer WWAN connectivity with the 8460p, the internal Mini-PCIe port doesn't support mSATA.