I like what HTC has been up to lately. Rather than fighting a race to the bottom with endless soulless variants of the same piece of hardware in a crowded (and fiercely competitive) Android handset market, it's trying to grow beyond just being a handset manufacturer.
I hate starting reviews with history lessons, but in this case we really do need to step back to see where HTC is coming from. In the beginning, HTC was a nameless OEM for other more famous brands. Its clients were smartphone and Pocket PC names like Palm with its Treo, Compaq with its iPaq, Dell with a number of the Axim PDAs, and UTStarcomm. As Windows Mobile aged and showed little signs of improving, HTC took its first step outside the bounds of being just a hardware assembler by taking on an ambitious project to revitalize Windows Mobile with a software skin. The fruits of this effort were TouchFlo, and later TouchFlo 3D UIs - which eventually would become HTC Sense. Somewhere between the release of the HTC Mogul and HTC Touch Pro, HTC realized that its future wasn't purely in manufacturing devices for other handset vendors, but in leveraging its own brand. The combination of continually improving industrial design, software, and its own direction have turned HTC into the device manufacturer it is today.
Things have come a long, long way since the HTC Dream, and today we're looking at HTC's latest and greatest with the HTC Sensation.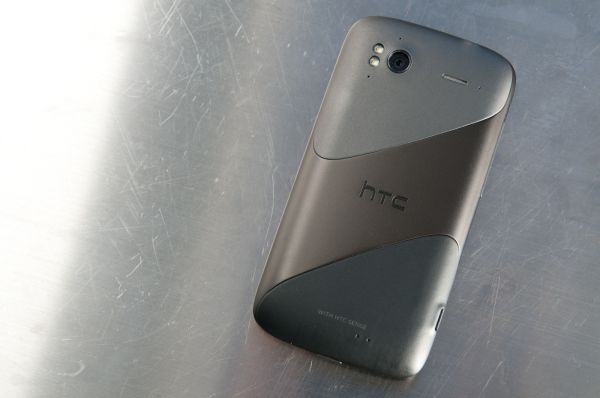 I get a bit excited every time I look at the HTC Sensation. It's a device with perhaps the strongest and most bold design language of any HTC phone to date. You can pretty much chart HTC's design language by looking at each generation of its international handsets.
The HTC Desire was essentially an international version of the Nexus One, with hardware buttons but the same 65nm single core Snapdragon QSD8250 SoC. The second generation was the HTC Desire HD, which brought a larger 4.3" screen and 45nm Snapdragon MSM8255 SoC. The third step is the HTC Sensation, which ups resolution from WVGA 800x480 to qHD 960x540 and brings a 45nm dual core Snapdragon MSM8260 SoC.
Physical Comparison
Apple iPhone 4
HTC Thunderbolt
LG Optimus 2X/G2x
HTC Sensation
Height
115.2 mm (4.5")
122 mm (4.8")
123.9 mm (4.87")
126.3 mm (4.97")
Width
58.6 mm (2.31")
67 mm (2.63")
63.2 mm (2.48")
65.5 mm (2.58")
Depth
9.3 mm ( 0.37")
13.2 mm (0.52")
10.9 mm (0.43")
11.6 mm (0.46")
Weight
137 g (4.8 oz)
183.3 g (6.46 oz)
139.0 g (4.90 oz)
148 g (5.22 oz)
CPU
Apple A4 @ ~800MHz
1 GHz MSM8655 45nm Snapdragon
1 GHz Dual Core Cortex-A9 Tegra 2 AP20H
1.2 GHz Dual Core Snapdragon MSM8260
GPU
PowerVR SGX 535
Adreno 205
ULP GeForce
Adreno 220
RAM
512MB LPDDR1 (?)
768 MB LPDDR2
512 MB LPDDR2
768 MB LPDDR2
NAND
16GB or 32GB integrated
4 GB NAND with 32 GB microSD Class 4 preinstalled
8 GB NAND with up to 32 GB microSD
4 GB NAND with 8 GB microSD Class 4 preinstalled
Camera
5MP with LED Flash + Front Facing Camera
8 MP with autofocus and dual LED flash, 720p30 video recording, 1.3 MP front facing
8 MP with AF/LED Flash, 1080p24 video recording, 1.3 MP front facing
8 MP AF/Dual LED flash, VGA front facing
Screen
3.5" 640 x 960 LED backlit LCD
4.3" 800 x 480 LCD-TFT
4.3" 800 x 480 LCD-TFT
4.3" 960 x 540 S-LCD
Battery
Integrated 5.254Whr
Removable 5.18 Whr
Removable 5.6 Whr
Removable 5.62 Whr
Physically it's obvious that each successive device builds on the former. They're all backed with HTC's trademark purple-grey metal and have similar in-hand feel as a result. When I look at the Sensation, I see the Desire crossed with the Desire HD. When I actually hold the Sensation, I feel like I'm holding a grown-up Nexus One.
The two share that trademark combination of slightly rubbery plastic and metal, and as a result the device feels grippy, solid, and confident. What the Sensation also really continues from the other devices is the lack of a hard lip of any kind at the edge, instead every corner rolls off giving the phone a smooth feeling. The sensation of holding something rigid and expensive is communicated by that combination of materials, rather than the cheap plasticky feel conveyed by a number of other handsets.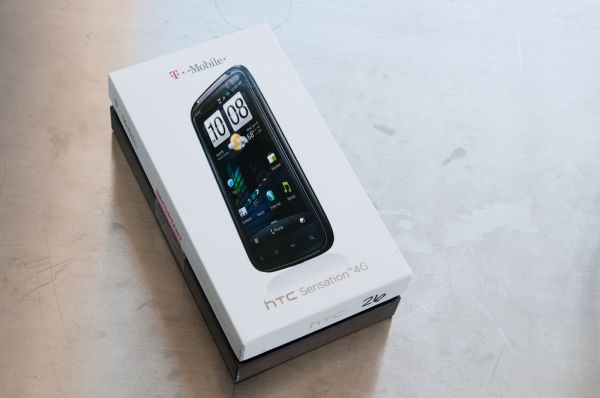 The Sensation comes in the same style of packaging that we've seen other T-Mobile phones arrive in. It's a two-part box with a thin middle strip. The top lifts off revealing the phone, and underneath that is the usual paperwork, HTC AC adapter and microUSB cable, and earbuds.
I started off making one monolithic video for the Sensation, but that ended up being unwieldy, so I split it into multiple parts. The first one is simply a look at the hardware from all angles, torn down, and how it compares to both HTC's legacy devices and some of its modern contenders.