In and Around the Antec Solo II
Antec has a wonderful tendency to keep most of their enclosures looking fairly classy and understated. Aesthetics have proven time and time again to be a major sticking point with many of you in our readership and it's understandable. For my personal system I had to choose between Thermaltake's Level 10 GT and SilverStone's FT02; the Level 10 GT may have slightly better thermals, but the FT02 is, at least in my eyes, much nicer to look at.
The extremely minimalistic design of the Solo II doesn't leave us much to talk about in terms of the exterior, though. It has a glossy black finish that isn't too bad at picking up fingerprints, and Antec has reduced the number of 5.25" drive bays from four in the Solo to just two. The market segment this case is geared towards shouldn't have any issues with this; I personally need three (two optical drives and a card reader), but two is still plenty for the overwhelming majority of users. The column of ports has been expanded to include two USB 3.0 ports above the two USB 2.0 ports, and these ports are connected with a motherboard header instead of a routing cable. Air is brought in through ventilation on the left and right sides of the front panel, similar to how Antec's P182/P183 have operated.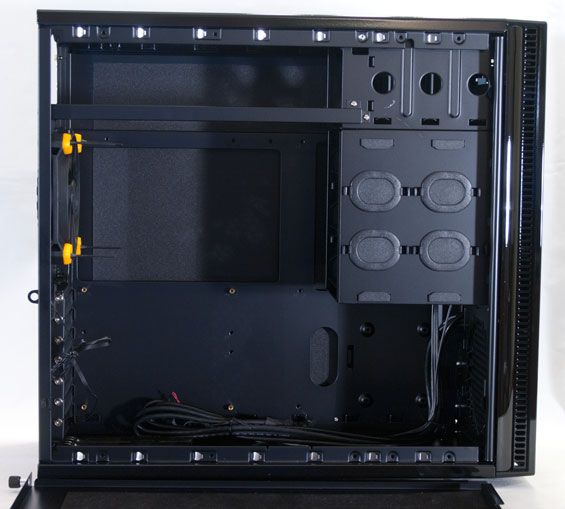 The rest of the enclosure is extremely spare, although the first sign of change is a vent at the top of the enclosure. Instead of using the power supply's bottom-mounted fan as an additional exhaust (as seen in older ATX case designs), Antec quietly suggests inverting the power supply and cooling it separately. The benefit to this design is that it takes the power supply's cooling out of the equation for the rest of the case. Though mounting the PSU to the top of an enclosure has fallen increasingly out of vogue, SilverStone's TJ-08E got a lot of mileage out of this design choice, as it allows you to mount the motherboard lower in the enclosure; the optical drive bays hang out in roughly the same space as the power supply, allowing for an intake directly in front of the CPU cooler.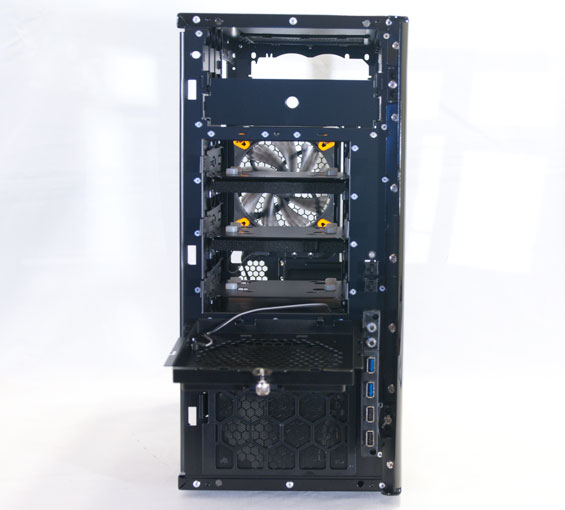 If you take a look at the back, you'll see everything is business as usual, but Antec has swapped out their traditional TriCool fan in favor of their new "TrueQuiet" fan. The TrueQuiet has a fan speed switch mounted just below it that can be set to either low or high. We're down one setting from the TriCool but somehow I just know we'll manage.
When you open the Solo II is where things start to get a little bit wild. One of the first major changes is that there's a small dedicated space behind the motherboard tray, something sorely lacking from the Sonata IV. It's a very small space, but Antec has still essentially allocated space for cable management. There are also cutouts in the motherboard tray both for mounting cooling and routing cables. Finally, there's clean space able to accommodate large video cards. Everything is mostly cordoned off and orderly.
The drive cage is an odd duck, though. Antec includes three drive sleds and two "suspension" mounts, and I have to be honest, I'm just not a fan of the suspension mounts. With the drive sleds in there (complete with sound-reducing silicon grommets) I have to wonder why these mounts were included at all; removing them could've snagged us space for an additional drive sled, bringing us up to a healthy four instead of the three we have. Behind the drive cage is the reason why it's not a lateral design: there are four sets of hooks designed to minimize cable clutter.