The Zenbook Prime Exterior
The all-aluminum Zenbook chassis makes another appearance with the Zenbook Prime. It's the same thickness and weight as its predecessor. The Prime also features the same port configuration. On the 11-inch model you get two USB 3.0 ports (one on each side), a mini VGA out (with bundled dongle), micro HDMI out and shared audio/mic jack. The 13-inch model adds an SD card reader, while the thicker UX32 adds full sized HDMI and a third USB 3.0 port on top of that.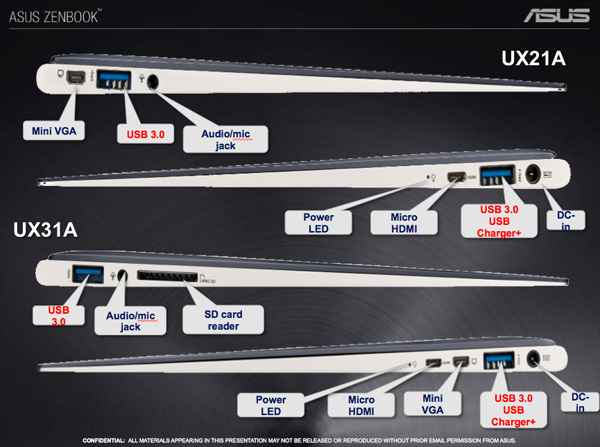 While the outside of the Zenbook hasn't changed at all, it's what's inside that's completely different. Both the UX21 and UX31 now feature 1920 x 1080 IPS panels. I'll get into the debate over the usability of such a high res on such an 11.6 inch display shortly, but at a high level this is just awesome. ASUS is finally putting the type of attention we've been asking for on display technology. The 1080p panel on the UX21 looks amazing and performs extremely well as you'll soon see. I can only assume the UX31's panel is similarly impressive.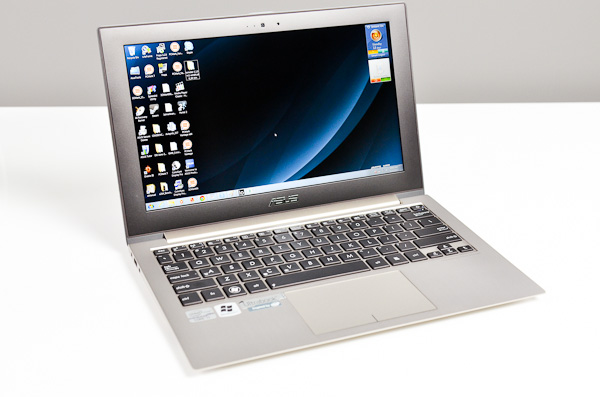 What else got updates? The camera (now 720p), keyboard, trackpad, WiFi, USB 3.0 and power adapter, to name a few.
The New Keyboard
The keyboard is all-new on the Zenbook Prime. Although it doesn't look as stylish as what ASUS introduced in the original, the new keyboard is worlds better to type on. It feels almost identical (but not completely) to the MacBook Air keyboard, which in my opinion is a good thing. Finger fatigue is significantly reduced compared to the original Zenbook. ASUS claims 12% increased key travel compared to the predecessor which definitely contributes to a better typing feel.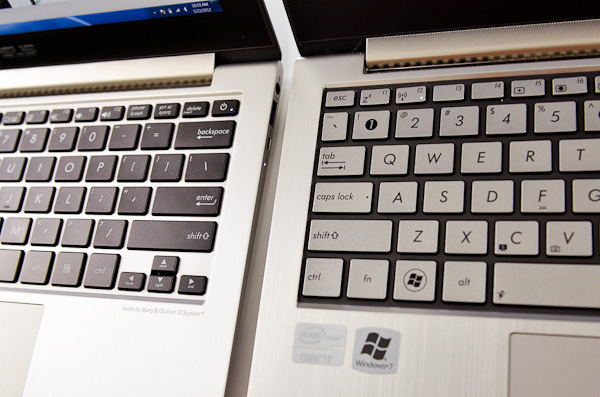 The new keyboard (left) vs. the old keyboard (right)
The keyboard obviously looks very similar to Apple's chiclet as well and now features a LED backlight. There are three selectable brightness settings for the keyboard backlight (four if you count off), which you control via a keyboard shortcut (fn F3/F4).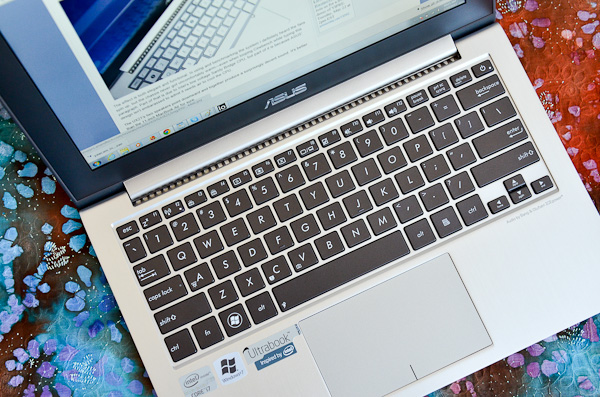 A Much Improved Trackpad
The problematic trackpad from the original Zenbook was actually addressed mid-cycle last generation. ASUS switched to an ELAN trackpad that did away with most of the issues I encountered. Users who wanted the new trackpad could call, complain and should've been able to get their unit swapped out although there was never a formal replacement program. The Zenbook Prime uses the same trackpad, although this is my first personal experience with it in a Zenbook.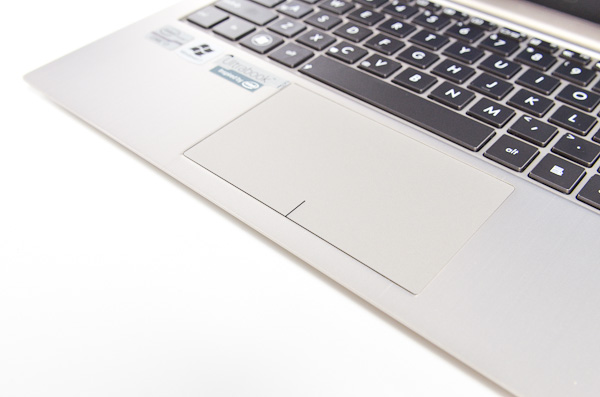 In short, it's much better than what I originally reviewed. Keeping one finger on the trackpad's left click area while you move the pointer is no longer an issue. The pointer will occasionally refuse to move but it's very rare and ASUS even ships software that lets you tweak the trackpad's sensor to better match how you use it: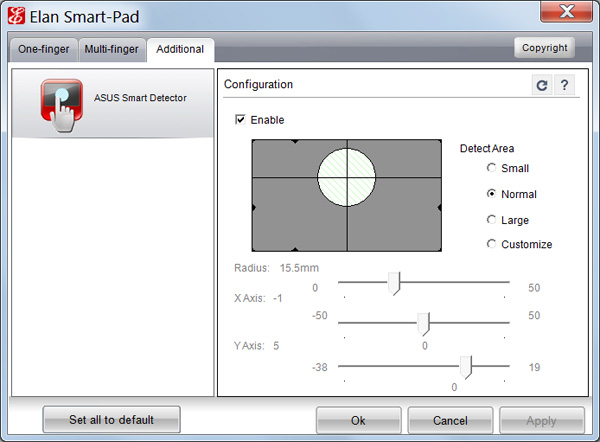 Tap to click and actually clicking the trackpad are both non-issues again. Two finger scrolling as well as three finger forward/back gestures all work very well. Overall the experience is pretty good, albeit not quite perfect. It's likely the best ASUS can do without writing its own trackpad driver. At some point it may just come to that however.
An Updated Power Adapter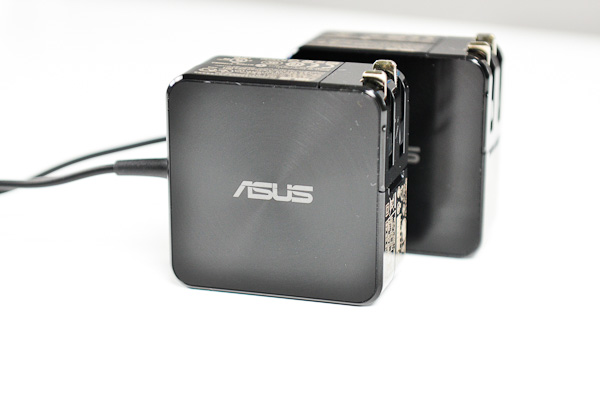 The 45W power adapter from the Zenbook gets a slight update as well. Remember the charge indicator that never turned off? Fixed. Also the somewhat worrisome power connector has been beefed up, it's a bit thicker and I'm less worried about it snapping off.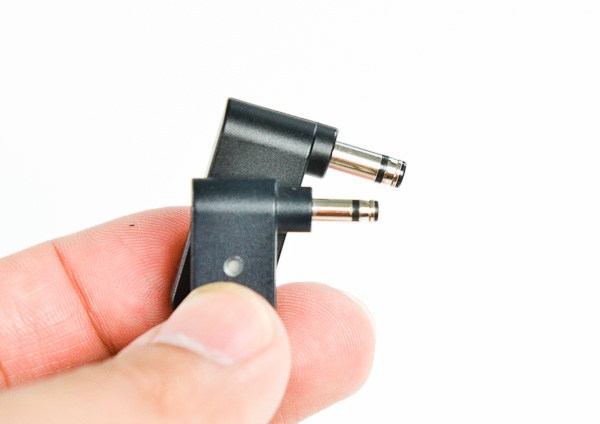 The old Zenbook power connector (bottom) vs. the new Zenbook Prime connector (top)
I shouldn't be surprised that ASUS fixed these things but it's just so rare that a company listens to feedback and acts appropriately in such a short period of time. I would still like to see a MagSafe clone and better cable management than a bit of velcro, although navigating around any associated patents there should be fun for ASUS' lawyers.
Vastly Improved WiFi
The original Zenbook featured a 2.4GHz Qualcomm Atheros AR9485 802.11b/g/n WiFi solution. Only supporting a single spatial stream the best sustained speeds I saw were around 5MB/s using 20MHz channels at 2.4GHz. The Zenbook Prime offers a considerable upgrade.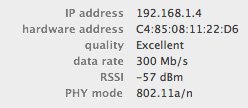 Now inside the machine is Intel's Centrino Advanced-N 6205 controller. The 802.11a/g/n controller adds 5GHz support and link speeds of up to 300Mbps. In practice I saw a doubling of performance under the same conditions as the original Zenbook (80Mbps vs. ~40Mbps).
As a side benefit, since ASUS is using Intel's Centrino WiFi on an Intel platform it also by default supports Intel's Wireless Display (WiDi) technology.
Just like last time, the UX21A comes with a sleeve case, VGA dongle and USB to 10/100 Ethernet adapter.
USB 3.0 on Both Ports
Courtesy of Intel's HM76 chipset found on the Zenbook Prime's motherboard are the notebook's two USB 3.0 ports. The original Zenbook had a single USB 3.0 port and one USB 2.0 port by comparison. USB 3.0 performance is a bit higher than what I measured with the original Zenbook. I had no problems sustaining transfers at above 170MB/s.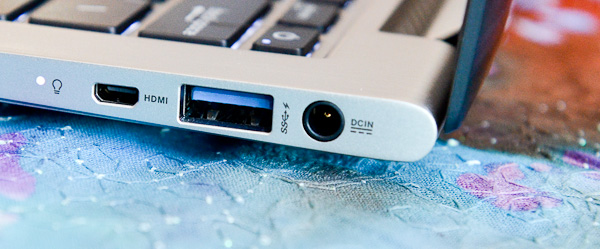 VGA and HDMI out are also supported. There's no Thunderbolt or DisplayPort on the Zenbook Prime unfortunately.
Simplified SSDs
The original Zenbook offered one of two SSDs depending on the model you picked up: Sandisk's U100 or ADATA's SandForce SF-2281 based XM11. If you'll remember back to my review of the original Zenbook I expressed concern that ASUS was shipping a known buggy firmware with the ADATA drive, although admittedly I didn't run into any of the SandForce BSOD issues during my review of the system. It looks like those concerns can be put to rest as ASUS has dropped SandForce from the Zenbook Prime. Sandisk's U100 is all that's available now.
As we've alluded to in the past, the U100 isn't the fastest SSD on the block but it should be very well priced for ASUS and obviously faster than a mechanical drive. Read speeds are quite good, but write performance is where the U100 falls short. Do a lot of IO (e.g. install a game or just write sequentially to the drive) and you'll notice IO latencies increase. It's the same issue we ran into early on in the MLC client SSD space, but no where near as bad. The good news is there's no stuttering or other similarly undesirable behavior. The system still functions like it has an SSD, it's just that it could be a lot faster under load. I'm saving a full investigation into U100 performance for final Zenbook Prime hardware.
My hope is that we'll see vendors offer drop in replacements for the drive similar to what we saw OWC do for the MacBook Air. I still haven't gotten a straight answer as to whether or not the ASUS drive is electrically compatible with the MacBook Air SSD, nor have I been brave enough to risk nuking a drive to find out. Update: the two SSDs are physically similar, but not physically compatible. Here's a challenge to all SSD makers out there: build an upgrade kit for the Zenbook.