Introducing the Origin Chronos
BitFenix's Prodigy enclosure, despite a couple of rough spots, emerged as a one-of-a-kind design and a substantial success for the company. BitFenix brought a remarkably flexible Mini-ITX enclosure to market at one of the lowest price tags we've ever seen for that type of enclosure, making it an instant hit with enthusiasts but also a great opportunity for boutiques to produce a variety of LAN boxes to suit the needs of their customers.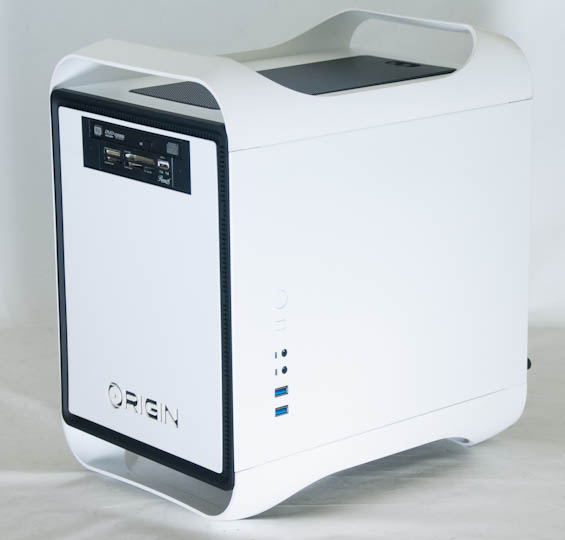 While we've already seen small gaming systems from the likes of AVADirect, DigitalStorm, and iBuyPower, what Origin brings us for review today may be one of the best balanced and most impressive LAN boxes we've ever seen. I've maintained since I started reviewing their cases that BitFenix's enclosures were ideal for boutiques: they're inexpensive, they look good, and they're well made. Origin was showing off a few systems utilizing BitFenix's cases at CES, and the Chronos is just the latest iteration in what looks to be a very fruitful partnership.
More and more the Mini-ITX form factor seems to be able to provide just about everything the average user might need; Micro-ATX generally brings multi-GPU support along with potentially better overclocking and more RAM, and full ATX is really only necessary in isolated cases anymore. But if you just want a single fast CPU and a single fast GPU, a Mini-ITX board may be all you need. Judging from the Origin Chronos, that could be very true indeed.
Origin Chronos Specifications
Chassis
BitFenix Prodigy
Processor
Intel Core i5-3570K
(4x3.4GHz, Overclocked to 4.6GHz, 22nm, 6MB L3, 77W)
Motherboard
ASUS P8Z77-I Deluxe
Memory
2x4GB Corsair Vengeance DDR3-1600
Graphics
eVGA NVIDIA GeForce GTX 670 2GB GDDR5
(1344 CUDA cores, 915MHz/6GHz core/RAM, overclocked to 1015MHz/6.1GHz, 256-bit memory bus)
Hard Drive
Samsung 830 128GB SATA 6Gbps SSD
Western Digital Caviar Blue 1TB SATA 6Gbps HDD
Optical Drive(s)
HL-DT-ST slimline DVD-RAM (GT60N)
Power Supply
550W Corsair TX550M
Networking
Broadcom 802.11b/g/n Wireless
Bluetooth
Intel 82579V Gigabit Ethernet
Audio
Realtek ALC889
Speaker, mic/line-in jacks, optical out for 7.1 sound
Front Side
Optical drive
SD/MMC/CF card reader
USB 2.0
Right Side
2x USB 3.0
Headphone and mic jacks
Back Side
4x USB 2.0
Optical out
HDMI (IGP)
DisplayPort (IGP)
DVI (IGP)
WiFi antennae
4x USB 3.0
Ethernet
2x eSATA
Speaker, mic/line-in jacks
2x DVI (GeForce)
1x HDMI (GeForce)
1x DisplayPort (GeForce)
Operating System
Windows 7 Home Premium 64-bit SP1
Dimensions
9.84" x 15.9" x 14.1"
250mm x 404mm x 359mm
Extras
Integrated 802.11b/g/n
Closed CPU liquid-cooling loop
Card reader
Overclocking on the CPU and GPU
LucidLogix Virtu MVP
Warranty
1-year hardware and lifetime labor and software support
Pricing
Starts at $1,071
Review system configured at $1,499
The average user would be pretty hard-pressed to find anything to ask for in this configuration. The CPU overclock on our review system is hefty; our Ivy Bridge-based Intel Core i5-3570K is clocked at 4.6GHz, which is 200MHz higher than the highest overclock Origin offers on their site outside of the "review configuration." The case and cooling solution handle it fairly well (impressive given the sheer voltage they're pumping through an architecture that's gaining notoriety for running hot), and 200MHz isn't going to break the bank, but you'll see in single or lightly-threaded tasks that the clocks are enough to take the lead. The ASUS motherboard Origin utilizes is a great one, built for overclocking, and it does deliver.
On the graphics side, NVIDIA seems to have done boutiques a real solid by making overclocking their Kepler GPUs even more painless than Intel made overclocking K-series Sandy and Ivy Bridge chips. One trip into EVGA's Precision X software and you can raise both the power target of the card and the boost clock speed. As a result, Origin's GTX 670 enjoys a mild but sustainable 100MHz overclock that bone stock GTX 670s don't have.
Everything else is about what you'd expect, with an SSD system drive and mechanical disk for mass storage, but I liked that Origin opted to use an adaptor for the 5.25" bay that allows them to include both a slimline DVD-RAM drive and a card reader. Sure this is functionality that could've mostly been duplicated by USB accessories, but the more integrated into the system the better.
In the process of writing this review I've been going back and forth with Origin about concerns over the overclock and in doing so had an opportunity to express concerns about the price. Originally there wasn't a "review configuration" shortcut on their site for the Chronos; our configuration was roughly $1,900, which was a hard sell. But it's amazing what chopping $400 off a price tag can do, and at $1,499 the Chronos is actually price competitive with buying the parts off the shelf and assembling it yourself. The starting price of the Chronos seems to be a little on the high side, but the "review configuration" is bang on.