The Samsung Series 7 in Practice
My initial impressions of the Samsung Series 7 were extremely positive; it has a very nice aesthetic and uses aluminum for the screen lid and palm rest rather than plastic (though the bottom of the chassis is still a plastic shell). I actually received the Samsung and Dell XPS 15 laptops at the same time, and I opened the Samsung first, and there are many similarities. In terms of materials, however, it must be said that the XPS 15 chassis is still clearly a step ahead, with a solidity that the Samsung chassis just doesn't have. In fact, the Series 7 reminds me a bit of Dell's XPS 15z in terms of build quality—it looks good and feels good, but there are aspects that still feel a bit out of place (e.g. the plastic shell on the bottom). The CPU and GPU are also similar (quad-core Ivy Bridge and GK107 Kepler), though Samsung uses slightly faster chips for both areas.
With such similar components and design elements, and having tested the XPS 15 already, there's one thing that I need to immediately point out as being in Samsung's favor: the CPU/GPU don't throttle to extreme levels while gaming. That's not to say the CPU and GPU can run at maximum turbo speeds under a maximum 100% CPU and GPU workload, but at least typical gaming sessions won't trigger throttling. We'll get into the details later, so let's move on.
While there are similarities with the Samsung Series 7 and Dell XPS 15, like the thin (less than one inch thick) chassis and slot-loading optical drive, there are also plenty of differences. Samsung makes a 15.6" Series 7 (NP700Z5C), but we're looking at the 17.3" model, so this is a larger notebook for sure. Interestingly, despite the extra 1.8" in screen size, the NC700Z7C is only about 0.6 pounds heavier (likely thanks to the use of thinner aluminum and some plastic). Samsung's chassis exhibits a bit more flex than the XPS 15, but not anything I'd worry about, but when we get to some of the primary interface elements we encounter the most important differences.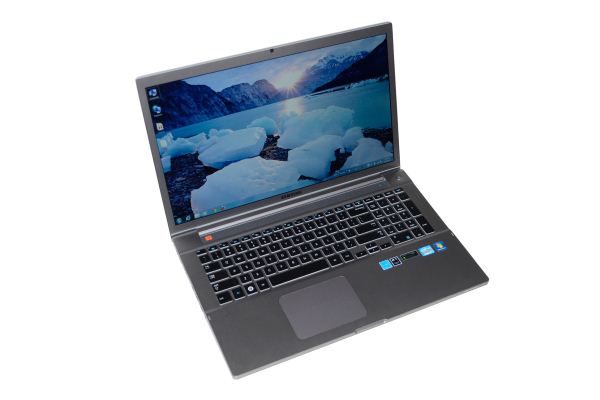 Dell's XPS 15 is a good laptop for the most part (assuming Dell can fix the throttling issues), but the LCD is merely good as opposed to great, and the keyboard layout isn't quite ideal. Samsung one-ups the Dell in both areas, with a beautiful matte LCD that delivers far better colors overall, and Samsung nails the keyboard layout in almost every way. We'll have the LCD metrics later, but suffice it to say that short of IPS panels and Apple's Retina MBP, it's about as good as you can find in a consumer laptop right now. It's a bit odd to find a high quality Chi Mei LCD in a Samsung notebook, but by now it should be apparent that Samsung notebooks are more about delivering a quality notebook rather than just loading up with Samsung components everywhere they can. Still, I wish Samsung would take things a step further and start building and using IPS laptop and notebook displays; Samsung TVs and displays are generally well regarded, and if there's a company other than Apple with the ability to move laptop displays forward it should be Samsung.
As for the keyboard, Samsung appears to understand how to do a keyboard layout properly, with a dedicated 10-key that has all the buttons in the correct locations and no half-size Zero keys or anything of that nature. The keys are also full size, though we'd expect no less from a 17" or larger notebook. The action can feel a bit soft (similar to most membrane-based keyboards), but key travel is good, you get LED backlighting, and the 10-key layout is perfect. The only item missing from the keyboard in my opinion is the context key, and you can use Fn+[Num0] as a shortcut instead of Shift+F10 so it's a bit more accessible. There's also one other very minor complaint with the keyboard, and that's the backlighting; as far as I can determine, it's always controlled by ambient lighting, so it doesn't turn on if you're in a well-lit area. That's actually not a big deal, but I did have some moderately dark areas where the backlight wouldn't turn on, or would turn on and off periodically; I wish I could just disable the ambient light sensor for the keyboard and assume manual control.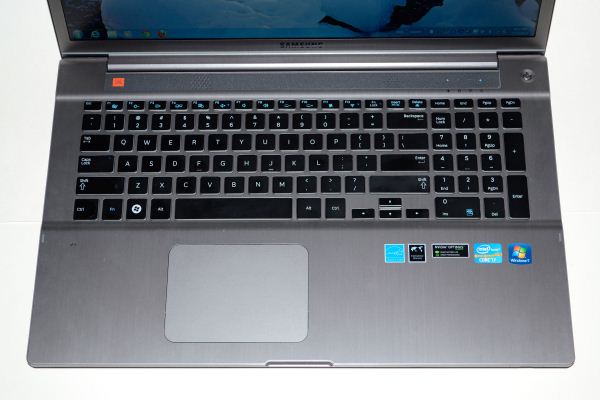 Despite a couple minor quibbles, as I'm sitting here typing this I find that Samsung's keyboard is probably one of the best keyboard experiences I've had on a laptop in quite a while (though desktop keyboards are still preferable). Other OEMs take note: this is exactly how you should do a keyboard on a 15.6" or larger notebook. Apparently for some things, bigger is better. (YMMV)
The touchpad experience unfortunately isn't quite as favorable. It's large and supports all the latest gestures, but it's also of the clickable variety with integrated left and right buttons, and I continue to find the experience less than perfect. It's something I can adapt to and live with, and I haven't had any inadvertent activation of the touchpad while typing so far, but clicking, dragging, scrolling, etc. all just feels a bit less precise than I'd like. Samsung is using an Elan touchpad with customized Samsung drivers, and you can configure nearly all of the typical features like gestures and multi-touch options, but I still feel like I've had a better overall touchpad experience with some of the Synaptics hardware and drivers. My personal feeling is that this current fad of integrated buttons and clickable pads can stop now, please.
Wrapping up the subjective evaluation, let's quickly discuss performance before we get to the benchmarks. Not surprisingly, for the vast majority of tasks the Series 7 feels more than fast enough. The quad-core CPU has plenty of number crunching prowess, and the GT 650M is about as fast as we can get from GK107 before we hit the GPUs that are only of interest for the dedicated gamers. The GT 660M would be perhaps another 10% faster, while the GTX 680M roughly doubles the performance—along with the power and cooling requirements; meanwhile, the Fermi-based GTX 670M and 675M are recycled variants of GTX 570M/580M and are no longer very compelling.
The only problem with performance comes when we get to the storage subsystem; simply put, the 8GB ExpressCache with a 1TB 5400RPM hard drive winds up feeling like a 5400RPM hard drive. I've been using laptops with SSDs for the past year or more, and while I wouldn't say SSDs are required, when you start talking about $1400 notebooks I would say that they ought to be. It's especially noticeable when you first boot up a laptop, or resume from hibernation. While I appreciate having 1TB of storage in a notebook, I appreciate the responsiveness of an SSD even more. If Samsung had used Intel's HM77 chipset and SRT with a 32GB (or even 64GB) SSD, I could live with the end result and be content, but for $1400 there are many times where this Series 7 performs more Acer's $800 V3 notebook (albeit with a much better display, keyboard, speakers, and chassis).
At this point, most of you should know whether the Samsung Series 7 is something you want or if it's going to fall short. After years of testing and using laptops, I've come to the conclusion that for many users, the subjective aspects of our reviews are often more important than the objective performance metrics. From that perspective, Samsung delivers one of the better consumer notebooks out there with very few shortcomings; the only catch is that, like a MacBook Pro or Dell's XPS 15 (or other premium quality notebooks like Dell's Precision workstations, Lenovo's ThinkPad W-series, etc.), it's going to cost you. The three main aspects to look for in laptops are performance, overall quality, and pricing; when it comes time to buy, you get to choose two of those. Now let's get to the objective performance evaluation.