Sometimes it's easier to take risks, if you aren't moving quite so many units. ARCHOS, long a player in media playback devices has spent a few years exploring Android tablets and we've put them through their paces. Their last offering was the remarkably thin 101 XS, with its impressive keyboard cover. The ARCHOS GamePad takes a rather different turn. One part tablet, one part portable game system, the GamePad brings hardware gaming controls and is available now for just 149.99 EURO, with a US release in Q1 '13.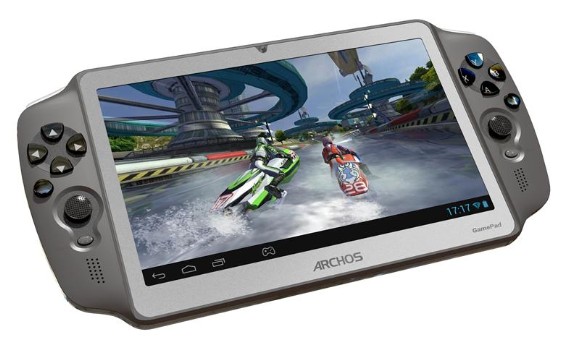 Arranged in landscape mode, the GamePad's 1024 x 600 screen resolution isn't going to light the world on fire, but paired with the ARM Mali-400 GPU it should provide excellent frame rates. We've seen a lot of TI silicon in the last several ARCHOS tablets, so it was a surprise to see the processor go unnamed. We're still digging to find more details, but it's described as a 1.6 GHz dual-core processor, with the aforementioned Mali-400 GPU. Given the last gen nature of the GPU, I imagine that the application processor is most likely of the ARM Cortex-A9 variety, somewhat similar to a higher clocked Samsung Exynos 4210.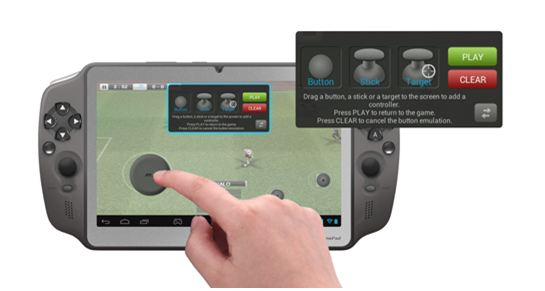 On the software front, this will be the first Jelly Bean tablet we've seen from ARHOS. Their software engineers have no doubt pushed themselves to the brink to bring the same media-centric features we've come to expect to, not just a new Android version, but also a new SoC. They've built a scheme for mapping the hardware buttons to soft buttons in games that aren't compatible with gamepads.
So, is tablet gaming ready for a more dedicated device than we've seen in the past? We'll certainly be glad to find out.