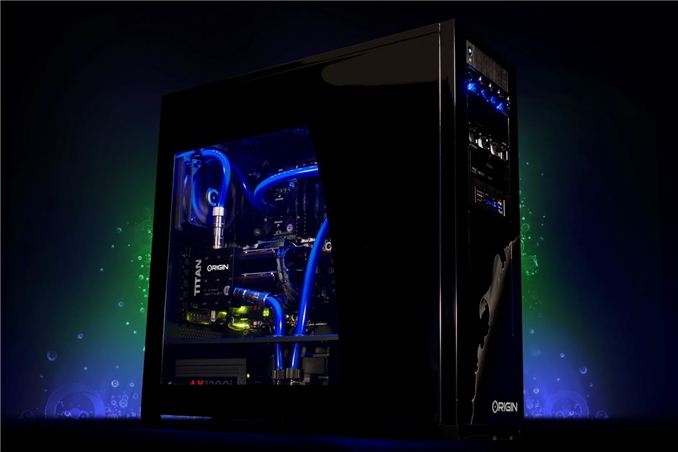 As some of you might recall, as part of NVIDIA's GTX Titan launch NVIDIA not only sent out individual cards, but also some custom concept systems to showcase the unique aspects of Titan. Specifically its high quality construction and how its blower-style cooler means it can be exploited to pack high performance systems into relatively small spaces. NVIDIA shipped us two such concept systems, a small form factor (SFF) Falcon Northwest Tiki, and at the opposite end of the spectrum was the obscenely powerful tri-SLI Origin Genesis.
Of course that was almost two months ago, and there's no getting around the fact that as the reviewer assigned to the Genesis I've ended up turning in this review very late. An initial delay to focus on the Titan launch turned into a serious illness, followed by not one but two conferences, two more video card launches, and some other fun stuff in between. So living up to the motto "better late than never", now that everything has settled down (relatively speaking) I can finally pick back up where I left off and finish our look at Titan with the final piece of the puzzle: Origin's monster gaming machine.
With the Genesis the idea was that Origin would put together a triple Titan system to showcase just how quiet Titan's blower-style coolers were even when the cards were tightly packed together. Instead Origin unexpectedly exceeded NVIDIA's specifications and was able to get three Titans hooked up to water in time for the Titan launch. The end result somewhat defeats the original purpose of sending the system out – we can't tell you what three stock Titans sounds like – but in the end we got something far more interesting: three Titans hooked up to water, creating a tri-SLI system effectively unrestrained by heat and cooled by one of the only things quieter than NVIDIA's blowers. Ultimately if one Titan on its own is powerful, then three Titans is nothing short of obscene. This is the same sentiment behind the Origin's Genesis system we're reviewing today.
In Origin's product lineup, Genesis is Origin's brand for their line full-tower computers. As a boutique builder, Origin uses a number of different configurations on their Genesis lineup, offering multiple CPU/motherboard combinations and multiple cases under the same Genesis heading. As a result Genesis spans everything from relatively simple systems to XL-ATX monsters.
The Genesis system we'll be looking at today is positioned at the top end of that lineup, and is intended to be the fastest thing that can be put together in an ATX form factor. Sparing no expense, Origin has assembled a Genesis system that packs in Origin's best components, best cooling, greatest overclocks, and highest price tag. Based around the combination of a Corsair Obsidian 800D case, NVIDIA's GTX Titan, and Intel's X79/SNB-E platform, it's a luxury computer like no other.
With that thought in mind, let's take a look at just how a $9,000 luxury gaming computer is built and configured.
Origin Genesis (2013) Specifications
Chassis
Corsair Obsidian 800D
Processor
Intel Core i7-3970X
(6x3.5GHz + HTT, Turbo to 4.0GHz, 4.9GHz Overclock, 32nm, 15MB L3, 150W)
Motherboard
Intel DX79SR(X79 Chipset)
Memory
4x4GB Corsair Vengeance DDR3-1866 (expandable to 64GB)
Graphics
3x NVIDIA GeForce GTX Titan 6GB in SLI
3x (2688 CUDA cores, 837/6008MHz core/RAM, 952/6208MHz Overclock, 384-bit memory bus)
Storage
2x Corsair Neutron GTX 120GB SATA 6Gbps SSD (LAMD), RAID-0
Western Digital Caviar Black 1TB 7200-RPM SATA HDD
Optical Drive(s)
Hitachi-LG 14x BD Burner
Power Supply
Corsair AX1200i
Networking
2x Intel 82579L Gigabit Ethernet
Audio
Realtek ALC892
Speaker, mic/line-in, surround jacks, optical out for 7.1 sound
Front Side
Optical drive
40-In-1 Media Card Reader
2x USB 2.0
2x USB 3.0
IEEE 1394a
Headphone and mic jacks
4-channel fan controller
Koolance RP-401X2 Reservoir
Top
-
Back Side
4x USB 3.0
6x USB 2.0
Optical out
IEEE 1394a
2x Ethernet
Speaker, mic/line-in, surround, and optical jacks
6x DVI-D (3x GTX Titan)
3x HDMI (3x GTX Titan)
2x DisplayPort (3x GTX Titan)
Operating System
Windows 7 Ultimate 64-bit SP1
Dimensions
24" x 9" x 24"
(609.6mm x 228.6mm x 609.6mm)
Extras
Card reader
Custom liquid-cooling loop, CPU & GPU
Custom LED lighting
80 Plus Platinum PSU
Warranty
1-year parts, 45 days shipping, lifetime labor and 24/7 support
Pricing
As configured: $8,499 (+$479 paint job)