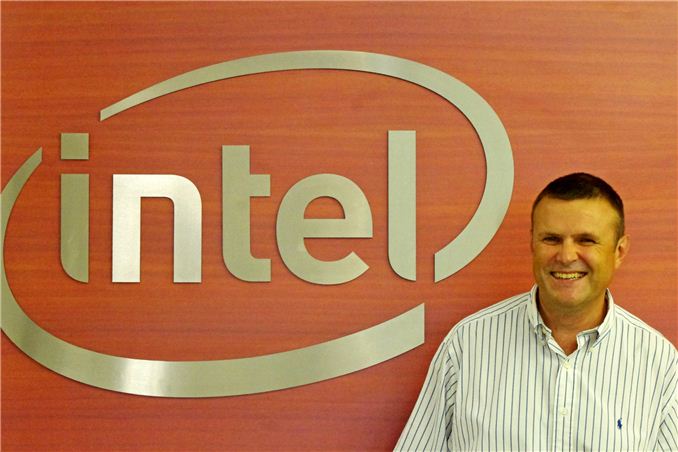 Interview with Rod O'Shea, EMEA Embedded Group Director and Site Manager for Intel UK
After my i7-4750HQ / Clevo W740SU testing at Intel UK headquarters a fortnight ago, I was lucky enough to have thirty minutes with Intel UK's site manager, Rod O'Shea. The role of site manager is to ensure the smooth running of the site, and when I got the chance to interview Rod, he had only been in the position for six weeks! As well as Site Manager, Rod also has spent ten years as EMEA Regional Director for the Embedded Group at Intel, both in terms of development and providing solutions, giving us two prongs for our short interview. Many thanks to Mr. O'Shea for his time!
Ian Cutress: As Site Manager, could you describe how Intel UK fits in with Intel as a global entity – what is the purpose of the building being here rather than anywhere else?
Rod O'Shea: As with any significant organization, Intel has a combination of regional functional disciplines, and there are areas where you want your R&D to be very centralized for various reason, and likewise fabrication and so on. In other areas a company needs their network to be more deployed. So there are the typical sales and marketing deployment, but also in the UK we have a lot of labs that do good work helping to help and engage the unique requirements of the UK in terms of providing global solutions. For example, London is an innovation center for 'smart/sustainable cities', and has that leadership position, thus we have specific laboratory work going on here that would benefit not just London but would also give a global footprint. I think there is always a balance – the good thing with a company the size of Intel is that while we have significant capabilities in the US and China/India, while the UK is a little smaller, you tend to find that integrating all the different strands of the company nearer the customer has additional benefits. So we get involved in many parts of the business here – I think the UK has huge opportunities in leadership, media, content, and we have a lot of work going on in the UK for that. We have huge opportunities to develop the smart environment, and our job is to amplify that across the rest of Intel. As an economy, we need to drive that technology agenda and our position in the global marketplace.
IC: Would you say more of the outreach of Intel UK is essentially business to business solutions rather than anything else?
ROS: I think we offer all the channels in various shapes or forms. Specifically we are well known as a sales and marketing channel, but we do a lot more than that including research and development which is more sort of behind closed doors unless you interact directly with us at the base and looked under the covers! I have actually been Site Manager for about six weeks now, so piecing together the larger puzzle myself is very exciting. I think the thing that is really invigorating is compute usage, technology usage, and the value of that which is going to increase – we are well positioned to add value to that journey.
IC: I understand that you have spent many years with Intel on creating embedded solutions - what is the biggest growth segment in embedded? Is it medical?
ROS: So we see some very large trends at the moment – one is communications infrastructure and the build out of network infrastructure (which we would call a classic embedded business). We have products that have been installed in these areas and have been there for many years so I think the growth of that network is significant. The area that is really starting to get huge interest now is the 'Internet of Things' and taking our technology into a bunch of different kind of machine interfaces. So one interesting event we were at recently, an innovation event at WPP (global advertising/PR agency), we were showing how technology could change experience in different environments. We had a Lego Digibox for use in retail environments – you take a Lego toy box, and you hold it up in front of an augmented reality kiosk and it enlivens the experience and shows the toy in action. The amazing thing with that is the first time you see it it is like a WOW moment. We also showed the Adidas virtual footwear wall, which is a large input of technology into digital signage. We showed the intelligent vending solutions from Costa, so the interesting thing there is when we first started talking about coffee machines, the discussion was around a basic device and whether it needs technology. So we now have a device that shows HD images and real-time payment services and surround sound audio – those devices are offering a better experience. I think the really interesting thing with all of those devices is that they have the ability to then connect and work with the cloud and become part of a network.
IC: I remember the Intel presentation, and on the podcast we kind of had a laugh, asking for an i7 vending machine!
ROS: So I think we are scratching the surface. We have traditionally come at things through the experience perspective, and we are very good at that on the PC and the whole 'how do you make sure that the consumer has a good experience'. Then we come at it from making sure that people have well managed and secure devices for business – when you start getting into the realm of the 'Internet of Things' you start getting into more opportunities. I will give you an example – we met with some sustainable city people from London last week, and we started talking about big issues. The scope of some of those issues is so broad that there is clearly going to be a huge benefit of technology, but the issue is finding where exactly it should be. So for example the one point that stuck in my mind was if you look at all the water that is pumped into London, and there is a lot (about a third) of water that is wasted from source to the house. Then you think that because water is a required resource, how can you then start using technology to really start to solve that issue – can you start adding sensor networks or intelligence into the pipes, or can you look into flow of water and figure out how to instrument the detection of water pressure. There is also the social media aspect to interact with users who will describe sudden issues or events – then how do you encourage citizens to be involved in that. So there are really big issues that can be solved.
IC: Do you find that you are actively going out to search for these problems or people are coming in to find you?
ROS: I do not think that we have any shortage of people who are willing to talk about those problems! Sometimes it is not always obvious that Intel is the sort of company that you would approach with various issues.
IC: It is coming across to me as 'We are this sort of company, but we also offer consultancy services, and we are vertically integrated to help from start to finish'.
ROS: I think we have a lot of discussions around clearly defining where technology is going, so people come to us and ask things like 'Are you really going to have mass produced wireless power in the future and how is that going to work'. We have a lot of those sorts of discussions, and there is a fair amount of talk about what is really possible now against what is practical now. In the vending machine example, I still go and talk to people involved in vending, and present these types of solutions where you can offer an experience and attach into the cloud services. They respond saying that this sort of thing is in the future, and then we have to respond that that may be the case in terms of scale and deployment, but the actual technology is here today. This develops into conversations about the 'Internet of Things' and it clearly requires managing a massive legacy as well as bolting on IP. I think those challenges are pretty consistent across different countries and infrastructures – everyone is trying to figure out 'smart city' and 'smart grid'. Then we try and figure out the best solution, where that is coming and how we can drive them forward.
IC: Has the economic downturn affected that in any significant way? Now that people are less willing to spend money on it?
ROS: I think overall that austerity has an effect on some projects, and in other areas you look at efficient use of IT and in the end it has to reduce costs as well as enabling you to do things that you would not have been able to do previously. There is a lot of work that continues to be done. There is sometimes big forcing factors that drive change beyond the initial budgets – for example, with 'smart energy', the European Commission announced their 2020 goals, and the German government set the direction and looked to the industry to innovate and find a solution. This has led to a massive disruption in that industry, and the interesting thing in 'smart grid renewables' is that power, rather than being generated centrally, is being generated in a very distributed way. This requires an IP network that can begin to understand what is going on. Frightening statistics often pop out – sometimes utility companies find it difficult to track much of the power traffic on and off the grid because they do not have intelligence in the network. So are those kinds of projects affected by austerity? Sometimes there is a higher bar for investment, but there is a real force and function to get those things done, just like medical research and so on – these things have a natural momentum.
IC: It almost feels separate that Intel generates new products and tick-tock cadence. Does the fact that Intel keeps bringing out new projects relevant to enabling some of these ideas which were not previously possible? Does there end up being projects you cannot complete because the technology is not fast enough / low powered enough yet?
ROS: I think that if you look broadly the embedded industry, in the way that we produce solutions, there are a number of industries that basically work and act in a similar way to the PC industry. For example, in the vending industry – if you need to say that a vending machine needs to have a great experience and it needs to have compute capability and needs to be managed, and if I bring out a 4th Generation Intel Core part we can continue our technology and it gives value to the classic environment as well as the PC environment. It also gives huge benefit to the embedded environment, and we are going into some specific areas such as phones. We need to develop a specific piece of silicon for a phone, and four or five years ago the industry asked if Intel was going to be able to manage a power envelope to get into a phone, so we have managed to do that. We are working on projects with the car industry where there are requirements for specific SOCs to support them, which need different IP. There is a universal asset to that core silicon process and innovation – then it all becomes a question of what you do with it! Now obviously that is a 'one size fits all' approach as you go into very specific industries, and I think the genesis of embedded at Intel was originally to take standard product and enable it to be used in different environments while offering longer life support and support for seven years – that is the classic embedded environment. Now we are saying we should be able to take that core IP and innovate into different solution and different areas so you start seeing Intel in other devices as well.
IC: Are you saying that in terms of the embedded industry, because you have to deal with very specific problems that the HSA approach does not necessarily work?
ROS: I think there is an intersection, that there are some specific requirements for particular industries that you have to support. I think the trick is to use that process, technology, leadership and capability to figure out how you can deliver value to those industries. If you had asked me five years ago if I believed we would be using those very high performance parts that we produce in a vending machine, I would have said that it would be more of an Atom, but when you start actually looking at it, when you can create a platform for innovation, people will start to innovate around it. I think it is an area of massive innovation potential and I think there are some consistent requirements that come through, like low power, data processing, data handling, analysis, connectivity, security and so on. I think our premise is that each of these devices and the network will generate value, but will also be connected, secured and managed, but you can do this in a very consistent way. I think one of the values that Intel brings is that we do have that architecture, discipline and compatibility approach that delivers value. I was with a customer in the Middle East recently and the CTO started the meeting talking about an OS image lifted off a Pentium III PC and placed directly onto a 4th Generation Intel Core based PC. He was very happy that it was running almost perfectly. So I think there is a lot of value in that type of compatibility and consistent architecture – I think that we do not necessarily have that in embedded but it will become an ever increasing requirement.
IC: Is ARM being competitive?
ROS: I think that in many of those devices, ARM architecture has proliferated and has been deployed. I think we are increasingly seeing our products in these new areas, such as the phone, and also we see that having the knowledge of the cloud and the infrastructure around those products gives significant value.
IC: So with Intel being a vertically integrated company is the selling point that you are trying to put across?
ROS: I think having that capability from the data center, cloud and all the way through to the end point bring value. In reality, these are going to be systems of systems and very heterogeneous environments, and I think there are going to be different points to consider. I think vertical integration covers many areas, and we will end up with a strategy that has very specific solutions maybe for the retail environment, or communications for example, and help in that broad deployment of intelligent solutions.
IC: One question I like at all my interviews is this – if a high school/college/university student wants to have a goal of working with the company, what would you find is the best way going about doing it? I met some of the interns earlier today in the middle of their university courses!
ROS: We take interns from all disciplines – computer science, engineering, finance, marketing, so they are not all in the sciences. I think Intel is a company that is built on innovation and driving change as well as the value of technology. All of our innovation relies on challenging the status quo year after year, so finding people with the passion and interest that are looking to question and challenge is a key skill we look at. We always look at people willing to make a difference and change things – beyond that, for the specific disciplines we are always looking for people with a strong technology interest and an ability to take that and join that with real-life problems. I think the sweet spot of the industry has moved from the hardcore designer to the architecture of solutions, and learning to control that complete experience – that means you need to have knowledge of environments so it helps to find users that have a creative discipline and can implement that in a technological way. Many different types come into Intel which is great – Intel UK has employees of over 30+ nationalities, speaking 40+ languages, resulting in a very diverse employee base.
IC: Many thanks for the interview!