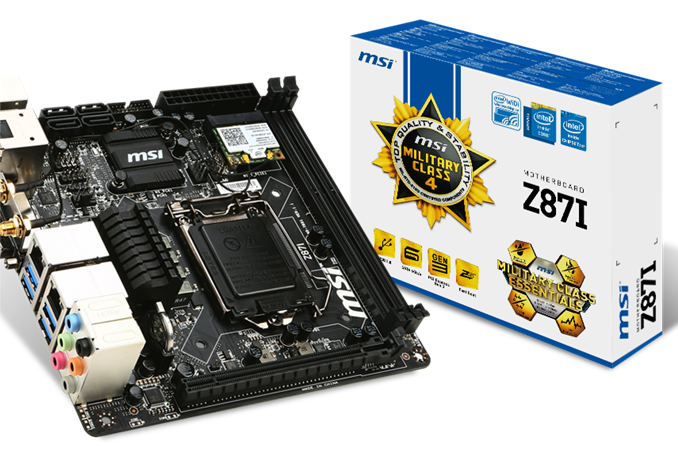 I am always excited when a mini-ITX motherboard bound for the mainstream market crosses my desk. In a small PCB, compared to full sized ATX, it can be difficult to have a feature filled product that stands up to scrutiny. Today we have the Z87I under the hammer, MSI's small solution to Z87 Haswell.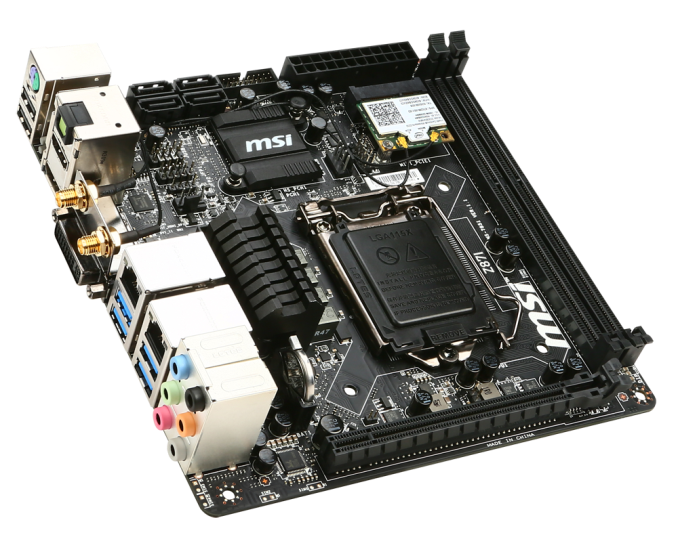 MSI Z87I Overview
After recently reviewing MSI's Z87 heavyweight, the MSI Z87 XPower, moving to something smaller means I want to see how much of that big product can be retained down the stack. The MSI Z87I comes in at $140, and there are some noticeable differences (apart from the size) compared to the bigger brothers.
Nonetheless, the MSI Z87 is geared up for Ethernet network connectivity, with two Realtek NICs. We do have WiFi onboard, although this is the 802.11n 2.4 GHz Centrino N-2230 solution we saw on the XPower – not the 5 GHz dual band option I would prefer in all WiFi enabled motherboards. This amount of extra network controllers is due to the Flex IO allocation – as the board only has four SATA 6 Gbps and six USB 3.0 from the chipset, this gives the other 8 Flex IO lanes all the PCIe 2.0 for these controllers. Video outputs come via a HDMI, DisplayPort and combination DVI-I, and the board also sports the Realtek ALC892 audio codec.
Being a mini-ITX motherboard, our auto overclock options are limited. On almost all mainstream MSI Z87 motherboards we get an OC Genie button giving a one press overclock – this functionality is relegated to BIOS and software with the Z87I, giving only one option to 4.0 GHz. The BIOS is better than the Z77 brethren, offering a better visual representation of fan speeds (which still need a better upgrade, but is a step in the right direction) and a hardware monitor to detect when hardware is not recognized in the motherboard. There is still room to improve the BIOS, especially in how the overclocking options are organized, although word from MSI is that this will be changed in due course. With the motherboard I reached a 4.6 GHz overclock manually, although the BIOS limited the CPU voltage to 1.3 volts.
Software is a little different, with Command Center offering voltages up to 2.1 volts (not a good idea) but features like the RAMDisk are a bonus. Live Update 5 works well at updating the system software and drivers, although in our testing it had trouble updating itself, causing me to recommend users get the latest version from the website.
In terms of results, the Z87I performance is a little strange - despite having MultiCore Turbo enabled by default it does perform worse than expected on a number of computational benchmarks. The one flaw that stood out of the testing was my 2D explicit grid solver test, where the MSI strangely scores 15% less than the rest of our Z87 testing. Discrete GPU and USB testing are on par with other Z87 motherboards without boosting features, and POST times under Windows 7 with a discrete GPU were great, scoring under 9.2 seconds.
The MSI Z87I offers a nice motherboard for users needing multi-LAN functionality, and Live Update 5 will keep it up to date. The decision to go with the N-2230 is one that baffles me to no end, and I hope that MSI offer a dual band SKU by default, or even an 802.11ac SKU.
Visual Inspection
As with almost all mini-ITX motherboards the main concern comes at the socket placement, and here MSI have placed the socket up against the DRAM slots but almost 1cm away from the PCIe slot. This might be a nudge towards the MSI Lightning range of GPUs which have a bulkier rear plate than most. The small VRM heatsink is to the left of the socket and did not get in the way of any of my coolers, though the close proximity to the DRAM slots made my TRUE Copper heatsink clash with the Corsair Vengeance Pro memory.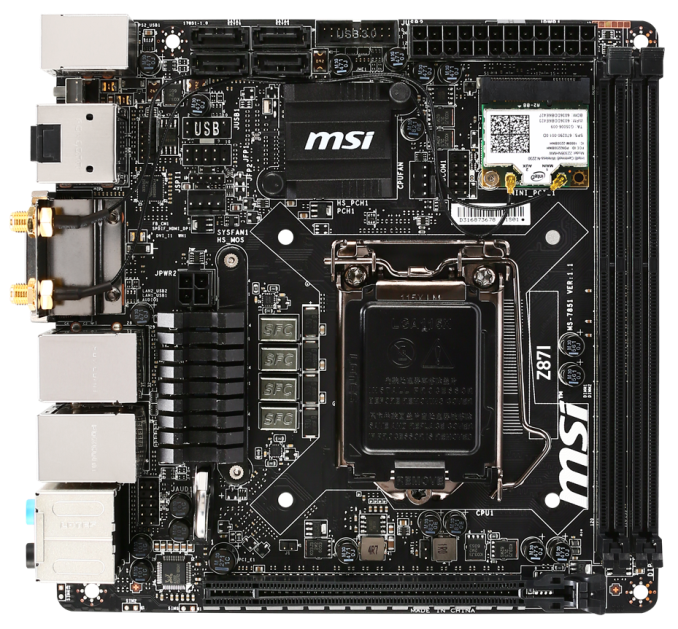 The socket area has access to two fan headers – one four-pin CPU header above the socket between the chipset and WiFi module, and a four-pin SYS fan to the left of the chipset. Ideally on a motherboard this size I would prefer three fan headers where possible, although it is not necessarily a deal breaker.
The CPU 4-pin power connector is in a slightly better place than what we saw in the last mini-ITX motherboard review – here we get it just above the power delivery heatsink. My main argument on the 4-pin power connector is that wherever it is, a cable has to reach it, and I would prefer if this cable did not have to go across all of the motherboard components. With this location on the Z87I, it seems best to come at it from the direction of the SATA ports if from above is not possible.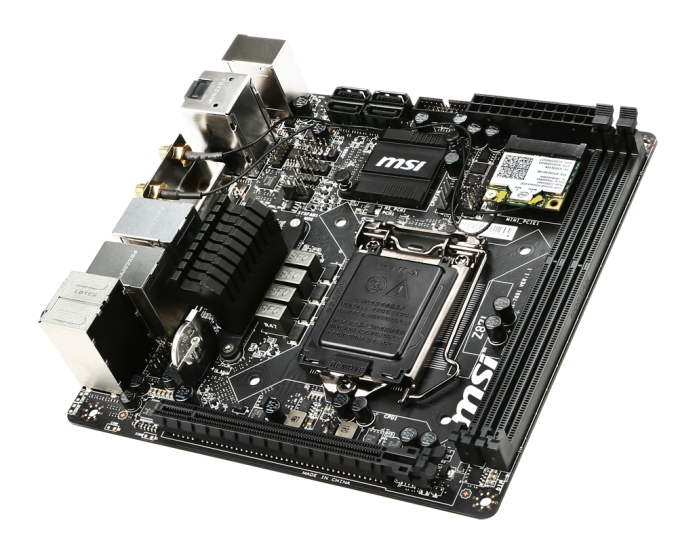 Moving clockwise around the motherboard and we get a USB 2.0 header above the front panel header. This is an odd location for a front panel header, also confusing due to the lack of on-board lettering telling users which pins are which. The SATA 6 Gbps ports are at the top of the motherboard next to the USB 3.0 header, both preferred places for these ports. Between the chipset and the WiFi module we also have a COM header. The DRAM slots use single sided latches, which are my preferred option when large GPUs may be in use.

On the rear IO panel we get a combination PS/2 port, two USB 2.0 ports, a Clear CMOS button, a Go2BIOS button, HDMI, DisplayPort, DVI-I, two antenna ports, dual Realtek NICs, four USB 3.0 ports and audio jacks.
Board Features: MSI Z87I
Price
Link
Size
Mini-ITX
CPU Interface
LGA-1150
Chipset
Intel Z87
Memory Slots
Two DDR3 DIMM slots supporting up to 16 GB
Up to Dual Channel, 1066-3000 MHz
Video Outputs
HDMI
DisplayPort
DVI-I
Onboard LAN
Dual Realtek 8111E
Centrino N-2230 802.11 b/g/n 2.4 GHz
Onboard Audio
Realtek ALC892
Expansion Slots
1 x PCIe 3.0 x16
1 x mPCIe 2.0 (for WiFi)
Onboard SATA/RAID
4 x SATA 6 Gbps (Chipset), RAID 0, 1, 5, 10
USB 3.0
6 x USB 3.0 (Chipset) [4 back panel, 1 header]
4 x USB 2.0 (Chipset) [2 back panel, 1 header]
Flex IO
x+y+z = 18

| | |
| --- | --- |
| SATA 6 Gbps | 6 |
| USB 3.0 | 4 |
| PCIe 2.0 | 8 |

Onboard
4 x SATA 6 Gbps
1 x USB 3.0 Header
1 x USB 2.0 Header
2 x Fan Headers
1 x Clear_CMOS jumper
1 x Serial Header
Power Connectors
1 x 24-pin ATX Power Connector
1 x 4-pin CPU Power Connector
Fan Headers
1 x CPU (4-pin)
1 x SYS (4-pin)
IO Panel
1 x PS/2 Combination Port
1 x Clear_CMOS Button
1 x Go2BIOS Button
HDMI
DisplayPort
DVI-I
2 x Antenna Mounts
4 x USB 3.0
2 x Realtek NICs
Audio Jacks
Warranty Period
3 Years
Product Page
Link
The decision to use Centrino N-2230 is a big glaring amber light on this motherboard, as any preferred dual band solution, even for an extra $5, would be preferred. Due to the size of the motherboard I was not expecting any additional controllers, but I am glad to see a DVI-I port rather than a standard DVI-D and disregard the VGA entirely.
The big selling point for this motherboard will be the multi-network functionality, though in order to get group discounts from Realtek MSI has used standard ALC892 audio solution which performed average in our audio tests. If MSI were aiming more at a HTPC or gaming market, we might have seen an ALC898, as I suspect the ALC892 saves a few cents off the overall cost.