GIGABYTE Z87X-OC BIOS
We dissected the new GIGABYTE HD BIOS back with our review of the Z87X-UD3H, including their new HD mode designed to me more informative for enthusiasts and power users. The Z87X-OC differs initially in the color, moving to an orange hue indicative of the OC range of motherboards from GIGABYTE. Features worth reiterating include the customizable menus for enthusiasts to pool the important features of the BIOS, the ability to implement changes immediately or after boot, and that classic mode is retained for users that prefer it. The older classic mode also contains additional information about each setting and the pertinence to how the feature works.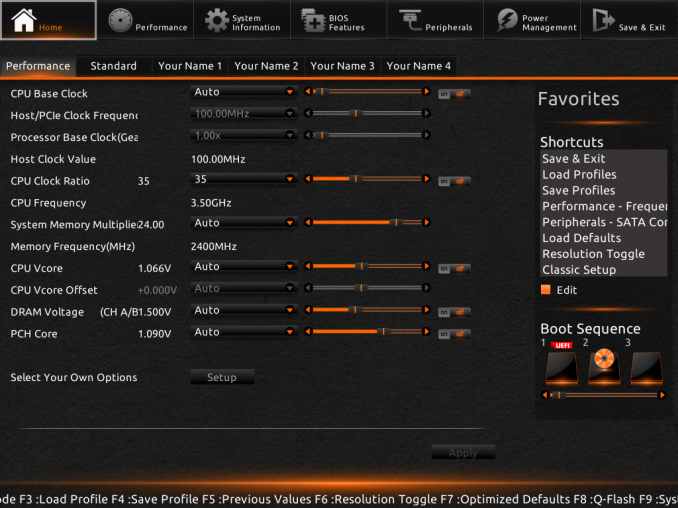 Fan speeds are still presented in the older PWM/ºC format (which means more power to the fan per degree, which doesn't always translate to a higher fan speed) which needs to change, and there is some text clipping in the new mode. One other update GIGABYTE should consider is (if possible) move to a 60Hz mode in the BIOS rather than 30Hz. It would improve the user experience such that the text at the bottom would move smoother and the mouse movements too. The BIOS has been configured for Deferred Procedure Call Latency, with our test showing under 100 most of the time (peaking to ~150 at times).
GIGABYTE Z87X-OC Software
Again, we covered GIGABYTE's range of Z87 software back in our review of the Z87X-UD3H, including the new installation methods as well as the new version of EasyTune. The new version of EasyTune has been requested for a while (the old one was looking dated and needed new features), and this new model allows for all of GIGABYTE's apps to be under one central 'App Center'. Within this are options for automatic overclocking, fan controls (GB still need to produce graphs of RPM vs ºC from the data they collect), BIOS update tools, USB Blocker, EZ Setup (SRT, RST), ON/OFF Charge, TimeClock and 3D Power.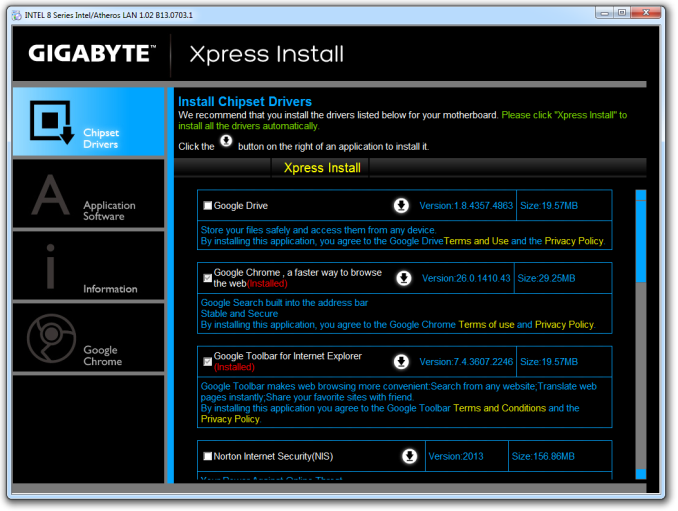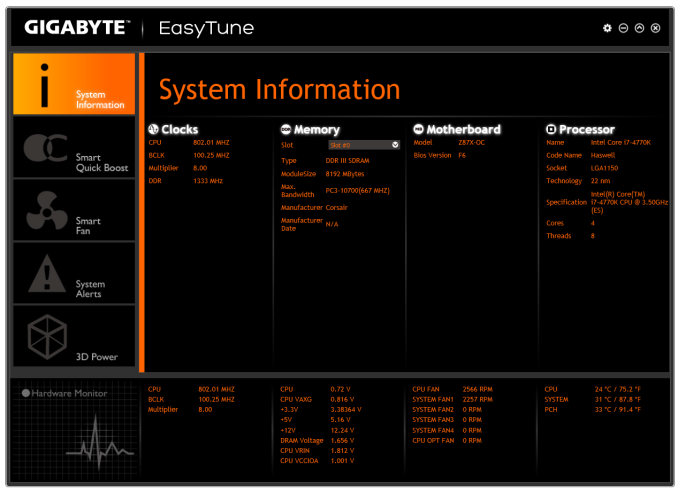 GIGABYTE's app tool has options of three different color modes due to their three different lines of motherboards (channel = blue, overclocking = orange, gaming = green), although the software starts off in blue mode and has to be modified. There are a couple of minor points worth mentioning – while the installation CD runs through the driver installs silently, the system restarts and the CD has to be loaded again to install the GIGABYTE software. I would prefer if the CD automatically came up again after the driver install in order to do this. Also, the driver CD asks to install Norton Internet Security and the GIGABYTE update tool also suggests downloading and installing it every time. I would rather the package made this an optional installation, and gave the option to 'never suggest this update' in the update tool.