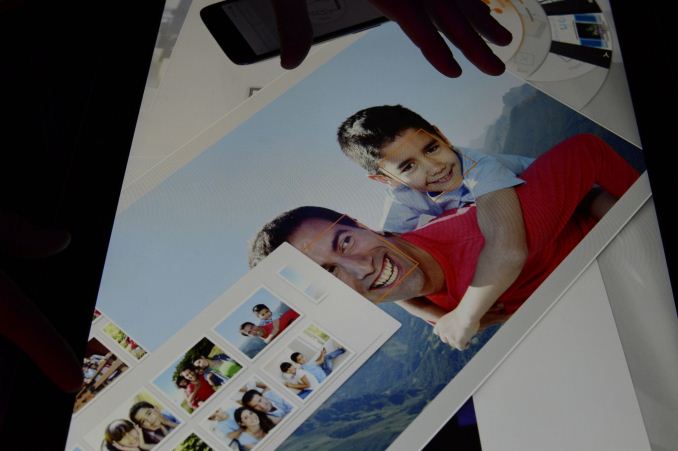 Wrapping up the tour of Lenovo (and by no means capturing everything they had to display, I'm going to keep this short. Lenovo had their latest rendition of their Horizon giant-tablet/All-in-One on hand, the Horizon 2. Sporting up to a Core i7 Haswell CPU, the Horizon 2 offers plenty of compute performance. Figuring out what to do with that compute seems to be the question of the day, and Lenovo had a few apps available, with the object removal option on their image editor actually ending up quite impressive for a quick way to remove things like stray objects – though not so useful if you want to remove a significant other. The Horizon 2 has a kickstand that can operate in three positions: flat, 45 degrees, or 80 degrees (give or take); it's also surprisingly thin at just 0.8" thick. The display remains a 1080p 27" IPS panel, and there's even a battery installed that can provide up to four hours of battery reserve.
Ganesh already covered the Lenovo Beacon, so I'll skip that and move on to the N308 All-in-One, a desktop alternative sporting a Tegra 4 SoC, 19.5" display, 500GB of storage, and an optional keyboard and running Android 4.2. It has a fully functional battery rated at three hours of battery life, so if you want to turn some eyes, try pulling out your "19-inch tablet" next time you're in a meeting – and don't worry, as the 10.14 lbs/4.61kg weight can serve as an excellent upper body workout when lugging this bad boy around! Seriously, it's a bit of an odd device to place, but if you want a lot of storage (say, for video playback) on a large Android device, the N308 has you covered. Pricing starts at $450, with availability starting any time now.
And wrapping up with "more things Jarred didn't properly photograph", we have the ThinkVision Pro 2840M display and the ThinkVision 28 AIO (which Ian covered remotely several days back). Both feature 4K displays, with the main difference being that the 28 AIO features a "next-gen NVIDIA Tegra processor" (presumably Tegra K1) with Android 4.4. There weren't many other details given that we haven't covered already, but this is basically the next-generation version of the N308 discussed above. As for the display, it looked beautiful, as you might guess, with 10-bit color, 300 nit brightness, and 157 PPI – but as I've mentioned elsewhere, high-DPI support under Windows is still not all it's cracked up to be (mostly thanks to the lack of proper support by the software vendors). Impressively, the 28" 4K display is targeting a price point of $800.
And with that, I'm boarding my flight so I will have to continue coverage over the coming days! CES may be over, but there's still a lot to discuss (and not enough time to do it).