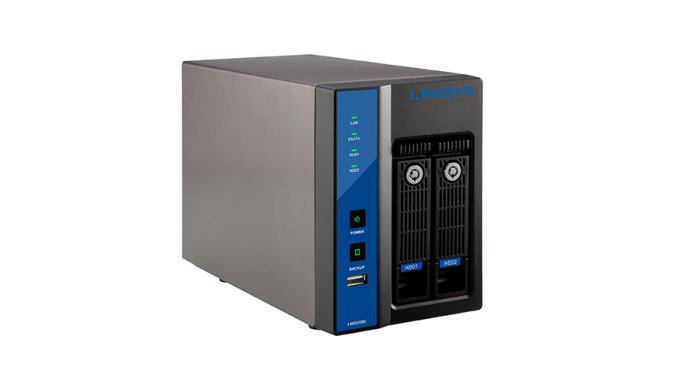 The last few years have seen a rapid rise in popularity of network attached storage (NAS) systems. Coupled with the increased interest in IP cameras for surveillance, this has led to video management / surveillance solutions becoming an important product line for NAS as well as networking equipment vendors. Companies such as QNAP have dedicated surveillance NAS units (VioStor lineup). Other companies provide surveillance solutions as apps for their NAS platform (Synology's Surveillance Station, for example). At CES, we saw Buffalo working together with AXIS to create a networked video recorder (NVR) using a standard 2-bay Marvell-based NAS.
Linksys is no stranger to the NAS market, though they might not be as popular as more established vendors in the space such as Netgear, Synology and QNAP. They are making a concerted effort to re-enter the small and medium business (SMB) market with recent product introductions in the networking space. Towards this, they recently announced some SMB solutions in the surveillance market. A number of 1080p-capable IP cameras were introduced, but our focus here is on the NVR model, the LNR0208C.
The LNR0208C is a standalone NVR system running an embedded Linux OS. Based on a Marvell 2.0 GHz SoC (likely to be one of the higher clocked Kirkwood variants), it supports up to eight simultaneous video feeds in eight separate channels. There is support for all Linksys IP cameras out of the box, but other vendors' cameras which are ONVIF profile S compliant can also be used with the NVR. There is no license requirement to add cameras, unlike the surveillance offerings from other vendors. With two bays, the end user can have up to 8 TB of hot-swappable storage. The NVR-specific features include remote live view and playback and support for linking with other NVRs on the network (multiple NVR monitoring). The hardware itself is a standard 2-bay NAS with a GbE port, two eSATA ports and three USB 2.0 ports. The differentiating aspect is the presence of four digital in / two digital out (DI/DO) ports for sensors and alarms (This application note [PDF] provides an overview of how DI/DO ports can be used in conjunction with an IP camera / NVR system).
The Linksys LNR0208C diskless version has a MSRP of $799.99 MSRP and will become available for purchase later this month.
Source: Linksys