IOGEAR GKM561R - Features & Usage Impressions
The IOGEAR GKM561R is a wireless keyboard / trackball combo. Using 2x AA batteries, it operates in the 2.4 GHz range and has an advertised range of 33 ft. Since it is a HID-compliant device, it works for PCs (including MCE applications) and game consoles. It is also compatible with some of 'Smart TVs' such as the Samsung ES6500 series. The trackball is on the top right, while the mouse buttons and scroll wheel / middle button are on the left.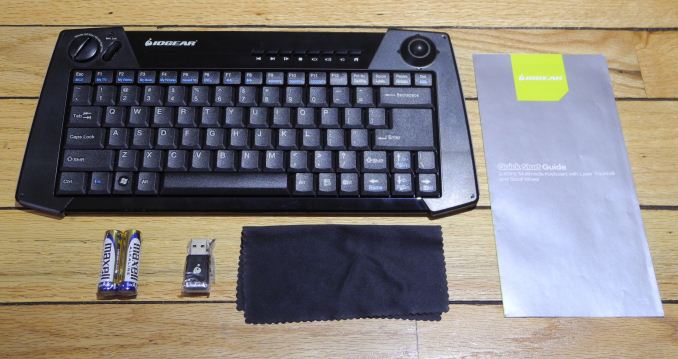 The unique feature of the IOGEAR unit is that the cursor speed can be controlled from the keyboard itself. Speeds of 400, 800 and 1200 dpi can be configured for the trackball. The 2.4 GHz spectrum is pretty crowded, and, in order to prevent interference, the unit is capable of performing automatic frequency hopping (with operation in 1 of 78 distinct channels). On the hardware side, we have rubber grips on the underside for slip resistance. There is also a recessed on-off button on the same side. In terms of multimedia buttons, there are 19 keys at the top including volume control and Media Center functions.
An issue with most of the HTPC-oriented keyboards is that the ergonomics make it very difficult to operate them with a single hand. For typical PC usage, it is acceptable to expect both hands to be used to interact. However, in the living room, it is often common to have the device by the side rather than hold it with both hands (particularly, when using it as a replacement for a mouse). In this context, the IOGEAR unit has a drawback, as the mouse buttons are on the left side while the trackball is on the right.
The Return and Backspace keys are much bigger than usual. However, the more grating aspect of the keyboard layout is the asymmetric nature of the arrow keys. The Left key is larger compared to the other three. All in all, it has a very strange keyboard layout that has scope for improvement.
On the positive side, the membrane keys are a pleasure to type on. Easy access to the different DPI options for the trackball movement is definitely an advantage. The trackball's minimal space requirements is an advantage, but the inability of the end-user to clean up the dirt which invariably collects is a minus point. The industrial design of the keyboard is attractive, and the unit is quite solid compared to the Logitech K400.