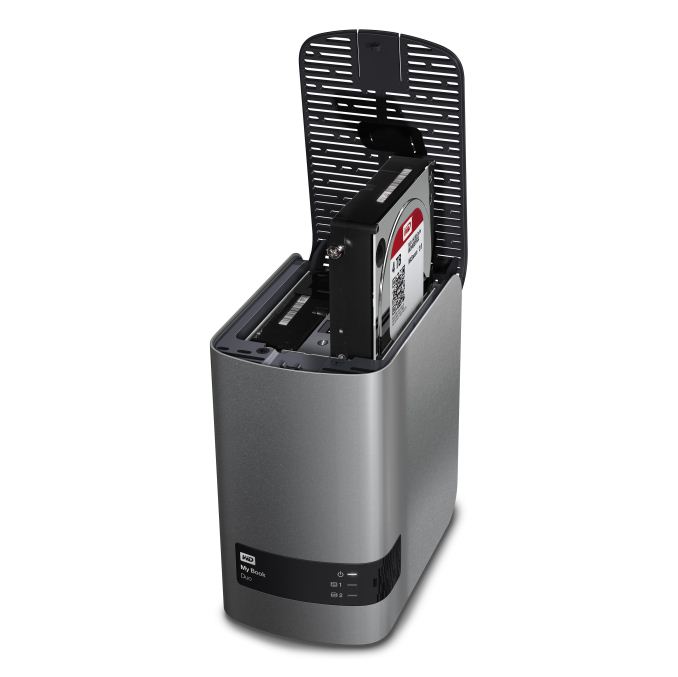 Even as the consumer NAS market continues to experience rapid growth, it is impossible for consumers to have really fast access to data when the storage is bottlenecked by the speed of their network link. Single hard disks, by themselves, can hardly saturate today's high-speed direct-attached storage (DAS) interfaces such as eSATA, USB 3.0 and Thunderbolt. Users needing fast transfer rates (while maintaining the higher cost-effective capacities that hard disks provide) need to go in for RAID solutions. These tend to perform well for certain common workloads (multimedia handling).
Today, Western Digital is launching a new member in the My Book lineup of DAS devices, the My Book Duo. The company is no stranger to dual-disk RAID-0/-1 capable solutions, having released a USB 2.0 / Firewire 800 capable unit back in 2011 and a first-generation Thunderbolt device in 2012 along with a high-performance variant using VelociRaptor drives later in the same year. All these used software RAID, and that is where things are changing now.
The My Book Duo comes with hardware RAID (and hardware encryption, if opted for). It has a USB 3.0 interface. There are two additional USB 3.0 ports in a hub configuration at the rear of the unit, claimed by WD to be a handy add-on when users want to charge their mobile devices without desk clutter. WD Red drives are used internally (pre-configured in RAID-0). WD includes a complete software suite (WD SmartWare Pro, Acronis True Image Software, Dropbox cloud integration etc.) with the device.
The design of the chassis seems to be the same as what was used in previous two-bay solutions that supported replacement of disks by users (such as the My Cloud EX2). The unit is available today in 4, 6 and 8 TB capacities with suggested prices of $280, $350 and $450 respectively.
Source: Western Digital