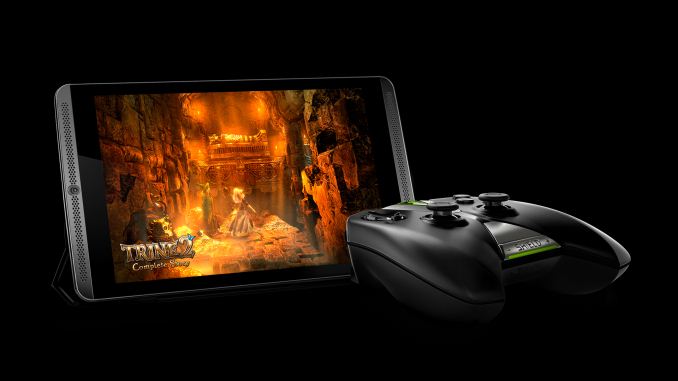 Today's launch of the new SHIELD Tablet with NVIDIA's Tegra K1 SoC has muddied up the tablet waters a bit. We've posted our full coverage of the device, but for those looking for a short summary of the SHIELD Tablet – and whether it's worth buying or not – here's the synopsis of NVIDIA's latest entry into the mobile gaming market.
At its core, the SHIELD Tablet is a fully functional 8" Android tablet, which is quite a change from the initial SHIELD handheld gaming device. Of course it comes with NVIDIA's latest Tegra K1 processor, a quad-core ARM Cortex A15r3 CPU with a 192 CUDA core Kepler-derived GPU and 2GB DDR3L-1866. Storage options are currently 16GB or 32GB, and a microSD slot for additional storage. The display is a 1920x1200 IPS panel, and though it has a somewhat limited color gamut it's a decent if not exceptional display overall. Connectivity consists of 2x2 stream 802.11n WiFi and Bluetooth 4.0, with optional LTE support also available. The 16GB model comes with WiFi only while the 32GB model is equipped with LTE. A capacitive DirectStylus 2 also comes standard on both models.
The overall build quality and design are definitely improved over the Tegra Note 7, with a premium feel that was previously lacking. In many ways, it feels like a larger variant of the Nexus 5, and as an owner of a Nexus 5 that's pretty high praise. NVIDIA has also provided stereo front-facing speakers that sound better than those in most tablets. The only problem is that the SHIELD Tablet is rather heavy compared to the competition – it weighs 390g, compared to 294g for the Samsung Galaxy Tab S 8.4, but you get better performance with the added weight.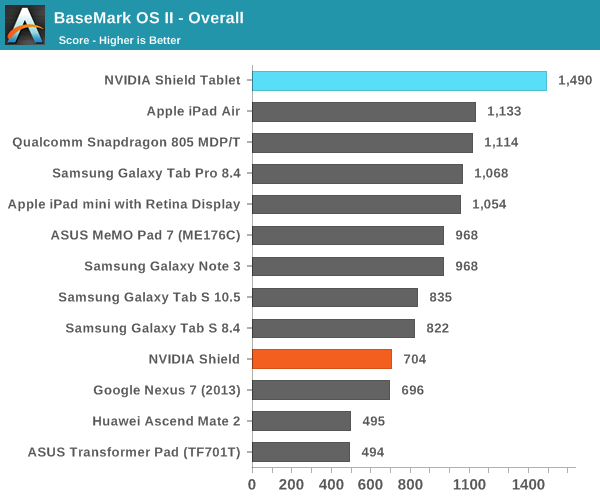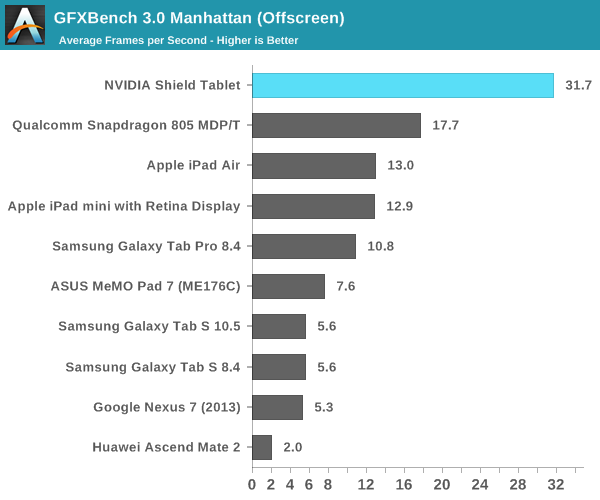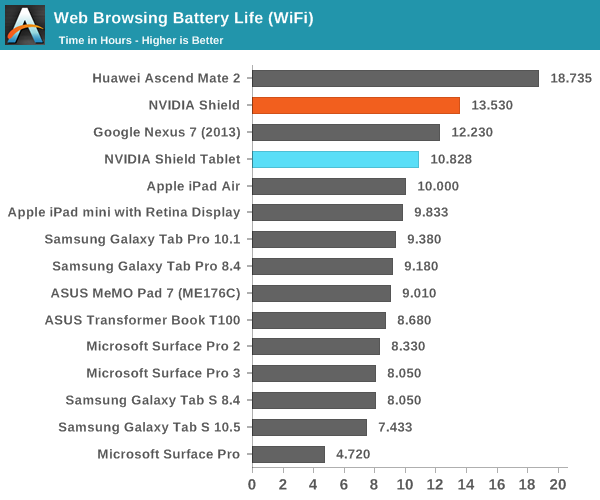 While there's certainly plenty of hyperbole involved with NVIDIA referring to the K1 as having supercomputing roots, from a pure performance perspective the K1 GPU delivers the goods, topping the charts in most of our graphics benchmarks. The CPU side of the equation isn't quite as impressive; it's faster than the previous generation Tegra 4, but given differences in platform, OS, etc. it can be difficult to draw firm conclusions. In general, you can expect somewhere around 5-25% better CPU performance than the Tegra 4, and the K1 tops most of the CPU charts and is at worst competitive with other leading SoCs. About the only potential weaknesses are in the NAND performance (random write is a bit low), and battery life takes a step back from the earlier SHIELD (though that's with a smaller battery) – and under heavy gaming workloads it can be less than three hours depending on the game. That's sort of the price you pay if you want maximum gaming performance from a tablet, though: battery life is going to take a hit when running full tilt.
NVIDIA has put quite a bit of effort into the software side of things as well. Besides all the usual Android tablet features – which basically work as expected – you get ShadowPlay support (record and/or stream your gaming sessions), GameStream (either local or remote is in beta), and access to GRID gaming as well. We've covered all of these previously, and there's nothing really new to add: they all work and offer features that you can't find on other tablets. If you're in the market for a tablet that can function as a portable gaming system, your options are quite limited.
The base price for the SHIELD Tablet is actually quite good, all things considered: $299 will get you one of the fastest Android tablets around, but don't forget the accessories. There's the DirectStylus 2, SHIELD wireless controller, and SHIELD Tablet cover. While you get a DirectStylus 2 with every SHIELD Tablet (a replacement stylus will set you back $20), the wireless controller is a $60 accessory and the magnetic cover is another $40 accessory. The cover isn't strictly necessary, but as someone that has used quite a few tablets without covers, over time getting some sort of cover is highly recommended, and the SHIELD Cover is a high quality cover that meshes well with the tablet. The wireless controller is a different matter: if you're looking at this as a gaming device, it's basically a required accessory. There are many Android games that are designed for a touchscreen, but if you want to use GameStream or play any of the games optimized for a gaming controller, you'll need the SHIELD wireless controller.
Taken as a complete package, then, you're looking at $400 for the 16GB WiFi model with accessories and $500 for the 32GB LTE model. You can argue that's too much, and I wouldn't necessarily disagree, but if you like the idea of a portable gaming tablet you don't really have many other choices. You can get the older NVIDIA SHIELD for $200, but that's half the price for basically half the performance and it was never really that useful except as a gaming device. The SHIELD Tablet on the other hand can function perfectly well as a tablet, and you only need to bring out the controller for times when you want to play games.
Ultimately, the SHIELD Tablet is a far more versatile solution than the original SHIELD, and if you're in the market for a new tablet it's still worth considering even if you don't care much about the gaming aspects – you can always add the controller at a later date. It might be a bit heavy compared to other options, but the performance and features definitely help set it apart. Unless you're particularly committed to a specific vendor for your devices, the SHIELD makes for a good addition to the Android family.