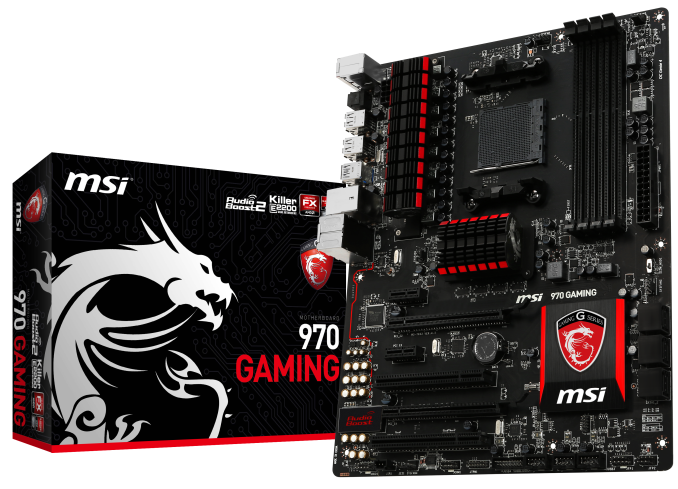 Despite the age of AMD's Vishera CPU architecture, we recently saw the release of two new lower powered 95W quad-module processors. The lower of the two, the FX-8320E, was earmarked for AMDs 970 platform due to the price point and target market of single GPU users. With the processor which AMD recently sampled, AMD also provided the MSI 970 Gaming motherboard which is the focus of today's review.
As AMDs latest processor iterations have focused on the APU line, the older Vishera based FX CPUs still represent the peak of performance from the Red Team. This results in a constant iteration of systems built on the forums as well as system integrators having to innovate in their builds for sale. The MSI 970 Gaming has taken a number of users by surprise and has proved to be popular due to its low price point, styling and gaming focus on a single GPU system. Again, due to the age of the platform, only a few of the motherboard manufacturers have focused on AM3+ a second time around, and usually at 990FX - this is also due to the 220W requirement of the FX-9000 series processors. This allows boards like the 970 Gaming to come in and potentially undercut the market by removing that 220W support.
The 970 platform differs from the 990FX and the 990X by offering fewer PCIe lanes for GPUs, a lower TDP chipset and a slightly slower HyperTransport 3.0 linkage. All are still limited to PCIe 2.0, but 970 focuses on a single PCIe x16 slot accompanied by a PCIe 2.0 x4 slot for add in cards. With some engineering, it would seem that the 970 chipset is capable of x8/x8 arrangements for SLI/Crossfire as well.
AMD 900 Series Chipset Comparison
990FX
990X
970
Code Name
RD990
RD980
RX980
Released
Q2 2011
Q2 2011
Q2 2011
Fab (nm)
65
65
65
IGP
No
No
No
CrossFire
x16 + x16
x8 + x8 + x8 + x8
x8 + x8
x16 + x4
x8 + x8 + x4
SLI
x16 + x16
x16 + x8 + x8
x8 + x8 + x8 + x8
x8 + x8
x8 + x8
TDP
19.6W
14W
13.6W
PCIe
Four PCIe 2.0 slots
Two PCIe 2.0 slots
One PCIe 2.0 x16 slot
HyperTransport (MHz)
2600
2600
2400
The price of the components matter in this segment, and given the comparison to 990FX, we would expect AMD to sell 970 at a lower rate. This is partially offset by bulk sales, and one can argue whether 990FX sells more than 970.
MSI 970 Gaming Overview
During 2013 and 2014 MSI embarked on a new redesign of their motherboard portfolio, focusing on branding and presentation, rather than unique feats of engineering. The upshot is that is worked, spurred on by the resurgence of reasonably priced PC Gaming and by providing an experience and a story with a product that looks better than most. When taking the 970 Gaming out of the box, the first remark was towards the relatively clean nature of the PCB. There are fewer obvious traces due to the PCB coating and the lack of SMT placement boxes for each IC gives it a more fluid presentation. Users can argue if red and black are the best colors to choose, but at least the underlying aesthetic feels polished which is somewhat of a surprise at the $100 price point.
In terms of feature set, the 970 Gaming gives an Atheros Killer E2205 network topology with bundled software for data packet prioritization, gaming ports to support 1000Hz devices under XP, and an upgraded Realtek ALC1150 audio solution with Sound Blaster Cinema support. A PS2 port and PCI slots are bundled to improve potential use range and the eight USB 3.0 ports on the board come from VIA controllers.
Our only real recent data point for AM3+ motherboards is the 990FX Extreme9 we reviewed back in August with the FX-9590. This represented the high end of the spectrum, capable of 220W+ processors, and is an unfair comparison. But in contrast to the potential bells and whistles of the Extreme9, the 970 Gaming is great for pick up and play gaming.
One argument on design is that if possible MSI might have explored a micro version, but the biggest orange flag is more from the platform itself due to a lack of longevity. Our benchmarks show a good chase for gaming frame rates with high end cards, but it will never get closer under AMDs 970 and FX line without a fresh CPU architecture injection.
Visual Inspection
The first thing to note when removing the motherboard from the box is the styling. The socket area is clean from almost all the white SMT boxes, and the traces are near impossible to see. The heatsinks for the power delivery and 970 chipset are obviously designed for airflow but keep the design rigid with straight lines and nothing too imposing. The South Bridge heatsink is MSI's gaming heatsink, just in case you were not sure which motherboard range you purchased.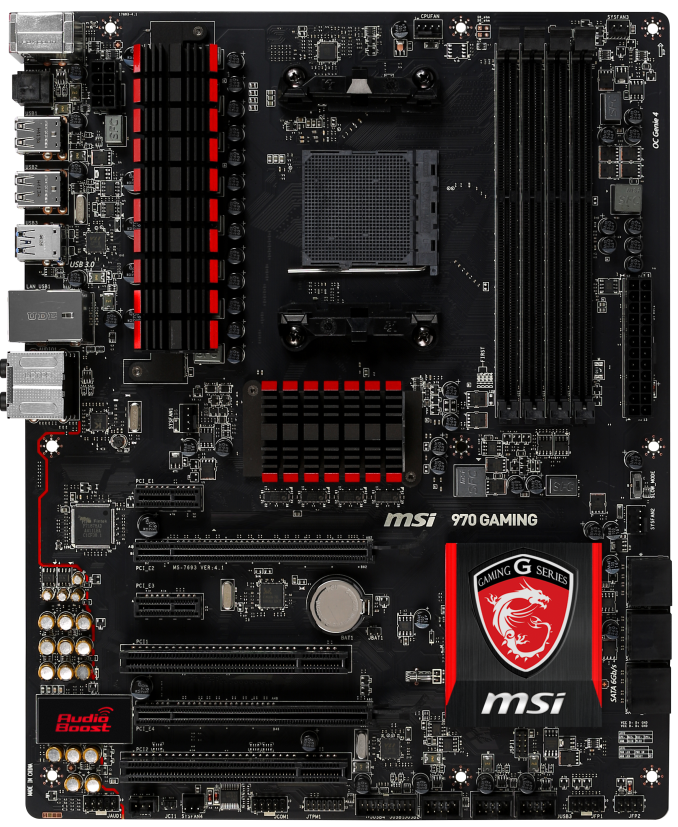 AMD sockets are still quite big, and AM3+ is no exception. However due to the chipset being external to the CPU, there is ample space for all sorts of CPU coolers here as the first GPU slot is more than half-way down the motherboard. MSI's power delivery uses an 8-phase SFC implementation, with memory support at two DIMMs per channel. The DIMM slots are single sided, meaning that users should double check that the memory is firmly in place. For fan control around the socket area we get three fan headers in the immediate vicinity, another one at a stretch and a final fifth at the bottom of the board. The CPU fan header is a four-pin above the socket, with the other two in easy reach being a 3-pin at the top right and a four-pin below the power delivery. We get another 4-pin just above the SATA ports and a final 3-pin at the bottom.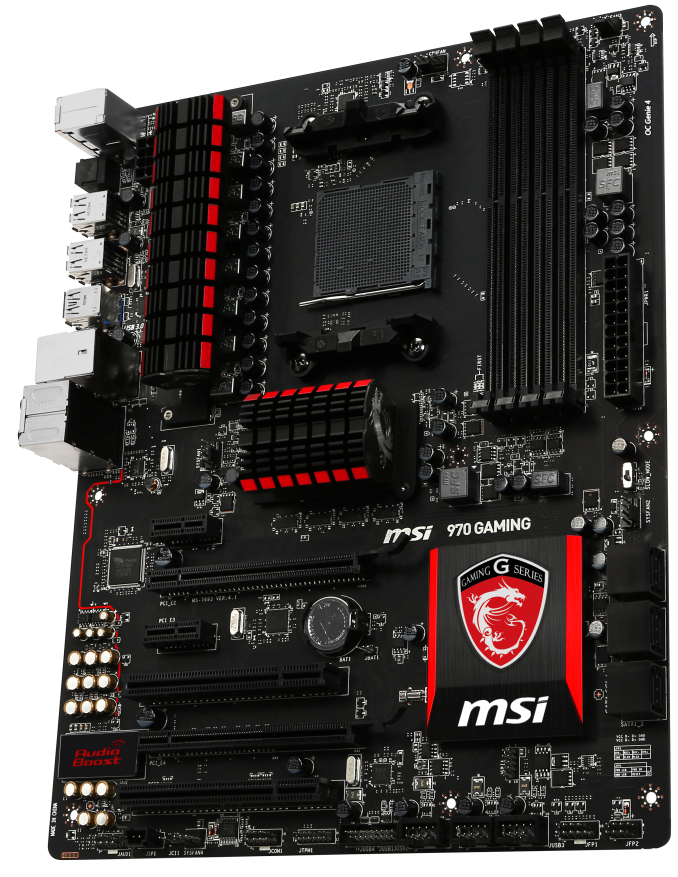 At $100 it is quite clear that any features on this motherboard are going to be aimed at gaming only, so MSI avoids adding in power/reset buttons as well as a two-digit debug which we might see on more expensive models. MSI also eschews the OC Genie button on this board, which is a shame as a basic OC would help this platform in general. Providing a lookup table of overclocks takes time for each CPU range to be considered, and perhaps it is not worth the time on the 970 chipset.
For SATA connectivity the SB950 south bridge gives six SATA 6 Gbps ports, all RAID 0/1/5/10 capable. When the 900 series chipset launched in 2012, this was cutting edge and ahead of team blue on their products at the time. Now the playing field is more or less even.
For the PCIe configuration, the 970 chipset only allows 22 PCIe 2.0 lanes from it. This is split for a PCIe 2.0 x16/x8 slot, a PCIe 2.0 x4/x8 slot and two PCIe 2.0 x1 slots. The south bridge also offers some PCIe lanes, which in this case are directed to the two VLI controllers onboard for a total of four USB 3.0 ports and the Killer E2205 network port on the rear panel. To top it off, there is two PCI ports as well.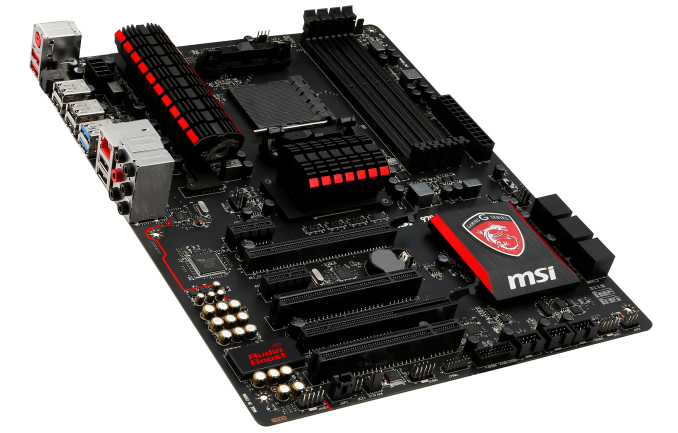 At the bottom of the board we get a COM header, a TPM header, the internal USB 3.0 header, three USB 2.0 headers and the front panel ports. The left hand side of the board gives MSI's Audio Boost topology which hides a upgraded Realtek ALC1150 codec underneath with additional filter caps, PCB separation, EMI shielding and gold plated audio ports all with the aim of increasing audio quality.

Because some gamers still prefer PS/2 keyboards, MSI includes a combination PS/2 port here. We also get a pair of MSI Gaming Mouse ports which offer a 1000 Hz polling rate to operating systems like Windows XP that might not support it. On the rear panel we also get a SPDIF output, six more USB 2.0 ports, two USB 3.0 ports, the Atheros Killer E2205 network port and the gold-plated audio jacks from the Realtek ALC1150.
Board Features
MSI 970 Gaming
Price
US (Newegg)
Size
ATX
CPU Interface
AM3+
Chipset
AMD 970 + SB950
Memory Slots
Four DDR3 DIMM slots supporting up to 32 GB
Up to Dual Channel, 1066-2133 MHz
Video Outputs
None
Network Connectivity
Qualcomm Atheros Killer E2205
Onboard Audio
Realtek ALC1150 via Audio Boost
Expansion Slots
1 x PCIe 2.0 x16/x8
1 x PCIe 2.0 x4/x8
2 x PCIe 2.0 x1
2 x PCI
Onboard Storage
6 x SATA 6 Gbps, RAID 0/1/5/10
USB 3.0
2 x USB 3.0 Rear Panel (VIA)
1 x USB 3.0 Header (VIA)
Onboard
6 x SATA 6 Gbps
3 x USB 2.0 Headers
1 x USB 3.0 Header
5 x Fan Headers
Front Panel Audio Header
Front Panel Header
TPM Header
COM Port Header
Slow Mode Switch
Power Connectors
1 x 24-pin ATX
1 x 8-pin CPU
Fan Headers
1 x CPU (4-pin)
2 x SYS (4-pin)
2 x SYS (3-pin)
IO Panel
PS/2 Combination Port
8 x USB 2.0
2 x USB 3.0
Optical SPDIF-Out
Killer Network Port
Audio Jacks
Warranty Period
3 Years
Product Page
Link
At this point of motherboard development, the Killer network chip is essentially a slightly less expensive solution than the Intel + cFos setup, but affords companies like MSI an additional marketing angle. One of my main criticisms of MSI is that they offer relatively little in terms of unique engineering that other manufacturers would have trouble getting to grips with. While I was unlikely to see anything new on a $100 gaming board, features like the Killer NIC are very easily copied when you only have to buy the chip.