With Mobile World Congress 2015 now in full swing, Imagination Technologies is taking to the show today to announce a couple of new additions to the PowerVR family of video products.
First off is a new low-end GPU in the PowerVR Series6XE family, the G6020. The G6020 is aimed at entry-level mobile devices, embedded computers, and high-end wearables, and is intended to be Imagination's new entry-level Series6XE part.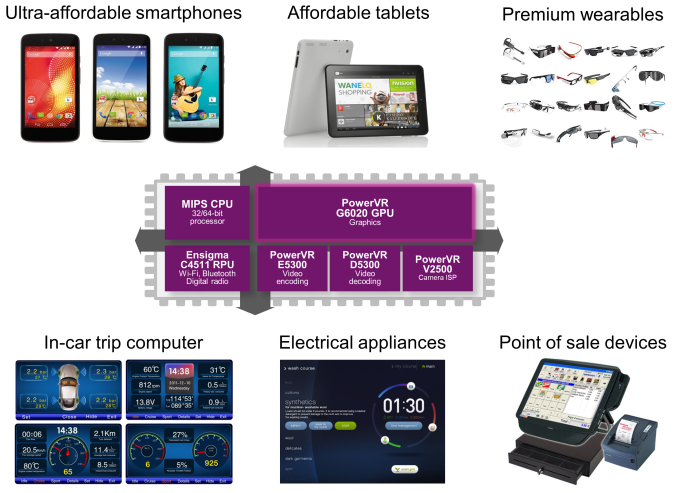 From a design perspective, the G6020 is aimed at very simple desktop workloads – the Android UI, wearable interfaces, etc. Imagination has essentially built the bare minimum GPU needed to drive a 720p60 display, taking out any hardware not necessary to that goal such as compute and quite a bit of geometry throughput. What remains is enough of a ROP backend (pixel co-processor) to drive 720p, and the FP16 shading resources to go with it.
Meanwhile from a hardware perspective this is basically a significantly cut down 6XE part. G6020 drops to just a single 4 pipeline USC, versus the 8 pipeline USC found in the G6050, and 16 pipelines as found in a "complete" USC. The number of FP32 ALUs in each pipeline has also been reduced, going from the 6XE standard of 2 per pipeline to 1 for G6020, while the number of FP16 ALUs remains unchanged at 4. Along with scaling down the USCs, Imagination has also stripped down the G6020 in other ways, such as by taking out the compute data master.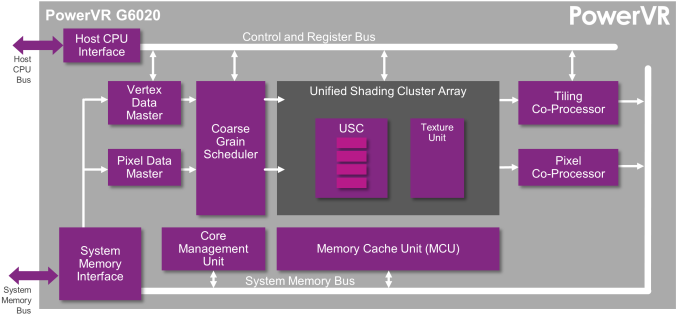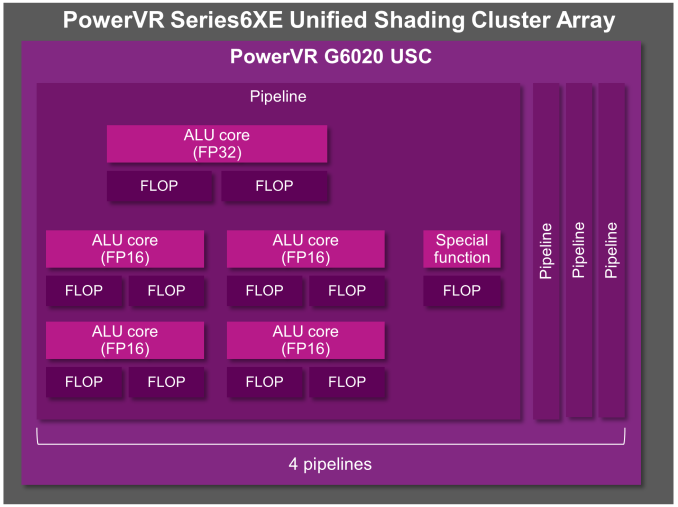 PowerVR Series6/6XE "Rogue"
GPU
# of Clusters
# of FP32 Ops
# of FP16 Ops
Optimization
G6020
0.25
8
32
Area + Bandwidth
G6050
0.5
32
64
Area
G6060
0.5
32
64
Area + Bandwidth
G6100
1
64
96
Area
G6100 (XE)
1
64
128
Area
G6110
1
64
128
Area + Bandwidth
The end result of their efforts is designed to be an incredibly small and incredibly low power OpenGL ES 3.0 GPU for devices that fall in the cheap/small range. G6020 is only 2.2mm2 in size on 28nm, making it similar in size to ARM's Cortex-A7 CPU cores (a likely pairing target). And power consumption is low enough that it should be able to just fit into high-end wearables.
PowerVR Series 5 Video Encoder
Meanwhile Imagination's second PowerVR announcement of the day is the announcement of their new PowerVR Series 5 family of video encoders. This is Imagination's entry into the HEVC (H.265) hardware encoder market, offering scalable designs for encoding H.264 and HEVC video.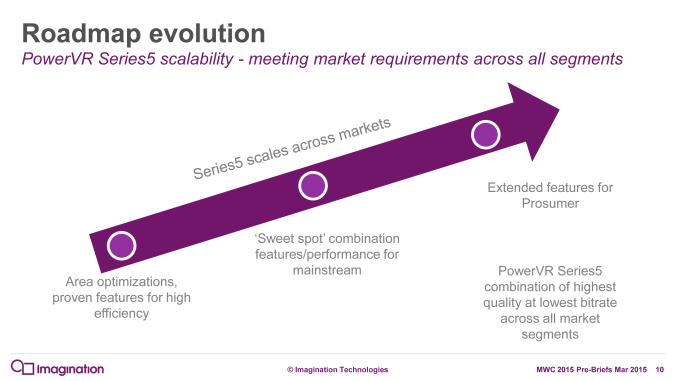 In terms of designs Imagination will be offering 3 designs, the E5800, E5505, and E5300, targeted at progressively lower-end markets. The E5800 is the largest configuration and is aimed at the prosumer market, offering 4Kp60 encoding with 10-bit color and 4:2:2 chroma sampling (twice the sampling of standard 4:2:0 video). Below that is the E5505, the mainstream/premium mobile part with support for encoding up to 4Kp30, along with VP8 encoding and even MJPEG for certain legacy applications. Finally at the bottom of the list is the E5300, which is a small, low power encoder for 1080p30 applications (cameras/sensors/IoT and the like).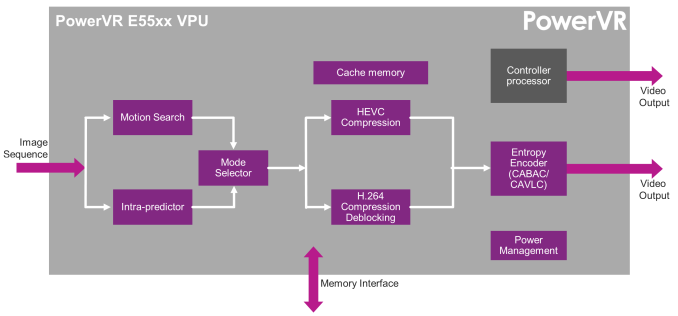 PowerVR Series 5 HEVC Encoders
Encoder
Max Resolution
Chroma Subsampling
Market
E5800
4Kp60
4:2:2
Prosumer/Pro-Cameras
E5505
4Kp30
4:2:0
Mobile
E5300
1080p30
4:2:0
Sensor/IoT/Security Cameras
From a competitive standpoint, along with the expected synergy between the PowerVR encoders and PowerVR GPUs –support for directly handing off compressed memory, in particular – Imagination is also banking on being able to win a quality war with other mobile HEVC encoders. By Imagination's estimates they can offer equivalent quality at just 70% of the bitrate, which would give them a significant advantage. The company says that this is a result of having a newer encoder that is better tuned than competing encoders, and one that implements more HEVC features (e.g. 10-bit color), allowing them to achieve better compression and the resulting reduction in bitrates.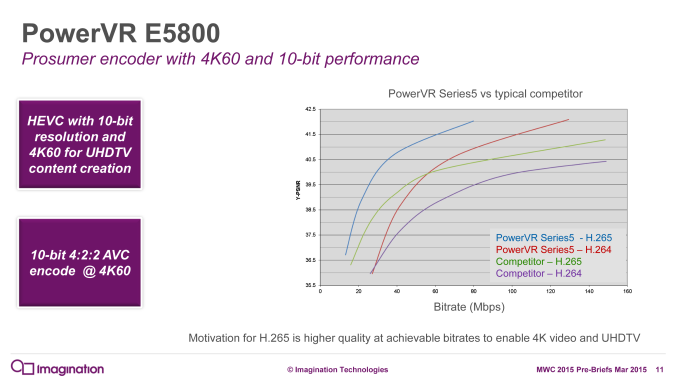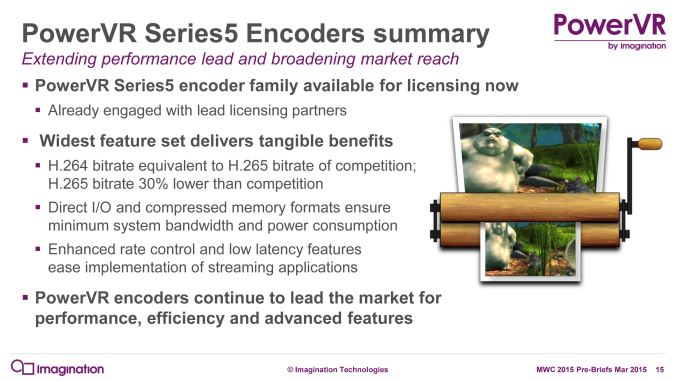 While Imagination's testing methodology and resulting numbers to get here are open to interpretation – PSNR is important, though not the end-all of encoder measurements – HEVC encoders are still a fledgling field. There is still ample opportunity to improve on HEVC encoders and reach the same kind of highly tuned status that H.264 encoders have evolved to.
Wrapping things up, both new PowerVR products are now available for licensing.