Clevo P750ZM: Subjective Evaluation
I've harped on Clevo in the past for some questionable design aesthetics, and I'm glad to report that at least the P750ZM is heading in the right direction. It's not going to win any beauty contests I don't think, but for all the performance it offers it actually looks quite nice. It's also impressive to see a full DTR system stuffed into a 15.6" chassis, as in the past it has often required a 17.3" chassis to achieve sufficient cooling.
The P750ZM comes decked in black, which is generally a safe bet for a gaming notebook, and it includes a soft-touch coating on the palm rest and LCD cover. The chassis is primarily constructed of plastic, and while that may not be as attractive as machined aluminum it still gets the job done. Plastic has the added benefit of not conducting a bunch of heat into the surfaces where your hands and fingers will feel the effects.
Getting to the more subjective elements, the keyboard and touchpad are one of the better Clevo implementations. That's good because I've seen way too many Clevo notebooks over the years where they mess up one of these areas. The 10-key has a pretty standard layout, with my only gripe being the half-size zero key (which means if you're not careful you'll often hit the right arrow instead of zero). That's really the only layout issue to speak of, and I definitely appreciate the dedicated document navigation keys at the top-right (Home, End, etc.)
The shape of the keys on the other hand is different than most current laptops. I don't know that they're any worse than regular chiclet style keys, but I also wouldn't say they're clearly better. The main change is that the keys have beveled corners. I think the idea is to create a bit more of a distinct separation between adjacent keys, and they look a bit like the old-school keyboards from eight or so years back.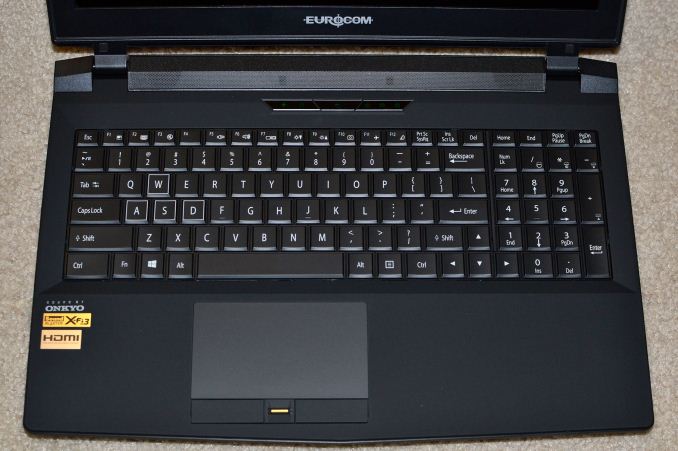 Typing on the Clevo P750ZM keyboard is pretty much standard fare for a modern laptop. I've pounded out the majority of the text for this article on the laptop and I haven't had any complaints. The keys have a moderate amount of travel – a bit less than you might expect from a desktop replacement but nothing that creates any problems for me personally. The key action is quite soft, so there's no clickiness to speak of, and there's also no issues with key wobble that I can comment on. While this doesn't necessarily sound like high praise for the keyboard, there's not a lot to be said on the subject unless something is truly off. In this case Clevo is on the right side of the fence with regards to the keyboard feel, which is always good.
For the touchpad, Clevo uses a Synaptics Touchpad V7.5 solution. Synaptics has a lot of other hardware options, some better and some worse; for the target audience I think the inclusion of dedicated mouse buttons and the decision to eschew going the clickpad route is the right one. For general use, the touchpad works fine, and it includes the usual multitouch gestures. The palm rejection also works well and I haven't encountered any problems with the mouse cursor skipping around on the screen while typing. Similar to the keyboard, this might not come across as high praise, but more importantly there's nothing to condemn. It's a bit sad that the state of affairs with notebooks has to start with me hoping companies don't screw up fundamental elements like the keyboard and mouse, but we've seen plenty of otherwise good notebooks over the years that do exactly that.
One of the potential highlights of the P750ZM is going to be the display options. People generally fall into two camps these days: those that think HiDPI displays are the future and those that prefer something more usable in the present. Eurocom (Clevo) offers solutions for both types of user, with three 1080p display options and two more 4K options.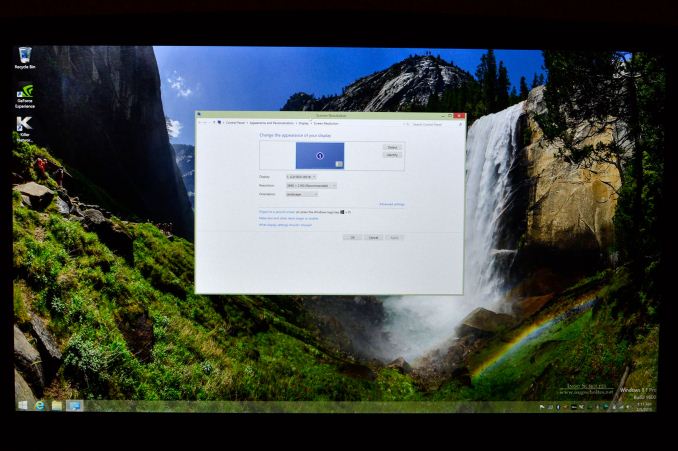 Our specific notebook shipped with their top display option, a 4K Sharp IGZO panel that looks great. With a GTX 980M beating at the heart of the notebook, there's even a possibility that it will actually be able to handle games at the native resolution, but truth be told you're better off setting your sights on 1080p or perhaps 1440p (2.5K) or 3K instead. Anyway, display quality is certainly good, and other than DPI scaling issues (which unfortunately have affected more than a few games), the default configuration should please most users. Calibrating the display further improves the situation to the point where most professionals would be happy, though there are still a few colors that don't quite calibrate properly.
Moving on, speaker quality is good though nothing particularly noteworthy. The speakers can get reasonably loud, enough that watching movies with friends shouldn't be too difficult – unless your friends are really loud – but not enough that you can really fill a larger room. There's also no NVIDIA Optimus Technology present, as this is a desktop chipset and platform, and there's no option to switch to the Intel processor graphics. It's not a huge issue for a DTR, but battery life takes a hit as we'll see later – pretty much we're looking at two hours max, at least with a 4K display.
Moving to the internals, the bottom cover comes off quite easily. There are four screws to remove, and then the back half slides out and reveals the cooling arrangement, one of the M.2 slots, and two of the SO-DIMM slots. There's a second smaller cover with two more screws that also slides out the front, providing access to the other M.2 slot as well as the two 2.5" drive bays. There are two more SO-DIMM slots on the other side of the mainboard (under the keyboard), which is unfortunately far less convenient to access.
It would be nice if the system integrators (Eurocom in this case) populated those hard to access SO-DIMM slots first, as it would make it easier for users to upgrade to four DIMMs later if desired. You can always buy 32GB RAM up front and just not worry about it, but the Corsair Vengeance used in our test system can be purchased for $165 per 2x8GB, so there's a significant price premium if you have Eurocom install 32GB memory.
Checking out the cooling arrangement, it's interesting that the CPU cooling has five heatpipes whereas the GPU cooling side has four, with two of the heatpipes being shared between the CPU and GPU sides. NVIDIA usually rates their top mobile GPUs at around 100-120W power draw, so you'd expect the 980M would require more cooling than the CPU, but in practice there doesn't seem to be any issue with the current arrangement. In fact, under load the CPU gets hotter than the GPU (at least going by internal temperatures).
Keep in mind that the Devil's Canyon i7-4790K is a 22nm chip with a die size of 177 mm2, while the GM204 in the GTX 980M is built on TSMC's 28nm process and measures a whopping 398 mm2 by comparison, so even though the 980M can consume more power the heat is spread out over a much larger area. We'll look at thermals later in this article, and I've also been working on some overclocking testing (yes, of both the CPU and GPU – with older 344.75 drivers of course), but for now let's just say that there's a decent amount of cooling headroom available if you want to push things.
Overall, the Clevo P750ZM chassis is a good design for a DTR. It's really quite impressive just how much performance we can now stuff into a 7.5 pound 15.6" chassis. Remember the old Clevo D900F? That was truly a beast, weighing in at nearly 12 pounds – and with "only" a 220W power brick. If you're interested in something that's more capable of running on battery power at times, I'd say the MSI GT72 Dominator Pro is still the better option, as you can turn off the GTX 980M and end up with nearly six hours of battery life when needed. Clevo also has their updated P670SG and P650SG that compete with the GT72, though it looks like MSI wins for battery life (~6 vs. ~4 hours for the P650SG, anecdotally). But if you want the fastest system with a single GTX 980M right now, well, let's hit the benchmarks and see just how fast the P750ZM can go.