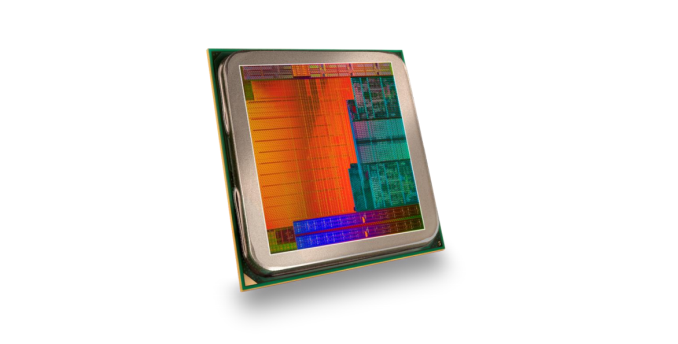 In recent months and quarters I have had discussions about why CPU manufacturers offer a number of processors each separated by $7 and 100 MHz. The obvious answer (but not always the logical answer) is to cater for what the customer wants by overloading them with choice. As a result, sometimes direct CPU comparisons can be difficult, as it requires testing every CPU released. Thankfully for AMD's Kaveri, todays tests of the A10-7700K and A6-7400K plugs a few holes in our AMD benchmark numbers to allow those comparisons.
The Information
We recently reviewed the A8-7650K, a newer processor having been released at the turn of 2015, and thus a lot of the introduction on this page is going to mirror what we stated in that review, particularly when it comes to pricing, comparisons and the processor stack as a whole. We requested both the A10-7700K and the A6-7400K to fill in some of the gaps in our testing, though we do recognize they were released in mid-2014. This is unfortunately part of AMD's Kaveri strategy – releasing one or two different SKUs each quarter to cover parts of the market. In this case, the A10-7700K is the lowest A10 part while the A6-7400K is one of the few single module (dual thread) available.
AMD Kaveri Lineup
A10-
7850K
A10-
7800
A10-
7700K
A8-
7650K
A8-
7600
X4
860K
A6-
7400K
Price
$134
$131
$120
$104
$89
$85
$64
Modules
2
2
2
2
2
2
1
Threads
4
4
4
4
4
4
2
Core Freq. (GHz)
3.7-4.0
3.5-3.9
3.4-3.8
3.3-3.8
3.1-3.8
3.7-4.0
3.5-3.9
Compute Units
4+8
4+8
4+6
4+6
4+6
4+0
2+4
Streaming
Processors
512
512
384
384
384
N/A
256
IGP Freq. (MHz)
720
720
720
720
720
N/A
756
TDP
95W
65W
95W
95W
65W
95W
65W
DRAM
Frequency
2133
2133
2133
2133
2133
1866
1866
L2 Cache
2x2MB
2x2MB
2x2MB
2x2MB
2x2MB
2x2MB
1MB
The A10-7700K differs by having a total of 10 compute units compared to the other A10 processors which have 12. This means that it has a high CPU and GPU speed, but fewer GPU cores to play with compared to the A10-7800 or A10-7850K. Compared to the A10-7800 also, we are dealing with the A10-7700K as a 95W part at $120, rather than a 65W part, but the A10-7700K is more geared towards overclocking which we cover later in the review.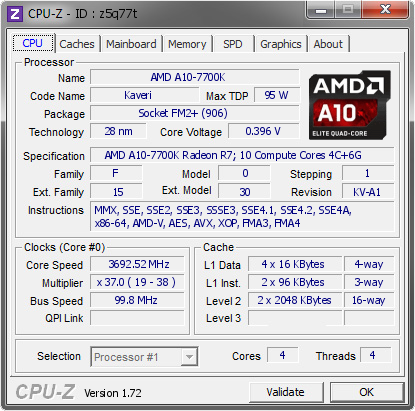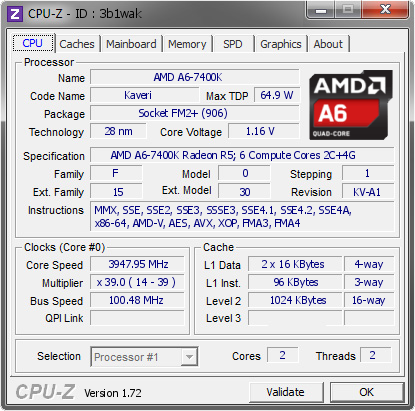 The A6-7400K sits at the bottom of the stack. That position and represents how AMD bins its processors, as the A6 still has all the same transistors. When the dies come out and are tested, if one of the modules is not working correctly it can be fused off from the rest of the processor and sold as a lower end part. The rest of the CPU is fine as represented by the high CPU frequencies, and it comes with a TDP of 65W at a low $64 price. The question becomes whether having only a single module (and two threads) is enough for it to power the 256 SPs in the graphics or if the CPU has the power for discrete cards now that more games are multithreaded. That being said, pairing it with a $70 R7 240 discrete card which has 320 SPs should, on paper at least, afford a good bump in graphics performance when in dual graphics mode for titles that can take advantage of it.
Competition and Market
For every tech product that comes out on the market, price is everything. A good product can become super obscure by virtue of a high price, or an overtly mediocre product might become interesting if it strikes a chord at a low price point. Then there is always a question of competition, understanding what a user can get at what price and whether there are features that make the experience worthwhile.
The downside for reviews at least is because in reality there are two prices for everything. The launch price dictates the initial interest, but subsequent price cuts over time can help drive sales. When we write a review, our thoughts are encapsulated at that specific moment in time, so if the price drops or it goes on sale, sometimes the level of recommendation might be skewed. In our last review, we experimented with this. We produced a table of AMD vs Intel at price points in the market:
CPU/APU Comparion
AMD Kaveri
Amazon Price on 5/27

Intel Haswell
$236

i5-4690K
(4C/4T, 88W)
3.5-3.9 GHz
HD 4600
$214
i5-4590
(4C/4T, 84W)
3.3-3.7 GHz
HD 4600
$189
i5-4460
(4C/4T, 84W)
3.2-3.4 GHz
HD 4600
$138

i3-4330




(2C/4T, 54W)

3.5 GHz




HD 4600

3.7-4.0 GHz
512 SPs
A10-7850K
(2M/4T, 95W)
$134
3.5-3.9 GHz
512 SPs
A10-7800
(2M/4T, 65W)
$131
3.4-3.8 GHz
384 SPs
A10-7700K
(2M/4T, 95W)
$120
i3-4130
(2C/4T, 54W)
3.4 GHz
HD 4400
3.3-3.8 GHz
384 SPs
A8-7650K
(2M/4T, 95W)
$104
$94
Pentium G3430
(2C/2T, 53W)
3.3 GHz
HD (Haswell)

3.1-3.8 GHz




384 SPs

A8-7600




(2M/4T, 65W)

$89
3.7-4.0 GHz
No IGP
X4 860K
(2M/4T, 95W)
$85
$70
Pentium G3258
(2C/2T, 53W)
3.2 GHz
HD (Haswell)
3.5-3.9 GHz
256 SPs
A6-7400K
(1M/2T, 65W)
$64
$44

Celeron G1840




(2C/2T, 53W)

2.8 GHz




HD (Haswell)
This shows what is competing against what specifically at this time frame. One issue to consider is representing this in our benchmarking graphs. In our last review, the A8-7650K, we started quoting the pricing with the processors. Our graphs are not dynamic, and if we used the current price at the time of review, the later the review is arguably the better the recommendation. In that regard we decided to use the launch price of a product for our graphs to maintain a level of consistency.
What pricing we quote aside, looking at recent prices in the table above gives competition for both the A6-7400K and the A10-7700K. The A6-7400K sits below the Pentium G3258 which we reviewed last year and is Intel's low end overclocking processor. The A10-7700K sits more against the i3-4130 at $120. For our comparisons in this review, we have numbers for the G3258 but the nearest Intel CPUs to the A10-7700K we have are the i3-4130T ($138) and the i3-4330 ($128).
All our results, both past and present, can be found in our online database Bench. As we test CPUs in the future, look out for those results as well.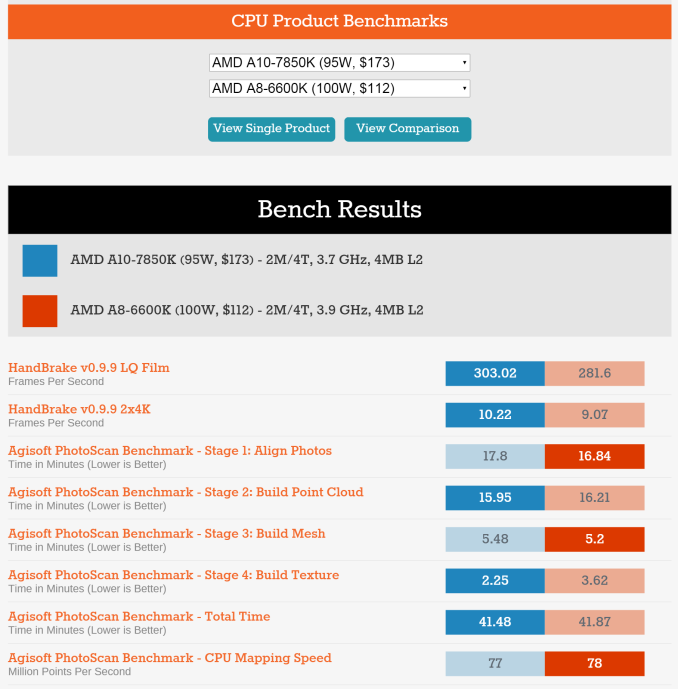 Test Setup
We are using a new testing regime, starting from May 2015 including five recent games on different AMD and NVIDIA graphics cards from $70 to $560. A detailed breakdown of our testing can be found here, although for this review we will present a few of the more poignant tests while all the results can be found in Bench.
Many thanks to...
We must thank the following companies for kindly providing hardware for our test bed:
Thank you to AMD for providing us with the R9 290X 4GB GPUs.
Thank you to ASUS for providing us with GTX 980 Strix GPUs and the R7 240 DDR3 GPU.
Thank you to ASRock and ASUS for providing us with some IO testing kit.
Thank you to Cooler Master for providing us with Nepton 140XL CLCs.
Thank you to Corsair for providing us with an AX1200i PSU.
Thank you to Crucial for providing us with MX200 SSDs.
Thank you to G.Skill and Corsair for providing us with memory.
Thank you to MSI for providing us with the GTX 770 Lightning GPUs.
Thank you to OCZ for providing us with PSUs.
Thank you to Rosewill for providing us with PSUs and RK-9100 keyboards.
AMD A10-7700K and AMD A6-7400K Overclocking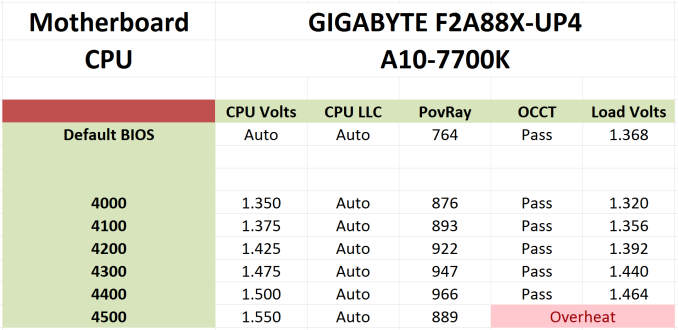 For the A10-7700K, we hit 4.4 GHz relatively easily with a small bump in voltage, however as we pushed higher frequency it required even more voltage to compensate which led to a quick route to overheating.

The A6-7400K starts with a high base frequency to begin with, but due to the disabled module on board it might have fewer heat generating areas and it could be construed that it might overclock more. In our testing, we had to change motherboards and the MSI has fewer overclocking options than the GIGABYTE, allowing only an offset voltage setting.